Driving for Uber or Lyft can be a great way to make extra cash and build a solid income stream, but it's not like you can walk out and start driving people around with no preparation. Depending on the type of driving you want to do, you'll need a vehicle that meets the company's requirements for that category. In general, you'll need a four-door car that was built within the last 15 years and is in good shape, but certain Uber categories have more specific vehicle requirements. Uber Black, for example, limits the make and model of the vehicle and requires that both its interior and its exterior be black.
If you're considering becoming an Uber driver, it's best to determine which category you want to jump into and then make sure your vehicle complies. The requirements aren't ultra-strict, however, so you have some options to become a rideshare driver. Before we get started, it's important to note that driving for a rideshare service may impact your warranty, so it's a good idea to check your coverage before you pick up your first Uber car rider. Some insurance companies and extended warranty providers offer incentives and special policies or coverage for Uber and Lyft drivers, so you might need to purchase additional coverage before hitting the road.
Here are our picks for the best cars for Uber driving across several categories.
The Best Cars for Uber Drivers in 2023
UberX
Uber XL
Uber Black
Uber Eats
UberX
Honda Accord
The Honda Accord combines sporty styling, a comfortable ride, and good value, making it a great car and rideshare companion, and it gets even better with a substantial update for 2023. Both of the Accord's powertrain offerings provide good acceleration and refinement, but the hybrid setup in the upper trims pairs a 2.0-liter four-cylinder engine with electric motors for higher power output. The Accord isn't available with AWD like the Camry, but FWD is perfectly fine for a rideshare car.
Interior finishes are nice, and the car feels more expensive than it is. The front seats are wide, deep, and well-padded, and the back bench offers good headroom and legroom. Back-seat passengers get 37.3 inches of headroom and 40.4 inches of legroom, so the space is comfortable for adults. The Accord's back doors are large, and the car's friendly ride height makes it easy to get in and out.
See our First Look Video of the New Honda Accord
Search for a Honda Accord on CarGurus
Toyota Camry
The Toyota Camry offers a spacious interior, a smooth ride, and good performance across all of the available configurations. It's also a relatively fuel-efficient car with available AWD (and the Toyota Camry Hybrid does even better on gas mileage). The base Camry comes with a 2.5-liter four-cylinder engine that makes 203 horsepower and 182 pound-feet of torque. The available turbocharged 3.5-liter V6 makes the Camry a legitimate rocket ship, with 301 horsepower and 267 pound-feet of torque. Both engines pair with an eight-speed automatic transmission and either front- or all-wheel drive (FWD or AWD).
Interior finishes aren't exciting, but they're uncomplicated, and the build quality feels solid. The basic cloth upholstery is plenty nice, but if you want to spring for upgraded finishes, Toyota offers both synthetic and genuine leather options. Back seat space is generous, with around 38 inches of legroom and 38 inches of headroom. Passengers won't compete for space with people up front, and the rear door openings are large, making it easy to enter and exit the car. The Camry's trunk measures 15.1 cubic feet, so it's large enough for two passengers' bags.
Research the Toyota Camry
Search for a Toyota Camry on CarGurus
Toyota Prius
The Toyota Prius isn't the most exciting new car on the road, but it is one of the most efficient and refined hybrids on sale. It's also got a solid interior with good room across both rows, great outward visibility, fantastic gas mileage, and a generous list of standard tech and safety features. The new Prius comes with a four-cylinder engine and electric motor that combine for a modest 121 horsepower. Toyota offers all-wheel drive (AWD) for the car, making it an ideal all-weather runabout, and the continuously variable transmission (CVT) works smoothly in most situations.
Toyota equips the Prius with a solid but unremarkable interior that offers seating for up to five people. Rear headroom measures a decent 37.4 inches, but rear legroom lands at just 33.4 inches, enough for adults but not generous enough to stretch out. The Prius also gets a solid amount of cargo space, with up to 27.4 cubic feet behind the seats and more than 50 cubic feet with them folded down.
Research the Toyota Prius
Search for a Toyota Prius on CarGurus
Uber XL
Chevrolet Traverse
The Chevrolet Traverse combines some of the best qualities of minivans and SUVs in a stylish package with good value. Chevy offers a single powertrain in the Traverse, but it's a solid 3.6-liter V6 with 310 horsepower and 266 pound-feet of torque. It pairs with a nine-speed automatic transmission and either FWD or AWD. The ride is smooth, and passengers enjoy a quiet cabin in most situations.
Interior space is excellent, and there's good room for adults in all three rows. Second-row headroom and legroom are generous enough for tall adults, and the third row is comfortable once you're actually in the seat. The Traverse also offers cargo space with all three rows folded up, so it's good for carrying large groups or lots of gear. The only real downside is that Chevy used quite a few hard plastics and cheaper materials for the Traverse's interior, so it's not the most luxurious SUV around.
Research the Chevrolet Traverse
Search for a Chevrolet Traverse on CarGurus
Dodge Durango
The Dodge Durango couples beefy muscle car aesthetics with legitimate family-hauling capabilities, and it does so at a mostly reasonable price. It's easy to get caught up in the flashier Dodge Durango powertrain options and packages, but the more pedestrian V6-powered SUV is far more affordable and brings just as much to the table when it comes to hauling people and cargo. The Durango's base 3.6-liter V6 makes 295 horsepower and 260 pound-feet of torque, which reaches the rear or all four wheels through an eight-speed automatic transmission. The powertrain is smooth and has good punch, and the eight-speed automatic is surprisingly responsive for a run-of-the-mill slushbox.
The Durango's interior is dark and can feel cave-like at times, but it's roomy and comfortable no matter where you sit. The SUV offers seating for seven people when equipped with the standard bench in the second row, but opting for the available captain's chairs cuts capacity to six. Adults can ride comfortably in the second row, and the third-row seats are usable for taller people in a pinch. With all three rows upright, the Durango offers 17.2 cubic feet of cargo space, and the area opens further to 43.3 cubic feet with the third row folded flat.
Research the Dodge Durango
Search for a Dodge Durango on CarGurus
Toyota Sienna
The new Toyota Sienna is hybrid-only and offers great fuel economy on top of its superlative people-hauling capabilities. Toyota updated the minivan's interior with a striking new design and better materials, and the cabin feels more premium and expensive than it is. The Sienna's 2.5-liter four-cylinder engine pairs with two electric motors. FWD is standard and AWD is available, so the Sienna offers good year-round capability for people living in colder climates.
The Sienna can seat up to eight people with a bench seat in the second row, but the seven-seat configuration with captain's chairs is more comfortable. It's also better for transporting kids, as it creates a built-in demilitarized zone between the two second-row seats. Legroom is generous for all rows, and the third row is spacious enough for adults, though they'll likely prefer shorter trips. With the third-row seat upright, the Sienna still offers 33.5 cubic feet of space, so there's plenty of room for people and gear.
Research the Toyota Sienna
Search for a Toyota Sienna on CarGurus
Uber Black
BMW 7 Series
The BMW 7 Series has always been in sub-limousine territory, and the newest versions take things to another level entirely. BMW equips a turbocharged inline-six with 375 horsepower and 383 pound-feet of torque as standard, but buyers can upgrade to a massively powerful 4.4-liter V8 for 536 hp and 553 lb-ft of torque. Both come paired with an eight-speed automatic transmission, and BMW offers AWD. Acceleration can be breathtaking, especially the V8 equipped, though BMW keeps the drama down with solid noise insulation and a cushy interior that takes the edge off almost any situation.
Five people can ride in absolute luxury, as the BMW 7 Series offers incredible interior space and headroom is generous across both rows. Back-seat passengers get niceties like power sunshades and automatic climate controls that make being driven just as much fun as driving. BMW offers options including a theater screen for the back seat, an executive seating package that brings a fold-out table, and a lounge seating package that brings a reclining rear seat with footrest.
Research the BMW 7 Series
Search for a BMW 7 Series on CarGurus
Cadillac Escalade
The Cadillac Escalade is a defining vehicle in its class, and it's one of the most iconic luxury cars of all time. Though its price tag is out of reach for many people, there is no denying the Escalade's utility, space, and capability. It can haul several people plus all of their gear, and tow a boat while doing it. The Escalade comes standard with a 6.2-liter V8 that makes 420 horsepower and 460 pound-feet of torque. It's paired with a ten-speed automatic and either rear-wheel drive (RWD) or four-wheel drive (4WD). Part of the magic of the Escalade is its ability to take a big V8 and tons of fuel and turn them into almost absolute silence—at least that's the perception from the driver's seat. Available adaptive air suspension keeps the big SUV pinned to the road and soaks up most of the worst imperfections in the road.
Inside, the Escalade offers an expansive space with premium materials throughout. Seven people can ride in absolute luxury, and Cadillac offers a bench seat for the second row that increases seating capacity to eight. Passengers have plenty to love about every seat in the house, and the third row is spacious enough for adults to ride comfortably. If you're looking to coddle your passengers, the second-row seats can be upgraded with heating, and an upgraded genuine leather upholstery option is available.
Research the Cadillac Escalade
Search for a Cadillac Escalade on CarGurus
Lincoln Navigator
The Lincoln Navigator is one of the originals in the large luxury SUV segment, along with the Cadillac Escalade. Lincoln's recent updates to the three-row luxo-barge have brought stunning tech and great new standard features. The Navigator comes with a twin-turbocharged 3.5-liter V6 that makes 440 horsepower and 510 pound-feet of torque. It's paired with a ten-speed automatic and RWD or AWD. Like the Escalade, the Navigator excels at delivering an exceptionally quiet, smooth driving and riding experience. The turbocharged engine delivers good torque and power off the line, giving the Navigator a lively feel and solid acceleration.
Lincoln updated the ultra-luxe Navigator for 2022 with new available interior themes and colorways. The automaker uses contrasting colors and patterns to create feelings of warmth and comfort, though the themes are only available for the most expensive Black Label trim level. There's seating for seven people standard, but Lincoln also offers a second-row bench that bumps the seating capacity to eight. The SUV comes standard with leather upholstery, and the available 30-way power seats with massage are some of the best bucket seats of any type in the industry.
Research the Lincoln Navigator
Search for a Lincoln Navigator on CarGurus
Uber Eats
Hyundai Ioniq Hybrid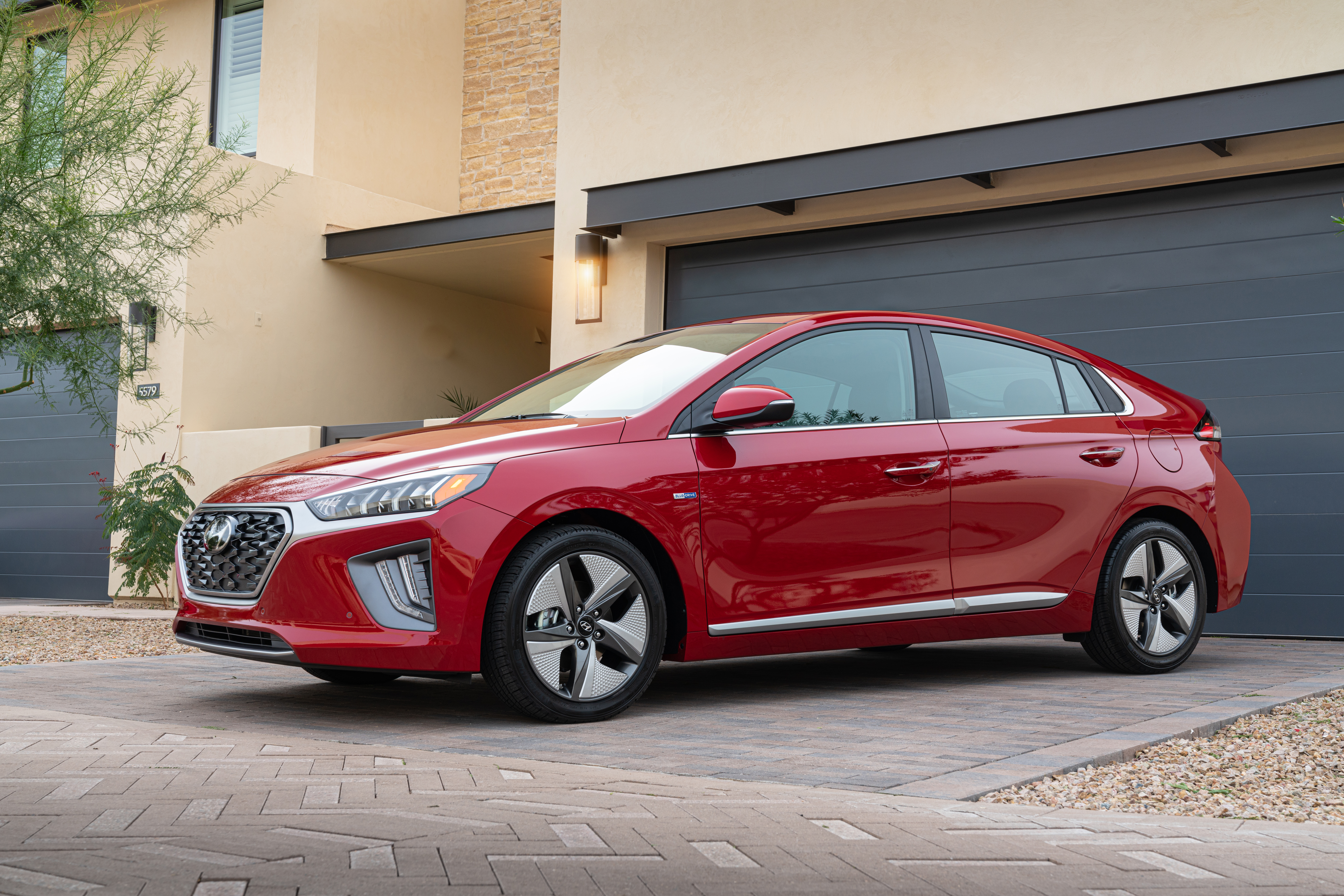 Hyundai's Ioniq line is changing into its own standalone sub-brand, but the previous Ioniq models offer fantastic fuel economy, great interior space, and agreeable tech. The 2022 Ioniq gets a hybrid powertrain with 139 horsepower and front-wheel drive. While it's not the quickest or most engaging powertrain option in the world, it gives the Ioniq great fuel economy of up to 58 mpg in the city—perfect for toting food around town for hungry customers.
Research the Hyundai Ioniq Hybrid
Search for a Hyundai Ioniq Hybrid on CarGurus
Mazda Mazda3
Mazda has a well-deserved reputation for building upscale cars with nice interior finishes and lively powertrains. The Mazda3 is no exception, and brings the brand's most desirable qualities to the world of compact cars. The Mazda 3 comes standard with a 2.0-liter four-cylinder engine, but two available four-cylinders bring better power, torque, and acceleration, especially the turbocharged four-cylinder. Mazda offers a hatchback with great interior space for delivering food and people, but no matter the configuration, the Mazda 3 offers an upscale experience inside.
Research the Mazda Mazda3
Search for a Mazda Mazda3 on CarGurus
Toyota Corolla
The Toyota Corolla is one of the better values in its segment and offers great standard features with good predicted reliability and classy style. Toyota offers two powertrain options in the Corolla, including a 139-horsepower 1.8-liter four-cylinder and a 169-horsepower 2.0-liter four-cylinder. A continuously variable transmission is standard, and Toyota offers a six-speed manual. The car is also available in a hatchback body style, making it incredibly useful for carrying deliveries, though the hatchback cars have less back-seat space than their sedan counterparts.
Research the Toyota Corolla
Search for a Toyota Corolla on CarGurus
Used Cars
Buying a used car can be a great way to get into rideshare driving, because you don't have to shell out so much money up front. Electric cars are a great used pick here, but lower-cost gas models are great options, too. The Kia K5, Hyundai Elantra, Honda Civic, and Honda CR-V all offer great space, practicality, and function. On the luxury side, Tesla, Lexus, and Acura are great picks that will keep riders chasing you for a seat.
Related Topics
The Best Cars for Commuting
The Best Hybrid Cars
The Best Gas Mileage SUVs