Subaru B9 Tribeca
Model Overview
Used Subaru B9 Tribeca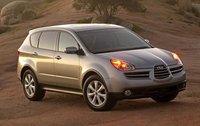 Used 2007 Subaru B9 Tribeca For Sale
| | |
| --- | --- |
| | 13 GOOD Deals |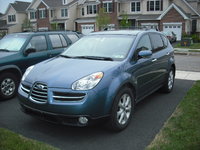 Used 2006 Subaru B9 Tribeca For Sale
| | |
| --- | --- |
| | 13 GOOD Deals |
Subaru B9 Tribeca Questions
Help
My B 9 started to read hot so I went and change the Thermostat it still was doing it so then I change the radiator no luck with that found a radiator hose with a whole change that now he still read...
How Do You Remove The Interior Trim In A 2006 B9 Tribeca To Access The Rear...
Looks like there are cup holders where the shock towers would be inside the vehicle but I am not sure how to get the cups holders out and would like to avoid destroying them. Perhaps the entire trim p...
My Subaru Tribeca Is Having A Problem With The Climate Contol Lights They A...
the lights flickered and now it is not working..
06 Subaru Tribeca LTD.,issues
My 06Subaru recently started making an odd noise last week,its off&on,not consistant,doesn't sound like a rod or lifter,but I think from past vehicle experiences,it's a fuel related issue,but not s...
Type Difference
What's the difference between the limited edition and the regular model?
Subaru B9 Tribeca
Overview
Just introduced in 2006, the mid-sized crossover SUV Subaru B9 Tribeca is Subaru's first seven-passenger vehicle and biggest model in its lineup. It hopes to attract those who like the performance and luxury of the Legacy, but who need more passenger space. It is actually based on a Legacy platform, but with a wheelbase three inches longer, and a weight topping out at 4200 pounds.
The 2006 B9 Tribeca, named after the New York neighborhood, has all the Subaru familiars -- a flat-six engine, all-wheel drive, and loads of interior conveniences. It is powered by a 3.0-liter, 250-hp V6 engine and a 5-speed automatic. Base models start with two rows of seats for five passengers, but an optional third row can be added. The second row conveniently moves back and forth to provide more legroom, and both second and third row fold flat.

The front end of the 2006 Tribeca caused a bit of uproar with its all-new triangular grille, meant to resemble an airplane fuselage. This has been redesigned for the 2007 model. The interior is high-end, with a curved dash that flows into the center console. Dual zone climate control, heated seats, a navigation system, power seats, and a remote are just some of the luxurious features. ABS, traction control, and stability control are also standard.
So far, the styling receives high marks from owners, who also appreciate the smooth and confident handling of the B9 Tribeca. It's major drawback is low gas mileage, but that is to be expected of any SUV. Though the third row is too small to be comfortable for adults, owners appreciate the extra storage space. For 2007, besides the revised grille, the B9 Tribeca will also get improved suspension, with stiffer shocks and struts.