Nissan Versa
Model Overview
About the Nissan Versa
Available Now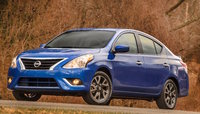 The Versa entered Nissan's automotive lineup in 2007 as its entry-level vehicle. Although it initially appeared only in a hatchback body style, Nissan introduced a Versa sedan by the end of the 2007 model year.
Based on Nissan's Tiida (pronounced tee-dah) compact car, which first appeared in Japan in 2004, the Versa displays European influences in its exterior design, due in part to Nissan's alliance with the French automaker Renault, which co-developed the vehicle. Initially Nissan intended the Versa to compete against such compact cars as the Honda Civic and the Toyota Corolla, but both automakers have since introduced direct Versa-competing subcompacts, in the form of the Fit and the Yaris, respectively.
In designing the Versa, Nissan's goal was to maximize interior space in an affordable, entry-level vehicle with good aerodynamics and fuel economy. Nissan achieved its goal in part by giving the Versa a tall profile, with a high roofline along the cabin. As a result, the Versa offers more interior volume than any other vehicle in its class. In fact, the Versa's interior space approaches that of some full-size sedans, including the Maxima, and seats up to five passengers comfortably.
Despite the Versa's diminutive exterior proportions, taller passengers should have no problem finding plenty of legroom and headroom inside, even in the rear seats, reviewers note. In addition, as befitting its name (based on the word "versatility"), the Versa delivers an efficient, well-organized interior design with numerous storage spaces, easily configurable seating, and good overall build quality.
Currently toward the end of its first generation, the Versa comes in six trims, including the entry-level 1.6 Base and 1.6 sedans, the mid-level 1.8 S sedan and hatchback, and the high-end 1.8 SL sedan and hatchback. A 107-hp, 1.6-liter four-cylinder engine matched with a five-speed manual transmission powers the 1.6 sedan trims, while all 1.8 sedans and hatchbacks come equipped with 1.8-liter four-cylinder engine producing 122 hp. The engine links to a six-speed manual in the 1.8 S trims, a four-speed automatic in the 1.8 SL sedan, and an Xtronic Continuously Variable Transmission (CVT) in the 1.8 SL hatchback. The 1.6-liter engine posts fuel economy numbers of 26/34 mpg, while the 1.8-liter engine manages fuel economy numbers of 26/31 mpg with the six-speed manual, 24/32 with the four-speed automatic, and 28/34 with the CVT transmission.
Given its entry-level status, the Versa best fits the needs of commuters, first-time car buyers, and small families. Reviewers give it good overall marks for its fuel economy, comfortable ride, and surprising amount of interior space for its size. The hatchback offers more versatility than the sedan, but both body styles deliver solid handling and performance.
While the entry-level 1.6 Base trim comes sparsely equipped, arriving without even air conditioning and an audio system, the 1.8 trims include all the requisite standard features, as well as such options as a navigation system, Bluetooth, and an upgraded audio system. Antilock brakes remain absent from the standard feature list for 1.6 trims, but they come standard on 1.8 trims.
Nissan created a number of its vehicles, including the Altima and the Maxima, primarily for the U.S. market, but the Versa represents a true global vehicle for the automaker. As proof, Nissan recently unveiled a new compact car at the International Automobile Exhibition in China, and announced plans to sell it in more than 100 countries. Some industry observers believe the new car, called the Sunny in Japan and China, could become the second-generation Versa in the U.S. Although the automaker has announced no specific plans for selling it in the U.S., many surmise it could become the second-generation Versa, with possible arrival in showrooms for the 2012 model year.
Model History
When the Nissan Versa debuted at the North American International Auto Show in Detroit for the 2007 model year, it sat on a stretched version of the automaker's front-wheel-drive B plaform, which also serves as the platform for the Nissan Cube, Juke, and Leaf. The Versa's wheelbase measured 102.4 inches, while overall length was 169.1 inches for the hatchback and 176 inches for the sedan. Production took place at Nissan's Plant in Aguascalientes, Mexico, where the automaker also builds the Sentra.
The Versa initially came in 1.8 S and 1.8 SL trim levels, in both hatchback and sedan body styles. Power came from a 122-hp, 1.8-liter, DOHC four-cylinder engine, which provided more power than the engines in competitive vehicles like the Honda Fit and the Toyota Yaris. However, because of the Versa's curb weight of around 2,500 pounds, it wasn't much quicker than its competitors. Six airbags, including dual-stage front, front seat side, and side-impact airbags, came standard, although antilock brakes and traction control were optional.
Outside, the Versa displayed styling elements borrowed from the Altima, augmented by large, triangular-shaped headlights and trapezoid taillights. Inside, air conditioning, tilt steering, intermittent wipers, and a CD player came standard on the base S trim, while the SL added cruise control, power windows and locks, an MP3 player, and a rear armrest. Options included a premium Rockford-Fosgate audio system, satellite radio, and a sunroof.
Electric power steering and power-assisted front disc brakes also came standard. A Sport Package for the SL trim added foglights, side sills, and front and rear spoilers, while a Convenience Package added Bluetooth, an Intelligent Key system, and a leather-wrapped multifunction steering wheel.
For the 2009 model year, Nissan delivered a more budget-oriented 1.6 trim level, with a starting pricetag under $10,000, making it the least expensive vehicle available in the U.S. (until Hyundai lowered the price of its Elantra to reclaim that title). The 1.6 Base and 1.6 sedan trims were powered by a 107-hp, 1.6-liter four-cylinder engine and arrived with stripped-down standard feature lists. The 1.6 versions featured black exterior trim around the grille and mirrors, as opposed to body-color trim for the 1.8 versions.
In 2010, Nissan made antilock brakes standard on 1.8 trims, but that safety feature remained optional for 1.6 trims. The 1.8 S trim also received a new wheel design for 2010.
Used Versions
As a testament to the Versa's value and budget-oriented status, it was named an Automotive Best Buy by Consumer Reports for the years 2007 to 2010. As a result, the Versa presents a good option for prospective buyers on a tight budget who are seeking a seeking a solid commuter vehicle with good gas mileage and plenty of interior room.
Prospective buyers will more than likely want to seek out 1.8 trims, equipped with the 122-hp, 1.8-liter four-cylinder engine, which provides peppy performance. In addition, 1.8 S and 1.8 SL Versas built after 2010 came standard with antilock brakes, as well as six airbags. Also standard for 1.8 trims were such features as air conditioning and an audio system with a CD player.
The 1.6 sedan trims, introduced in 2009, were powered by a 107-hp, 1.6-liter four cylinder, which left the Versa feeling underpowered during acceleration and when passing at highway speeds. In addition, the 1.6 Base Versa came without such fundamental features as power windows, air conditioning, and an audio system, although all those features were available as options. However, they pushed up the price of the Versa by a few thousand dollars.
On the positive side, all Versas built since production started in 2007 came equipped with six airbags, including the entry-level 1.6 Base. Buyers who place a price on safety over performance can find some good used-car buys in the lower-end Versa trims.
New Nissan Versa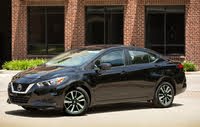 Used Nissan Versa