Mazda CX-9
Model Overview
New Mazda CX-9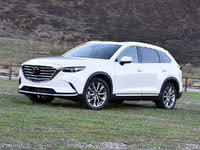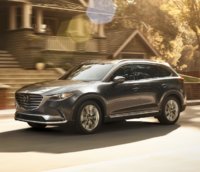 Used Mazda CX-9
Mazda CX-9 Questions
Chirping Noise After Break Repair
Just replaced break rotors, pads, shocks and struts at 154,000 miles. Now I hear a chirping inside car from center/right side when moving at 50 mph + and steering wheel is streight. Chirping stops...
Foul Odor
I have a gas odor in my mazda cx9 2011....Do anybody know what is this
Fuel Injection Service
My car is a 2017 Mazda CX9 with about 24000 miles I was told I should get a fuel injection service plus a cabin filter is this needed
Just Got A 2015 Cx9. There Is An Audible "whiney" Engine Noise. What Could ...
2007 Mazda CX9
I was driving to work and my car alarm went on while I was driving out of the blue and then my dashboard with my radio went black and then all the numbers started blinking. I pulled over and stopped...
Mazda CX-9
Overview
Winner of Motor Trend's 2008 "SUV of the Year" award, the Mazda CX-9 also has the distinction of being Mazda's biggest vehicle. Related more to the Ford Edge than the similarly styled and smaller CX-7, the CX-9 crossover borrows the Edge's engine and platform, but ratchets the ride up with a sport-tuned suspension and a 3.5-liter V6 designed to hit 263 hp. In 2008, a 3.7-liter, 273-hp V6 took the original engine's place.
With a sloping windshield and high beltline, rear spoiler, and dual exhaust, the Mazda CX-9 looks sportier than it is. And its sleek styling and standard features make it look more expensive than it is. Three rows seat seven passengers comfortably, and the third row accommodates adults adequately. Access to this row is made easier by large rear doors and an easy-sliding second row. The sliding second row also provides more legroom. Cargo capacity starts at 17 cubic feet and expands to 100. The CX-9 comes in three trims - Sport, Touring, and Grand Touring. All are available in either front-wheel or automatic all-wheel drive, and ABS brakes, traction and stability control, and six airbags are all standard.
The CX-9 is a popular choice for families who need the versatility of an SUV, but prefer car-like handling and a less boxy style than your average sport utility vehicle. Mazda also makes its crossover fun to drive, with smooth handling, a responsive sport-shifting 6-speed transmission, and surprising maneuverability, despite its nearly 200 inches of length. The CX-9's interior space, relatively low price, and modern styling make it a challenging competitor to the Honda Pilot, Toyota Highlander, and even the smaller Acura RDX. The biggest complaints have been its low fuel economy and a rough ride caused by the sport suspension.