Land Rover Range Rover Sport
Model Overview
New Land Rover Range Rover Sport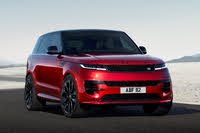 Used Land Rover Range Rover Sport
Land Rover Range Rover Sport Questions
Land Rover Range Rover Sport
Overview
The Range Rover Sport is a new type of vehicle from Land Rover. While it is still a very capable and highly evolved 4x4, the Sport is the first Land Rover ever to focus on on-road performance. While it wears the Range Rover badge, and styling is certainly reminiscent of earlier Range Rover models, the Sport is actually build upon the LR3 platform, which it shares with the Ford Explorer.
The Sport evolved from a 2004 concept vehicle labeled the Range Stormer. This three-door, low-riding concept SUV was mostly scrubbed, but the eventual product still bared some resemblance to the original concept. Land Rover decided that the Range Rover nameplate provided a better foundation for this new vehicle, so they redesigned the vehicle with five doors and more familiar styling.
There have been two variations of the Range Rover Sport, and both are currently in production. The lower priced model is called the HSE. This Sport is powered by a 4.4 liter V-8 which generates 300 horsepower and 310 pound-feet of torque. The Supercharged Sport houses a smaller, but more refined 4.2 liter supercharged V-8, which produces 390 horsepower and 410 pound-feet of torque. Both models use a six speed automatic transmission, which intelligently adapts to varied driving conditions.
Both models are similarly equipped. Standard features include folding rear seats, leather seating, dual-zone climate control, a 14 speaker Harmon-Kardon sound system with and in-dash CD changer, adaptive headlights, a satellite navigation system, and a center console cooler. A rear seat DVD entertainment system is optional on the HSE and standard on the Supercharged. The more expensive Supercharged Sport also gets 20-inch wheels and Land Rover's Dynamic Response suspension system.
Land Rover Range Rover Sport Experts
View All