Jeep Patriot
Model Overview
New Jeep Patriot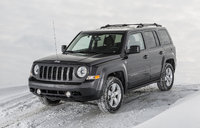 Used Jeep Patriot
Jeep Patriot Questions
Wheres The Fuse Located For The Front Windshield Wipers
my front windshield wipers are still going when i turned them off need to disconnect the fuse until I get to dealership
Stutter/pcm?
Been having a delay/stutter/bucking issue while accelerating last couple of days. Replaced plugs, air filter, fuel injector cleaner, and cleaned battery terminals... to no avail. Was driving this m...
Jeep Remote And Gauge Issue
Worked completely fine. Then.... My clock on my radio will reset self to 12:00am - all presets still there tho. My temp gauge for outbside temp won't work Key fob with remote start unresponsive 3 s...
2009 Jeep Patroit Wont Crank Over???
Hello, I have a 2009 Jeep Patroit that keeps giving me problems starting. We have replaced the battery and the starter in the past few days. Thrusday-wouldnt start-replaced the battery- ran great un...
What Is Salvage On A Car Mean
looking to buy a car whats salvage means
Jeep Patriot
Overview
The Patriot is the more traditional-looking of Jeep's two debut models for 2007. Released on the heels of its car-based counterpart, the Compass, it displays more of the squareness that have marked Jeep vehicles over the decades.
Although the base model is not Trail Rated without the addition of optional equipment, the vehicle boasts significant ground clearance and a considerable suite of safety features. These include ABS, stability control, and electronic roll mitigation.
A properly-equipped Patriot 4x4 will be at ease on the trails, although the reality is that it is based on a car, the Dodge Caliber, and its steering and suspension are thusly tuned. This was Jeep's intention, as the Patriot is meant to appeal to those who want a road car first and a fairly tough trail vehicle for the occasional weekend foray.
That said, the loaded 4x4 is definitely superior to its entry-level sport-ute competition. Its Off-Road options group adds descent control, low-range gearing, brake-lock differentials, skid plates, tow hooks, fog lamps, a heavy-duty cooling system, and a full-sized spare tire in addition to a bonus inch of ground clearance.