Jeep Patriot
Model Overview
New Jeep Patriot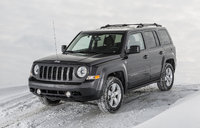 Used Jeep Patriot
Jeep Patriot Questions
2009 Jeep Patroit Wont Crank Over???
Hello, I have a 2009 Jeep Patroit that keeps giving me problems starting. We have replaced the battery and the starter in the past few days. Thrusday-wouldnt start-replaced the battery- ran great un...
4wd! Esp Bas ((abs)) And Traction Control Light On In 2008 Jeep Patriot
Help! Hopped into my 2008 Jeep Patriot a few weeks ago and noticed my ((ABS)) and ESP BAS and 4WD! and traction control lights were on. They were not on before. When I tried to reverse out of my sp...
Why Does A Single Beep Sound Occur When I Initiate A Turn
When I initiate a turn a single "ding" sound can be heard. I don't get a message on the control panel. The left turn indicator flashes extremely fast(internal not external) but the right turn indica...
My 2014 Jeep Patriot Heater Blows Cold Air, What Could Be Wrong?
The engine does not overheat, there's no coolant issues, it just blows cool air
Bucking After I Fill Up With Gas.
I have a 2008 Jeep Patriot that I purchased used 2 months ago. Every single time I put gas in it, it runs a very short distance from the gas station and starts to buck and jolt like it wants to shut ...
Jeep Patriot
Overview
The Patriot is the more traditional-looking of Jeep's two debut models for 2007. Released on the heels of its car-based counterpart, the Compass, it displays more of the squareness that have marked Jeep vehicles over the decades.
Although the base model is not Trail Rated without the addition of optional equipment, the vehicle boasts significant ground clearance and a considerable suite of safety features. These include ABS, stability control, and electronic roll mitigation.
A properly-equipped Patriot 4x4 will be at ease on the trails, although the reality is that it is based on a car, the Dodge Caliber, and its steering and suspension are thusly tuned. This was Jeep's intention, as the Patriot is meant to appeal to those who want a road car first and a fairly tough trail vehicle for the occasional weekend foray.
That said, the loaded 4x4 is definitely superior to its entry-level sport-ute competition. Its Off-Road options group adds descent control, low-range gearing, brake-lock differentials, skid plates, tow hooks, fog lamps, a heavy-duty cooling system, and a full-sized spare tire in addition to a bonus inch of ground clearance.