GMC Canyon
Model Overview
New GMC Canyon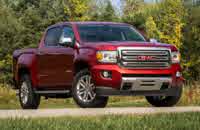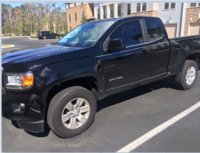 Used GMC Canyon
GMC Canyon Questions
GMC CANYON STALLS
I have a 2009 GMC Canyon with about 117,000 miles on it. It has a problem where it keeps wanting to stall when I'm driving it. It stalls at stop lights, stalls when going around corners (left or rig...
Hazard Light On
Why would my hazard light just come on, for no reason I know of?
The People Who Submit Facts Should Provide Proof Or Evidence With A Photo O...
Request photo of Odometer
Electric Fire
i bought a 04 canyon had it for 4 days and it caught firefrom them engine. it ran fine up till then does the canyon have any electric problems
Defrost Light Burnt Out
Defrost Light in my 2017 canyon burnt out. Do I have to take dash apart to change it out or can I just remove the button to change the bulb?
GMC Canyon
Overview
Good things come in smaller packages, or so GMC would like to think with the GMC Canyon. This compact pickup took its place in the domestic maker's lineup in 2004 and holds a solid, if not leading, position in the American marketplace. With 2 and 4 door versions, the Canyon has always offered a lot of trims. However, the Canyon also lacks the V8 or even V6 that could set it apart in the power department.
As of 2007, the Canyon offered 2 different standard powertrains: a 2.9 L, 185 hp I4 and a 3.7 L, 242 hp I5 with a choice between 4 speed automatic and 5 speed manual transmission. Gas mileage has generally come out to a solid 17 mpg in the city and 23 on the highway. Overall, the Canyon presents a good option for those looking for a more rugged frame on their vehicle without needing mind-blowing towing power.