GMC Canyon
Model Overview
New GMC Canyon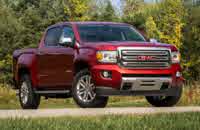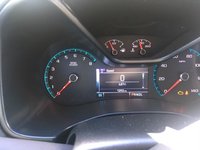 Used GMC Canyon
GMC Canyon Questions
2004 Gmc Canyon Reverse Problem
Hey guys I have a question on a 2004 gmc canyon, my fiance just got the truck from her grandfather it has 104000 miles, and today while backing up it was hard to turn the steering wheel. When we pu...
Dash And Radio Problems In Gmc Canyon
I have a 06 gmc canyon. Had an aftermarket radio in it. It worked fine. Went to switch to different aftermarket radio. Radio wouldnt turn on. And my dash went dark. Would randomly come on and thro...
Starting Problem
it will start in the morning, but if i stop for gas ,it will not always start right up again, then i will have to wait awhile and it will start.
GMC Canyon Will Not Stop Cranking Over
I have a 2012 GMC canyon and they sprayed the engine off with water and now it will not stop cranking over , it tries to start but it cranking all the time any suggestion ?
Needing To Edit Or Delete A Review. Please Help With This Issue.
Julian Foy motors in Many, La. I left a review as Carl. I need to remove it as they were gracious enough to contact me apologizing for their mistake and reimbursed me the gas money it took for me to...
GMC Canyon
Overview
Good things come in smaller packages, or so GMC would like to think with the GMC Canyon. This compact pickup took its place in the domestic maker's lineup in 2004 and holds a solid, if not leading, position in the American marketplace. With 2 and 4 door versions, the Canyon has always offered a lot of trims. However, the Canyon also lacks the V8 or even V6 that could set it apart in the power department.
As of 2007, the Canyon offered 2 different standard powertrains: a 2.9 L, 185 hp I4 and a 3.7 L, 242 hp I5 with a choice between 4 speed automatic and 5 speed manual transmission. Gas mileage has generally come out to a solid 17 mpg in the city and 23 on the highway. Overall, the Canyon presents a good option for those looking for a more rugged frame on their vehicle without needing mind-blowing towing power.