Ford Fusion Energi
Model Overview
New Ford Fusion Energi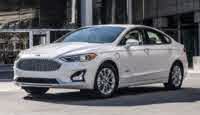 Ford Fusion Energi Questions
Problem Starting 2015 Ford Fusion Energy Titanium
I jump started my explorer with my fusion and my car hasn't started since then and niether my hybrid battery or my 12 volt battery won't hold enuff of a charge to start my car I can hook jump cab...
12 Volt Battery Dead
There is no light lit up on dash board, car has been sitting for 3 months with only 27,000 miles. Maybe driving for a while will charge battery, this is a Fusion Energi........ Just waiting to ret...
What Is The Ford Warranty On Energi Battery
how many miles and months is the warranty on the ford titanium energi battery
What Is The Average Life Of Ford Titanium Battery
what is the average year life of ford titanium energi battery?
Battery
We have a 2016 Ford fusion energy. Up until a week ago, we were getting 21 miles a day (sometimes a little more, sometimes a little less - depending on driving). The EV available that comes on imme...