Ford Fusion Energi
Model Overview
New Ford Fusion Energi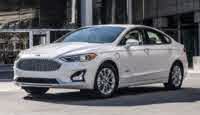 Ford Fusion Energi Questions
2015 Fusion Energi Dash Symbol
I have a new symbol showing up on my dashboard. It looks like a fuel pump with a little "I" (lower case i) in the middle. I can't find the symbol in the owners manual. Any ideas what it is?
The Rechargeable Battery On The Energi
Are there any suggestions for charging the lithium ion battery that could lengthen its useful life.
Installing A Trailer Hitch
I've had multiple answers and most info on the internet refers to the Fusion hybrid, not the Energi which has a larger battery pack and larger battery compartment. Can you install the Curt C12091, C...
Charging
does not charge fully overnight Possible reasons...
What Is Warranty Length On Ford Fusion Energi Lithion-ion Battery