Chevrolet Express Cargo
Model Overview
About the Chevrolet Express Cargo
Available Now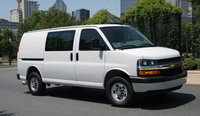 For nearly half a century, Chevy's full-size van has been the serious option for getting serious work done. Although the competition is admittedly quite limited, no other van comes close to the power of the Express, and no other van offers quite the same combination of utility, comfort, style and affordability.
For its 16th year in this incarnation, Chevy's Express Cargo gains a few options along with standard stability control. The optional turbudiesel V8 was also revised for another 10 horses and 85 tokens of torque, making it a 260-hp and 525-lb-ft heavy hauler capable of taking on 4,490 pounds of payload or hitching up to 9,700 pounds on a trailer.
Standard equipment includes 16-inch steel wheels, swing-out right-side doors, air conditioning, front bucket seats, vinyl upholstery and a trip computer - the mechanicals being the only differences between the three trims.
All-wheel drive (AWD) and a 4-speed automatic are available for the 1500 only, while the extended wheelbase - affording 317 cubic feet of cargo capacity - and 6-speed automatic are available only for the 2500 and 3500.
The rear-wheel-drive 1500 uses the 195-hp 4.3-liter V6 by default with the option of its AWD-standard 310-hp 5.3-liter V8. Standard power in the heavy-duty editions is a 280-hp and 296-lb-ft 4.8-liter V8, with three additional V8s to choose from if default power isn't quite sufficient.
Highlights of the options list include power accessories, heated power mirrors, keyless entry, remote start, OnStar with Directions and Connections, various radios offering Bluetooth, CD and USB capabilities along with an array of window and door configurations. Stability control and antilock brakes are both standard with the option of side airbags.
Current drivers tout the Express Cargo's reliability and comfort, but note that it can get a bit noisy and rough without a load in the back. Otherwise most drivers are too busy getting work done to put in a review - so it's probably safe to assume the Express is everything promised, and maybe a little more.
Model History
Four decades ago, nails were hammered into plank after plank to build a home, pipes were fitted together to plumb it and wires were run through to power it. Your work hasn't changed much, and neither has Chevrolet's long-trusted companion to get it done.
The only significant overhaul in its nearly half-century of life came in 1996, when Chevy's van came to be known as the Express, marking an era of improved driving dynamics, power and style for the cargo carrier. Prior to the shift the G10, G20 and G30 Chevy vans were powered by an array of engines from a basic V6 to 6.2-liter diesel and 7.4-liter gasoline V8s. Most popular of all was the 350, or 5.7-liter V8 as it was later known. The '80s brought a 4-speed automatic and fuel injection, but aside from that and a bit of regulatory compliance, Chevy's van was pretty much the same beast of burden from its birth.
Following that, Chevrolet greatly improved the ergonomics and style of its van for the Express's debut, putting it well ahead of the competition on ride, looks and utility without any of the newfangled electronics to gum up the pipes. Today's Express Cargo comes in basically three flavors - 1500, 2500, and 3500 - although at the outset these designations were predicated with a "G". Regular-length models housed 267 cubic feet of stuff even then, with the extended wheelbase affording 317 cubic feet of cargo capacity.
The previous generation's engines largely carried over until the 2003 update, at which point they were replaced with a 200-hp V6, 280-hp 4.8-liter V8, 295-hp 5.3-liter V8 and 300-hp 6-liter V8 with the option of AWD for the very first time. A 6.6-liter turbodiesel debuted for 2006, offering 250 horses and 460 lb-ft of torque.
The '08 edition brought an interior redesign and more power - the 5.3 now putting out 301 hp with another 23 horses for the 6-liter, and for 2010 the 5.3 gained another 9 horses. A 6-speed automatic also debuted that year for the heavy-duty models. The latest edition brought standard stability control and a few creature comforts along with an improved turbodiesel, which properly equipped affords nearly 10,000 pounds of towing and 5,000 pounds of payload capacity with its 525 lb-ft of torque.
Other vans may be taller and more nimble or technologically savvy, but nobody comes close to the Chevy's power, and when it comes to ride and style in a full-size van, the Express takes the cake. When serious work is on the line, the Express Cargo is a serious van to get it done.
Used Versions
Chevrolet's Express Cargo is generally pretty reliable, but let's not kid ourselves - these are work vans. Stuff happens. Nobody goes easy on 'em, and instead owners bring the van to its very brink before servicing it - and some years are certainly worse than others at handling that abuse.
Although there is not a great deal of third-party information available, it looks like any Express born after the '03 overhaul would be a great reliable buy. As with almost everything you intend to drive on a daily basis, avoid models which debut a major drivetrain change and you should be in the clear as far as defects and major repairs go.
The '05 is definitely the best of the old bunch - any older and you're looking at an army of issues due to the heavy-duty nature of the beast. However, the '05 and every model year thereafter are absolutely worth breaking into five figures, especially if power is a priority with the '08 and later engine tweaks.
New Chevrolet Express Cargo


Used Chevrolet Express Cargo
Chevrolet Express Cargo Questions
Chevrolet Express Cargo Experts
View All