Chevrolet C/K 1500
Model Overview
Used Chevrolet C/K 1500
Chevrolet C/K 1500 Questions
Engine Swap
I got a chevy 1500 4.3l v6 I was wondering if the suspension would be able to handle a chevy 350 engine and transmission swap.
1997 Chevrolet Silverado C 1500 5.7
Truck was kicking back so I took starter off and had it tested, It was fine. So now I'm looking at removing fly wheel. I put the old starter back in to move the truck for the bigger job. When I hoo...
A.c. Not Working At All
My a.c. was just working fine. Shut off the truck. When I returned, I started my truck and my a.c. didn't work at all
Tranny (D) Drive Failure
Turned on truck this morning, shifted into gear perfectly, came across red light and rpms were low so shifted into (N) neutral, when light turned green put back into (D) drive and no movement rpms...
Turn Signals Keep Blowing Fuses
Older Chevrolet C/K 1500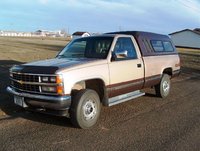 1988 Chevrolet C/K 1500 reviews:
Chevrolet C/K 1500
Overview
The C/K 1500 Series was the name for Chevrolet's full-size pickup-truck line from 1962 until 1998 (and GMC's full-size pickup line from 1962 to 1988). The first Chevrolet pickup truck appeared in 1924, though in-house designs did not appear until 1930.
The "C" trucks had two-wheel drive, while the "K" models had four-wheel drive. The C/K light-duty pickup was replaced by the Chevrolet Silverado in 1999; the Chevrolet Silverado HD heavy-duty pickups followed in 2001.