Cadillac Escalade
Model Overview
New Cadillac Escalade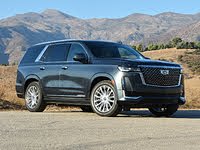 Used Cadillac Escalade
Cadillac Escalade Questions
Can A Blind Spot System Be Retrofitted?
Hi Can a blind spot monitoring system be retrofitted on a 2007 Cadillac Escalade? Thank you, Mark
Is A 2007 Cadillac Escalade A Good Buy?
Would a 2007 Cadillac Escalade with 100,000 miles and around $16,000 be a good buy? I'm retired and my monthly mileage is only bout 50 miles per month and wouldn't keep the car for more than 10 year...
I Have An Escalade That Smells Like A New Car Until You Turn On The Air Con...
No, I do not own a cat.
How To Pull Codes Without Scan Tool
I cannot get a scanner to link to my OBD2 port how can I pull trouble codes without scan tool
Is A Extended Warranty From Warranty Solutions Good Or Bad?
I bought a extended warranty from warranty solutions from the dealer and started reading bad reviews about it. I purchased the Ecomind preowned 5 star with a $200 deductable, Bumper to bumper 3 year 3...
Cadillac Escalade
Overview
From its humble introduction in 1999, the Cadillac Escalade emerged as one of the most heralded vehicles in popular culture. The full-size, 4 door SUV gets props in the hood, on the street, and in front of the club. Drive one and expect an automatic upgrade in your rep.
The first edition of the Escalade featured a 5.7 L, 255 hp V8 powertrain. 2002 marked an upgrade to a 5.3 L, 285 hp basic V8 with an option to move up to 6.0 L and 345 hp. Those seeking a medium level engine got their wish in 2004 with the introduction of the 5.3 L, 295 hp V8. Sales plateaued a bit in 2006 and prompted a beefier 6.2 L, 403 hp V8 engine with 6 speed automatic transmission.
That said, the Escalade gets a reputation as a bit of a gas guzzler. Expect to get around 13 mpg in the city and 20 on the highway. In any case, pick up this stylish SUV for the smooth ride and the ability to take 7 passengers on a journey you won't soon forget.
Find great deals from top-rated dealersTM
Search