Cadillac Escalade
Model Overview
New Cadillac Escalade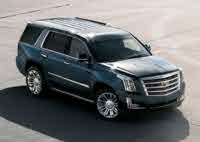 Used Cadillac Escalade
Cadillac Escalade Questions
What To Do
I bought a 2005 Escalade just yesterday from what seemed a reputable used car lot. Tested out was all fine great & dandy for the hour or so we checked over & drove around there. Got him down to ou...
Car Won't Stay Running
1999 cadillac escalade wint stay running cranks over but shuts off immediately
2004 Cadillac Escalade Doesn't Shutdown Completely After Taking Key Out Of ...
When I turn my car off, take the key out of the ignition and open the driverside door my car is not shutting down like it should. Is there a door sensor that needs to be replaced?
Power Running Boards 2013 Cadillac Escalade
Is there a way or a switch to shut off the power running boards. I am tall and do not need them and they are currently in the down position and all iced up
Rear End
My 2000 model esclade rear end went out 4 wheel drive I want to change it out with somthing newer with disc brakes what year and model trucks can I interchange with
Older Cadillac Escalade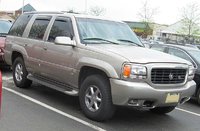 1999 Cadillac Escalade reviews:
Cadillac Escalade
Overview
From its humble introduction in 1999, the Cadillac Escalade emerged as one of the most heralded vehicles in popular culture. The full-size, 4 door SUV gets props in the hood, on the street, and in front of the club. Drive one and expect an automatic upgrade in your rep.
The first edition of the Escalade featured a 5.7 L, 255 hp V8 powertrain. 2002 marked an upgrade to a 5.3 L, 285 hp basic V8 with an option to move up to 6.0 L and 345 hp. Those seeking a medium level engine got their wish in 2004 with the introduction of the 5.3 L, 295 hp V8. Sales plateaued a bit in 2006 and prompted a beefier 6.2 L, 403 hp V8 engine with 6 speed automatic transmission.
That said, the Escalade gets a reputation as a bit of a gas guzzler. Expect to get around 13 mpg in the city and 20 on the highway. In any case, pick up this stylish SUV for the smooth ride and the ability to take 7 passengers on a journey you won't soon forget.