New BMW X4

The 2019 BMW X4 has been announced, but it is not yet available for purchase.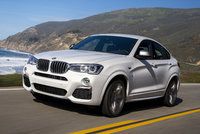 BMW X4 Questions
BMW
What is the annual cost of owning an 2018 bmw x4
Maintenance Program Upgrade 2017
I just bought brand new 2017 BMW X4. I got off for the maintenance upgrade of 5 years/75K miles for $1,900. Would it be worth it ?