New Audi A5

The 2019 Audi A5 has been announced, but it is not yet available for purchase.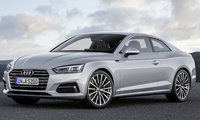 Used Audi A5
Audi A5 Questions
2011 A5 Cluster Problem
I have an 2011 Audi A5 and I am having a nightmare with the Audi Dealership and Warranty Company I had my car towed into the dealership because it would not start the Cluster had 89,250 miles on i...
Back Bumper
Hey so I was planning on swapping my stock A5 back bumper to a S5 back bumper, so I was wondering do I have to get the S5 and S5 back diffuser or can I just buy the S5 diffuser and fit it on my A5...
Oil Pressure Too Low/epc Light
Hello , please help me! I have an Audi A5 1.8 tfsi and I got a light on dashboard when i start the engine, saying "switch off engine oil pressure too low". It came on and beeped light for 3 times th...
Audi Headlights
I turn on the headlights and in 3 minutes they go off,,,the I hit the switch back off n on and again 3 minutes later they go back off