New Audi A5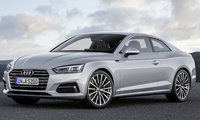 Used Audi A5
Audi A5 Questions
Power Steering Issues
Have and Audi A5 that has had lots of issues, the latest is after i had the head repaired due to the deign fault on the timing chain the car now experience power steering issue The steering gets rea...
Where Are You Located
would like to come down to see the selection of cars
Oil Pressure Too Low/epc Light
Hello , please help me! I have an Audi A5 1.8 tfsi and I got a light on dashboard when i start the engine, saying "switch off engine oil pressure too low". It came on and beeped light for 3 times th...
Audi A5 Premium
I just purchased an A5> Does not appear to have any heated seats or steering wheel. I have never seen this In any other car I owned. I am shocked. Are these options really not in this car?
Lica4
There is no option to input my postcode, just a zip code. Please advise. From the UK .
Older Audi A5