New Audi A5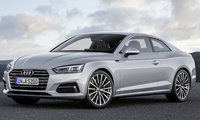 Used Audi A5
Audi A5 Questions
Past Vehicles On Your Site
Is there a way to pull up a listing from 5 weeks ago? We are having issues with the dealership. They raised the base price on us when looking through the paperwork. I have a copy of the link for it ...
Oil Pressure Too Low/epc Light
Hello , please help me! I have an Audi A5 1.8 tfsi and I got a light on dashboard when i start the engine, saying "switch off engine oil pressure too low". It came on and beeped light for 3 times th...
Any Fix For S-tronic Shift?
I have an Audi A5 2.o T Quattro S-tronic, which is really nice and good in many ways. The only problem is that the S-Tronic gearbox malfunctioning bad at low speeds. Eg when I run up to 70 km per hou...
I Have A 2012 Audi A5 2 Litre TDI And It Stood For A Few Months But Now It ...
wot could the issue be?
Audi A5 Waterpump
I recently found out my water pump on my Audi A5 had 4 impeller blades missing, where abouts would they be caught up and how would I go about extracting them? Thanks
Older Audi A5