New Audi A5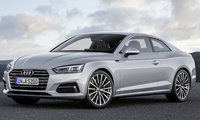 Used Audi A5
Audi A5 Questions
Egr Valve Problem
Audi a5 2010 model, 2.7, 190 hp the egr valve been changed still giving the same error.do u have any idea?
How Do I Get Paid?
Where is car seen, and how does deal happen?
What Is The Life In An 2010 Audi A5?
I need to know how long an Audi will last and the price range of maintenence yearly.
Audi A5 Power Steering
Hello iv got a 2010 audi a5 2.0 tdi and the power steering pump has gone and there saying its not covered under warranty witch I payed for there saying is wear and tear. And there saying the part ...
Oil Pressure Too Low/epc Light
Hello , please help me! I have an Audi A5 1.8 tfsi and I got a light on dashboard when i start the engine, saying "switch off engine oil pressure too low". It came on and beeped light for 3 times th...