New Audi A5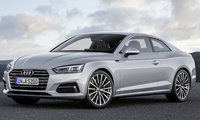 Used Audi A5
Audi A5 Questions
Cars Listed That Have Been In A Accident, Can You Find Out The Type Of Acci...
Selling A Car
How dinunknow when someone is interested in my car? Can they make offers ?
Oil Pressure Too Low/epc Light
Hello , please help me! I have an Audi A5 1.8 tfsi and I got a light on dashboard when i start the engine, saying "switch off engine oil pressure too low". It came on and beeped light for 3 times th...
How Do You Change The Mph To Digital On My Dash?
Audi A5 2ltr Turbo 2009
Hi, i have a audi a5 2ltr turbo, every so often when you start it, it starts popping the more you rev the more it pops, when this happens its undrivable it almost feels like your just about to run...