New Audi A5

The 2019 Audi A5 has been announced, but it is not yet available for purchase.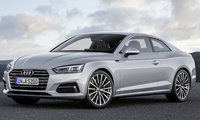 Used Audi A5
Audi A5 Questions
Owner Maintenance Costs
How does the Audi compare in maintenance and repair costs
Salvage Title Impact Value
Looking at a 2017 Audit A5 convertible. It has 15,000 miles and was hit on the side totaling the car. this guy had it fixed and is asking $26,500. It has a salvage title. It is insurable, but warr...
My Car Is Not Listed?
My car is no longer listed?
Power Steering Issues
Have and Audi A5 that has had lots of issues, the latest is after i had the head repaired due to the deign fault on the timing chain the car now experience power steering issue The steering gets rea...
Leave A Review
I need to leave a review for a company who sold me a car. How do I do that?