Ford Dealers near Hixson, TN
Showing Ford dealers within 50 mi of Hixson, TN
Authorized Ford Dealers
5348 Highway 153
Hixson, TN 37343
"Had several e-mails back and forth. Did not go look at car because I bought another one somewhere else."
301 East 20th Street
Chattanooga, TN 37405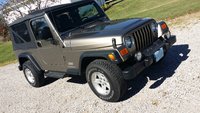 "When I contacted Mountain View about the Jeep that had been listed for SIX hours, it was already almost 12 O'clock at night. The next morning they contacted me and said the Jeep had been SOLD already but they had others she wanted to tell me about ! Yeah right.............DID THEY EVER HAVE THIS ONE FOR SALE THAT WAS AN EXTREMELY GOOD DEAL ??? I THINK NOT !"
2496 S Lee Hwy
Cleveland, TN 37311

"They were very helpful and friendly. I would definitely recommend them to a friend. All around great people."
4501 Rhea County Highway
Dayton, TN 37321
"I drove a distance to see a 2015 Jeep. A tall gray haired gentleman came to ask if we needed anything. My husband said I had been talking to a Rodney on the Internet. He said he was at lunch. He said go ahead and take it for a test drive to see if you like it. Then Rodney will be back. He did not even ask for our driver's licenses! AND he said we could even take it to our mechanic to have it checked out! I would definitely purchase a vehicle from this dealer. I did not get the jeep because it had been lifted and it felt like riding in a boat. Great customer relations!"
925 Shugart Rd.
Dalton, GA 30720
1000 South Cedar Avenue
South Pittsburg, TN 37380
"said they didn't have the vehicle one day after listing it"
1000 South Cedar Avenue
South Pittsburg, TN 37380

"Answered all my questions"
2790 Highway 76
Chatsworth, GA 30705
704 S Wall St
Calhoun, GA 30701
"Buying a car from Prater Ford was a great experience. Richard Lanier has years of automotive experience and was very helpful to us. "
5917 Manchester Hwy
Morrison, TN 37357
"These guys are THE best!"
Displaying dealers 1 - 10 of 11
Next