It's time to shop for a new ride, and the local dealership has one you really like. Regardless of whether it's used or new, to get a closer look, you'll most likely want to visit the dealership to see it. If you've never visited a dealership (or even if you have), there are some things you should know up front about what's going to happen. Although every car dealership is different, there are some themes that are familiar to most.
Who to Expect at a Car Dealership
Shop Around and Contact a Dealer
Be Prepared for Multiple Negotiations
Salesperson
Sales Manager
Finance and Insurance
The Bottom Line

Shop Around and Contact a Dealer
Shop for vehicles that fit your needs and contact a dealership online first
Before speaking with anyone at the dealership face to face, it's best to prepare. Having a specific vehicle in mind makes the car buying process more straightforward, allowing you to focus on negotiations once you arrive at the dealership. This will also give you a better idea of the price range for the type of vehicle you want, which will be helpful when planning financing.
Online platforms like CarGurus allow you to search for vehicles in your area, so you'll know what's available before stepping on a dealer lot. If you're shopping for a used vehicle, look up a vehicle history report to ensure the car's condition matches the way it's described by the dealer. Once you've found the right car, contact the dealership online to let them know you are interested.
Get Pre-Approved
Another time-saver you can do before visiting the dealership is to get pre-approved for a car loan. This is a relatively easy process that won't affect your credit score (speaking of which, a check of your credit report is also a good idea). Shop around with multiple lenders to compare financing options and get offers from lenders. You can then take those offers to the dealership to use if the loan terms offered by the salesperson aren't favorable. That way you're reliant on financing from the dealership.
Make an appointment
After doing your research, it's time to make an appointment with the dealership. Remember that negotiations can take a long time, and you'll want to budget time for a test drive as well, so be sure to choose a day and time with plenty of padding in your schedule. You don't want to feel rushed.
Be Prepared for Multiple Negotiations
When you buy a vehicle at a dealership, chances are good that you'll be talking to at least two different employees. From the salesperson to the finance and insurance office, car dealerships employ lots of people to do lots of different jobs. Let's run through the cast and explain what each person is responsible for in the car-sales process.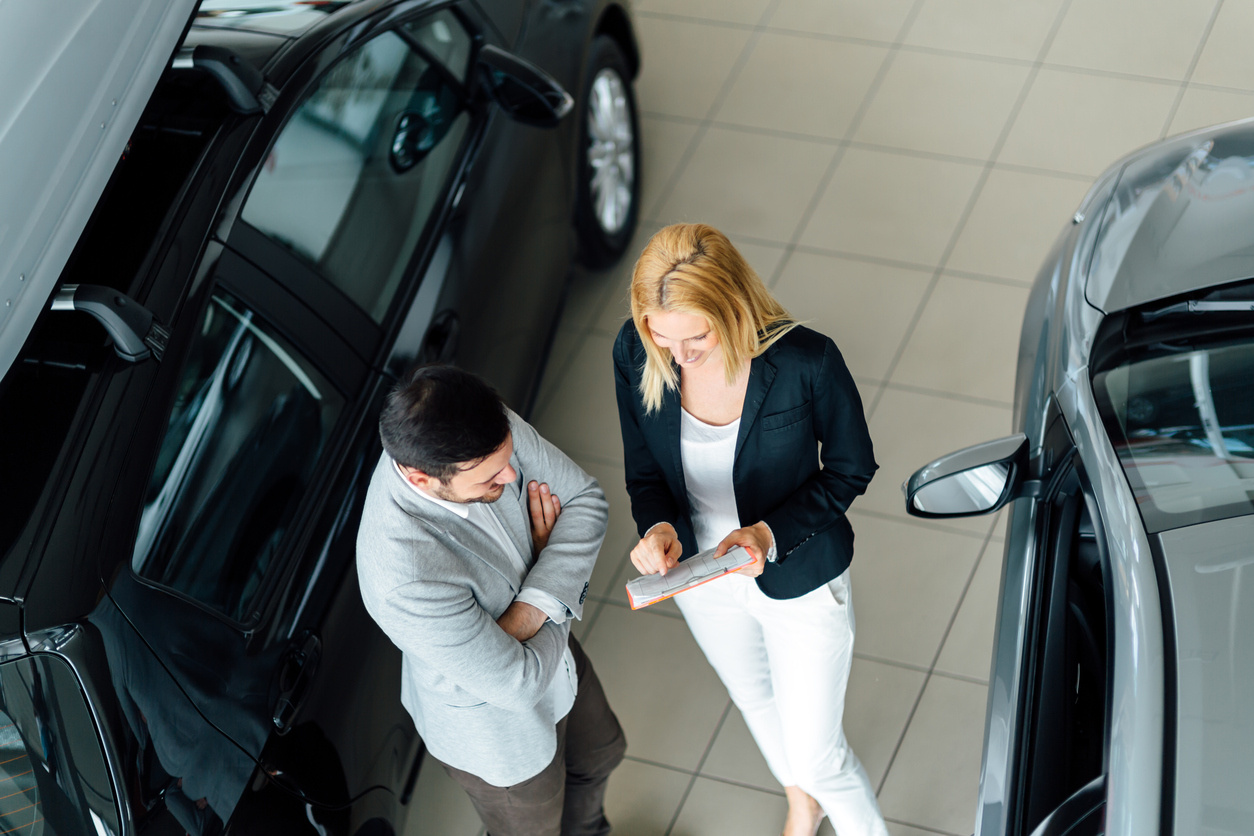 Salesperson
If you called on the phone before your visit, the salesperson probably encouraged you to ask for them by name when you visit the dealership. Car salespeople often work on commission—meaning they get a percentage of the sales price. It could be a straight percentage, or it could be part of a bonus plan, but the point is, if they talked to you on the phone they will want to start to get to know you, and ultimately ensure you end up in the right car and with the right deal.
Needless to say, you will want to work with a salesperson who knows the product and provides a level of comfort. A bit of research can help here. Start by checking out the Dealer Rating on any CarGurus listing that interests you. If you know somebody who has recently bought a car at an area dealership, ask for a referral. Check that dealer's website for salesforce faces and titles that indicate longevity. If they've been there awhile, they are probably extremely knowledgeable.
What about negotiation? The first thing to be aware of is that many dealers will base their business model on no-haggle sales: There's the price, take it or leave it. If a dealer is selling a particularly hot model of car, there may be a shortage of them, which could mean markups. Try to negotiate for the best price and the salesperson will let you walk, knowing people are standing in line to buy the same car.
If you're comfortable negotiating the price, there's no harm in trying to offer less than the asking price, but be prepared for a counteroffer. Alternatively, the salesperson may try to deflect by turning the question into one of affordability. For example: "How much do you want your monthly payments to be?"
Assuming you are getting an auto loan, this is a fair question. But you can defer by asking to talk about the financing later, and instead concentrating for now on price flexibility. Ultimately a salesperson might need to bring their sales manager into the conversation at this point to agree on the deal.
Remember too that if you want to trade in your current car to the dealer, it will need to be inspected and appraised to determine its trade-in value. Keep in mind that the salesperson cannot offer you full retail value for your car. They will instead pay 'trade' value, which assumes they can fix whatever needs to be fixed and then resell it for what it's actually worth, based on depreciation. Therefore you are often better off selling your old car yourself to a private party and using the cash to help buy your new car – assuming you are prepared to put in the effort.
Keep all this in mind, especially if you're looking at a used car on the dealer's lot that might have been purchased at a 'wholesale' price. If the dealer acquired the car at an attractive price the salesperson may be willing to negotiate a better sales price with you, because the business has less invested in it. Other factors that determine how flexible the negotiations are include how long the car has been on the lot and the overall desirability of the particular model.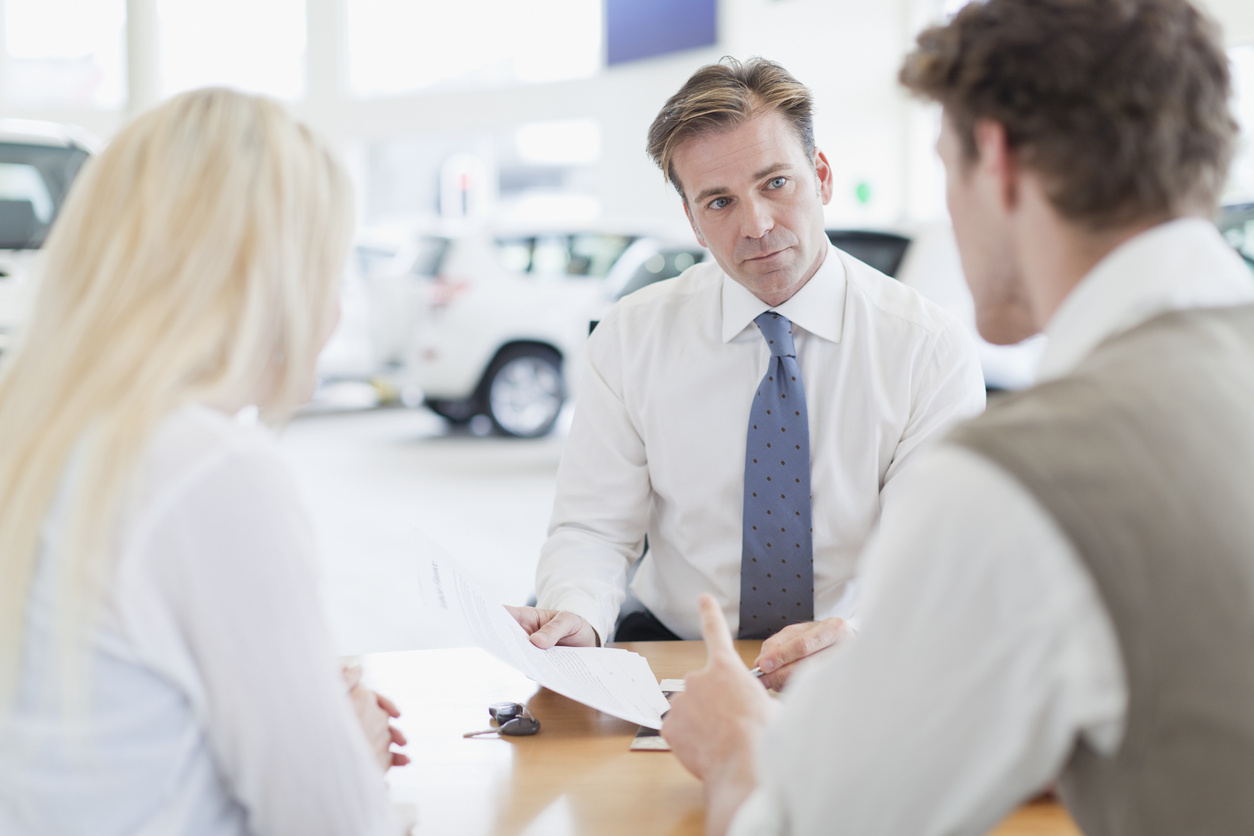 Sales Manager
When it comes to the point of agreeing to buy the car, a sales manager might well join the conversation. They'll most likely ask you, "If we can come to an agreement, will you be buying the car today?" It's a reasonable question, because it determines how negotiations will proceed. Say you're "still looking," and the serious negotiations will stop. They want a commitment. They will also ask again about financing, and here's why.
According to NADA, new car sales account for about 2.6% of a dealership's before-tax profits as a percentage of sales. The finance and insurance operations (F&I) account for about the same number. If the sales manager agrees to a low-ball number for the purchase price, they may be looking to make it up when you head to your next stop, which will be a visit with the F&I people. Assuming you come to an agreement on price, the sales manager will shake your hand, a sales contract will be signed, and off you will go.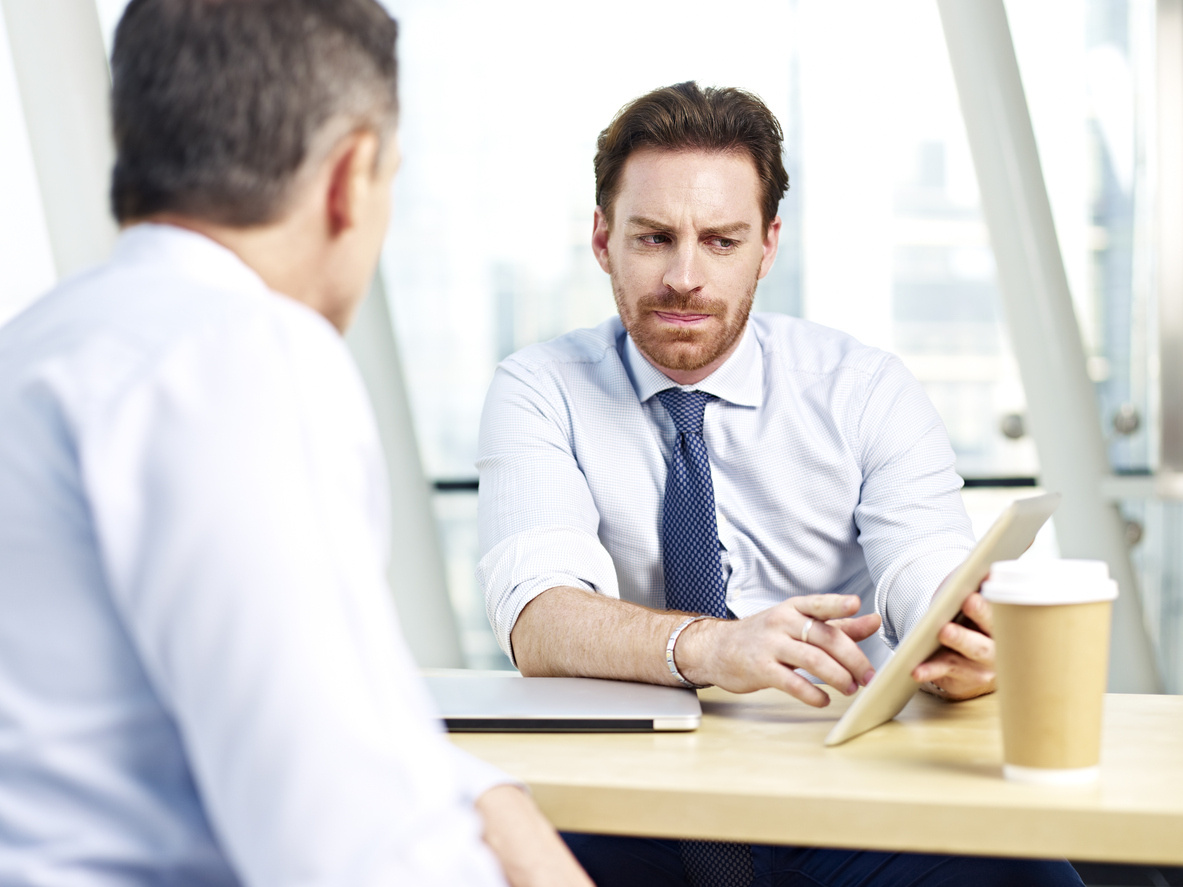 Finance and Insurance
If you come into the dealership with enough money to buy the car without financing, you are a "cash buyer." If you are planning to get a loan through your bank or credit union, you will be said to "have your own money." But either way, you have to talk to somebody from the dealership's F&I team. They'll talk to you about down payments, interest rates, and terms of financing the car.
Even if you have your own money and want to simply buy the car outright, it can be worth listening to what an F&I person has to say. The dealership may be able to beat a bank's interest rate, for example —especially if you're shopping for a new car. Alternatively, rebates or incentives may be available for taking out finance, and if you're buying an electric vehicle or plug-in hybrid, you should pursue any available tax credits. They will also stress the importance of an extended warranty and additional insurance – these are all things you should consider, even if you don't intend to purchase.
According to a report by Consumer Reports in 2013, 55% of the drivers who bought an extended warranty on a car never used it, and those who did actually spent more on the coverage than the repairs would have cost. Don't be afraid to say "no" to extras if they aren't what you're after. The last thing the dealership wants to do is lose you at this stage of the deal.
As you approach the finish line, the F&I person may have a few more things to show you, or another member of the sales team may show up to talk to you about undercoating, fabric protection, paint protection, and car alarms. These add-ons and extras might be useful to you, but equally they might not, and will drive up the total cost of the car either way. There is no obligation to buy. Once you have signed title forms, the registration, and any loan contracts, you are done. Find and thank your salesperson, get your keys, and head out into your new automotive world.
The Bottom Line
If you know who and what to expect, car buying can be a lot less stressful. If you're ready to take the next step toward your next car purchase, visit our car-shopping page to find available vehicles in your area and our finance-in-advance page for pre-approval options.
Related Topics:
Negotiation 101: How To Get a Great Deal on a Used Car
What Smart Car Shoppers Should Bring to a Dealership
Why Cars For Sale By Owner Cost Less Than Cars From Dealerships