In the dark ages, families needing more space in their vehicles were faced with two choices: Throw the kids in the back of the truck and hit the road, or give up and buy a minivan. Then, people started to realize that SUVs are far less like sweatpants than minivans are, and that they offer a more commanding driving position with plenty of space. Many also offer additional passenger space behind the second-row seats.
There are so many models on sale today that it can be hard to identify the best seven-passenger SUVs, so we've stepped in to help. We have gathered our favorite three-row SUVs, and the good news is that you won't have to break the bank to find a good one. It's true that manufacturers like Cadillac, GMC, and Chevrolet have long dominated the game with large SUVs that provide great towing capacity, large rear seats, and executive style. Now, however, there are great family-sized utility vehicles in all corners of the market. Let's take a look at a few of the best.
Mitsubishi Outlander
Best for: People who only occasionally need three rows of seating
Priced from: $36,540 (including destination)
Mitsubishi completely redesigned the Outlander for 2022, giving it a new platform and powertrain shared with the Nissan Rogue. The SUV also gets a load of new tech and an engaging driving experience. Every Outlander is powered by a 2.5-liter inline four-cylinder rated at 181 horsepower and 181 pound-feet of torque. A continuously variable transmission (CVT) and front-wheel drive are standard, but all-wheel drive is available.
Standard features include an eight-inch touchscreen, Apple CarPlay and Android Auto, SiriusXM Radio, Bluetooth, and dual-zone automatic climate controls. Mitsubishi throws in a few advanced driver aids as standard kit as well, which include automatic high beams, forward-collision warnings with pedestrian detection, driver-attention alerts, blind-spot monitoring, rear cross-traffic alerts, rear automatic emergency braking, and rear parking sensors.
The new Outlander picked up an extra cubic foot of cargo space over its predecessor, but it's far from the roomiest seven-passenger SUV. While many models on this list are midsize SUVs, the Outlander is one of just two compact SUVs that offer a third-row seat. Here, the "way-back" seat should be reserved for kids, and even then, not for longer road trips.
Read our Test Drive Review of the Mitsubishi Outlander
Search for a Mitsubishi Outlander on CarGurus
Jeep Grand Cherokee L
Best for: Families who want rugged off-road capabilities with a heaping side of luxury
Priced from: $41,175 (incl. destination)
The Jeep Grand Cherokee L is a brand-new addition to the storied SUV lineup, bringing three rows of seating to the Grand Cherokee for the first time. Jeep offers the vehicle in a whopping six trims that range in price from $41,175 to almost $63,000 before options. Though it's slightly larger than the standard Grand Cherokee, the L still gets the same two powertrain choices. That means a V6 engine with 290 horsepower or a V8 engine with 357 horsepower. Both are paired with an eight-speed automatic transmission and rear- or four-wheel drive.
Though cloth upholstery is standard, higher trims come decked out with quilted leathers and even massaging seats for the front passengers. Beyond adding a third row seat, the L brings good legroom to second-row passengers. The SUV is well-equipped out of the box, offering an 8.4-inch touchscreen infotainment system with Apple CarPlay and Android Auto. It also has a load of advanced safety features which include adaptive cruise control, active lane assist, and more.
Read our Test Drive Review of the Jeep Grand Cherokee L
Search for a Jeep Grand Cherokee L on CarGurus
Subaru Ascent
Best for: Families who need standard all-wheel drive and want strong value
Priced from: $33,240 (incl. destination)
Until recently, if you needed a seven-seater SUV and also had to own a Subaru, your choices were pretty limited. The quirky and polarizing Tribeca (once called the B9 Tribeca) held the three-row torch for Subaru for several years but was discontinued in 2014. That model had some attractive features, like standard all-wheel drive (AWD), but its sales were dismal, and it wasn't all that much of a looker.
Then came the Ascent, Subaru's second attempt at a seven-seater. Thankfully, the automaker styled it conservatively, which is a good thing for family vehicles. It also comes with standard AWD, and this time around the Subaru SUV seems to be selling well. It's also packed with standard driver-assistance tech and can tow up to 5,000 pounds. The big Subaru can get pricey—reaching almost $50,000 in some configurations—but lower trim levels offer a solid value and a premium experience.
Tech features like Apple CarPlay and Android Auto, along with a responsive touchscreen, make the Ascent a great pick from a gadget standpoint as well. Inside, the Ascent can be upfitted with popular features like captain's chairs and a WiFi hotspot.
Read our Test Drive Review of the Subaru Ascent
Search for a Subaru Ascent on CarGurus
Kia Telluride
Best for: Adventurous families who want upscale finishes and technologies
Priced from: $33,160 (incl. destination)
In 2019, there was a model that dealers just couldn't keep on the lot. In many cases, new inventory was spoken for before it was even loaded on the transporter for delivery. Oddly enough, we're not talking about a flashy new Porsche here, or some high-end exotic. We're talking about the Kia Telluride, a seven-seat family SUV. Kia didn't just nail the style; the automaker also nailed the execution, the packaging, and the pricing of its newest SUV. While the Telluride is only slightly larger than the Kia Sorento, it manages to feel significantly larger inside, with roomy front seats and a spacious second row.
Reading the specs, you'd be forgiven for thinking that there's nothing special going on here. The Telluride looks an awful lot like many other models on this list, but there's more than meets the eye. Motivation for all Telluride SUVs comes from a 3.8-liter V6 engine that makes 291 horsepower and 262 pound-feet of torque. That power reaches the road through either the front two or all four wheels through an eight-speed automatic transmission. On the road, the Telluride shows its magic with a smooth ride, a willing powertrain, and an interior that would impress many luxury SUV buyers. The execution here is good enough for the Kia to knock off competition from Mercedes-Benz, Volvo, and even full-size mainstays like the Chevy Suburban and the Ford Expedition.
Read our Test Drive Review of the Kia Telluride
Search for a Kia Telluride on CarGurus
Toyota Highlander
Best for: Families who refuse to buy a minivan but need minivan-level space
Priced from: $36,420 (incl. destination)
The long-running Toyota Highlander has been through a few identities over the years, ranging from a somewhat boxy, pseudo-rugged family carrier to a not-minivan-but-just-as-capable vehicle most recently. The Highlander was just overhauled for the 2020 model year with sharp new styling, a load of new tech, and an interior that would make a Lexus owner jealous.
It's got seven seats, yes, but there's much more to the Highlander that helped it earn a spot on this list. It's one of few seven-seat models to offer a hybrid powertrain, which in this case is a 2.5-liter four-cylinder that pairs with two electric motors to produce 243 system horsepower. It's also quite capable when powered by gas, as the 295-horsepower 3.5-liter V6 can push the big Toyota to 60 mph from a standstill in under seven seconds. There's also a fuel-efficient Highlander Hybrid model.
That said, the Highlander is still a family-first cruiser, and it's much happier making the run to soccer practice than it is trying to win a drag race with the neighbor's Camry. The 2022 Highlander digs deeper into family territory with a standard suite of advanced driver aids, which includes automatic emergency braking with pedestrian detection, blind-spot monitor with rear cross-traffic alert, lane-departure warning, and lane-keeping assist.
Read our Test Drive Review of the Toyota Highlander
Search for a Toyota Highlander on CarGurus
Honda Pilot
Best for: Families who want the most space possible without making the jump to a minivan
Priced from: $38,055 (incl. destination)
The Honda Pilot, along with its long-time rival, the Toyota Highlander, is a mainstay in the three-row SUV segment. Like the Highlander, the Pilot has made its way through a few design iterations over the years and has landed on a shape that is not all that far away from a minivan. That's OK, because the shape gives the Pilot a cavernous interior and the underlying chassis yields a sublime ride.
Honda slashed the Pilot trim line for the new model year, giving it a higher starting price of more than $38,000. A new TrailSport trim is also available, which brings a more rugged and outdoorsy attitude to the family hauler.
The 2022 Pilot has been updated with new standard LED headlights, a larger 8.0-inch touchscreen, and a higher starting price. The current Pilot is powered by Honda's workhorse V6, which produces 280 horsepower to either the front or all four wheels through the aforementioned nine-speed automatic transmission. The Pilot's MSRP can reach into the $50,000 range at the top end, but the mid-range models are just fine for value and features.
Read our Overview of the Honda Pilot
Search for a Honda Pilot on CarGurus
Dodge Durango
Best for: Performance-loving families who don't want a boring ride
Priced from: $37,070 (incl. destination)
When you absolutely have to haul seven people as quickly as possible, there's not a much better vehicle than the Dodge Durango. The automaker has made a statement with big-displacement, big-power engines over the years, and the 2022 model year is no exception. The Durango will be offered with Dodge's intimidating supercharged 6.2-liter V8. You know, the one that usually powers Hellcats. Here, it produces a whopping 710 horsepower and 640 lb-ft of torque. The Durango Hellcat is AWD only and comes with an eight-speed automatic transmission.
Dodge gave the base SXT trim more features for 2022, including blind-spot monitoring with rear cross-traffic alerts, rear parking sensors, standard three-row seating, and roof rails. Other trims pick up new features as well, such as remote start for the GT trim and memory seats for the GT Plus trim.
Don't want whiplash every time you head to the grocery store? Dodge has you covered there, too. The Durango is offered with three other engines, including a 293-horsepower 3.6-liter V6, a 360-horsepower 5.7-liter Hemi V8, and a 6.4-liter Hemi V8 that produces 475 horsepower. No matter the engine with which it is equipped, the Durango is a competent, comfortable, and useful vehicle that is as capable as it is handsome. Just don't expect stellar fuel economy from a giant V8 engine.
Read our Test Drive Review of the Dodge Durango
Search for a Dodge Durango on CarGurus
Acura MDX
Best for: Families who want a sporty, upscale experience without breaking the bank
Priced from: $48,245 (incl. destination)
Acura skipped over the 2021 model year with the MDX, but the wait was worth it. The 2022 SUV is more refined and sharper than its predecessor, though it's still sporting the same 3.5-liter V6 from the previous generation. The battle-tested engine is paired with a new ten-speed automatic transmission and standard front-wheel drive. Acura offers a sporty Type S variant of the MDX as well, but even the basic crossover model is quick enough for most.
The MDX carries a 3.5-liter V6 that makes 290 horsepower under its hood. The engine provides good power and torque that is capable of pushing the plush family vehicle down the road with authority. The new ten-speed transmission is responsive and shifts quickly, while Acura's all-wheel drive system helps keep the large SUV planted on curvy roads.
Inside, the MDX's passenger space is well built and packed with premium materials, especially in higher trim levels. Though not quite as deluxe as its European rivals, the Acura will fill the luxury need for most people.
Read our Test Drive Review of the Acura MDX
Search for an Acura MDX on CarGurus
Mazda CX-9
Best for: Families who care about value and experience over brand name
Priced from: $35,060 (incl. destination)
Mazda has made a name for itself with vehicles that defy their price tag in terms of both quality and performance. The CX-9 is a great example of that brand-level ascent, as it features high-end materials, excellent technology, and an engaging driving experience in all its forms.
Mazda updated the CX-9 for 2021 with a new 10.25-inch infotainment screen and now offers the vehicle in a special Carbon Edition. Every 2021 CX-9 is powered by a 2.5-liter four-cylinder engine that makes 227 horsepower and 310 lb-ft of torque on regular fuel and 250 horsepower/320 lb-ft when running premium. A six-speed automatic transmission and front-wheel drive are standard. All-wheel drive with off-road traction assist is optional.
Part of what makes the CX-9 special is its ability to feel upscale and premium even at the base trim level. The CX-9 Sport comes well equipped out of the box, with push-button start, radar cruise control, three-zone climate control, roll stability control, hill-start assist, blind-spot monitoring, rear cross-traffic alert, lane-keeping assist, lane-departure warning, and much more.
Read our Test Drive Review of the Mazda CX-9
Search for a Mazda CX-9 on CarGurus
Lincoln Aviator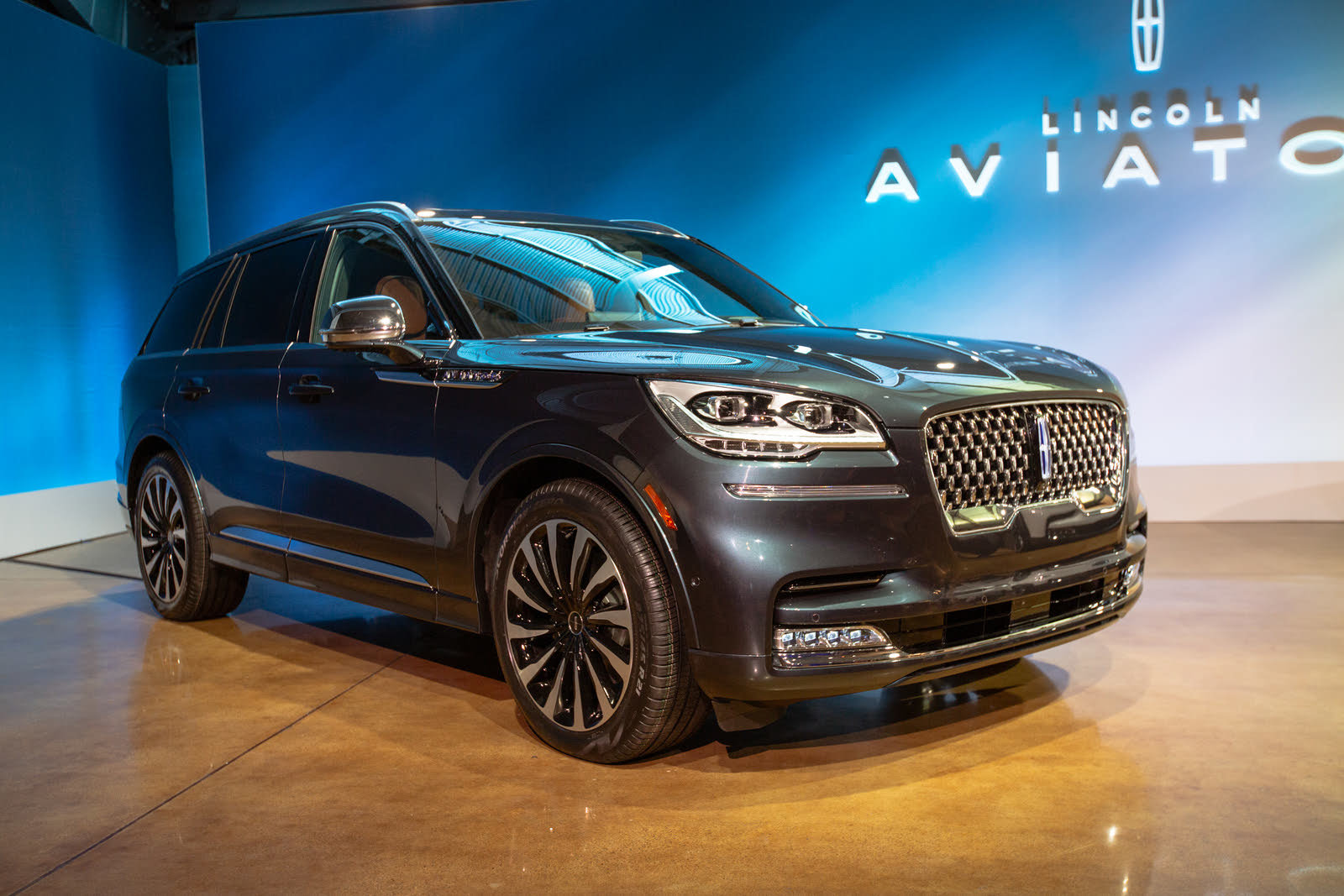 Best for: Families who want a little old-school luxury to go with kid-hauling duties
Priced from: $52,195 (incl. destination)
With a body that's a shade smaller than the stately Lincoln Navigator's, the Aviator is a more manageable three-row SUV. Manageable does not mean meagerly equipped, however, as the Aviator comes with all of the fanfare and occasion that is expected from Ford's premium brand. The 2021 model is available with either a gas or a hybrid powertrain, both of which use excellent EcoBoost engines. The standard gas model is powered by a twin-turbo 3.0-liter V6 that makes 400 horsepower and 415 lb-ft of torque. The Aviator Grand Touring comes with the same engine that is combined with electric motors to produce 494 horsepower and a massive 630 lb-ft of torque.
Regardless of what's under the hood, the Aviator is leisurely American luxury at its finest. The cabin is packed with high-end finishes, and various woods, metals, and leathers are available. Lincoln also endowed the Aviator with some of the best seats on the market today. Similar to Ford's multi-contour seats, Lincoln's can be upgraded to offer massaging, heating, and cooling, as well as up to 30-way adjustments.
Read our Test Drive Review of the Lincoln Aviator
Search for a Lincoln Aviator on CarGurus
Hyundai Palisade
Best for: Families who want an upscale but affordable SUV with a beautiful interior
Priced from: $33,700 (incl. destination)
Kia's corporate cousin spent 2019 releasing its own brand-defining SUV, the Palisade. Built on the same architecture and with the same engine as the Kia Telluride, the Palisade is as much a standout for Hyundai as the Telluride is for Kia. It's also powered by a 3.8-liter V6 and an eight-speed automatic transmission. And like the Telluride, the Palisade is a smooth cruiser with a serene interior and a comfortable ride.
Inside, the Palisade impresses with intricately stitched leather upholstery, gorgeous finishes, and a large infotainment screen. The build quality and features list are impressive for a vehicle in the Palisade's price range, and beyond a few awkward spots inside, it's an impressive effort for a first-generation model. With such wonderful vehicles to use as a basis, it's likely that at least one of Genesis's Hyundai-based SUVs will make this list when they land in the near future.
Read our Test Drive Review of the Hyundai Palisade
Search for a Hyundai Palisade on CarGurus
Related Topics
Best Crossover SUVS
Best Trucks
2021 CarGurus Best Used Car Awards