Used Volvo V70
Volvo V70 Questions
How Many Years/miles Left On A 1999 V70 Wagon With 130k Miles?
It's got a T5 engine. Suburban driving mostly. I seem to be putting a lot of dollars into the car now - suspension, pumps, exhaust, completely new air conditioning. $3k to the dealer a few months ag...
My Car Is Jerking Back And Forth
When I step on the gas pedal my car jerks back and forth and at times it won't go pass 20 miles but at other times it drives just fine: can you tell me what would cause this to happen
Engine Turns Over, But Won't Fire...why?
1998 Volvo V70 XC AWD 2.4L, 5 cyl. I recently pulled the engine and transmission in order to replace old seals and gaskets. The car has 225,000 miles and was leaking everywhere, but other than that,...
Reset Safety Restraint System Light V70 99
Replace seat with one from a junkyard and need to reset the safety restraint light
Transmission Service Info
Does it have timming chain or belt replacement plus ac system, type of fuel plus octane required. Any recalls.
Older Volvo V70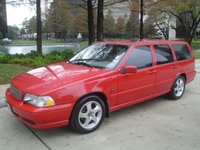 Volvo V70
Overview
The Volvo V70, formerly the 850 Wagon, received its new name in 1998, paralleling its sedan counterpart, the S70. As with the sedan it was available in all-wheel drive, making it the perfect vehicle for the active family's winter-fun weekends.
With the SUV boom undeniably huge in the new milennium, Volvo introduced the Cross Country trim in 2001. Sure, it was still a wagon, but a darned versatile one (after all, that's the word that put the V in V70), so it fit the bill nicely for those seeking SUV qualities without the imposing height. It sold so well in its debut that it returned in 2002 not as a trim but as its own separate model.
All of the trusty Volvo traits remained after the name change, foremost the manufacturer's commitment to safety. Those safeguarding attributes were only improved upon, as the patented Side Impact Protection System received an upgrade, as did the seat belt pretensioners and aspects of the vehicle's handling. As Volvos will, it scored at the top in safety tests, earning the maximum 5 stars from NHTSA in the Frontal Crash Test as well as the Front and Rear Side Tests; it also scored 4 stars in the Rollover test.
What went away was some of the squareness, in the car's shape as well as its personality. This car was determined not to be your father's station wagon. Its more modern and aerodynamic appearance pleased young, active singles, especially those prone to taking off for ski country every winter weekend. Growing families found it perfect for accommodating their brood and the requisite cargo, plus a Labrador or two.
Standard equipment includes AC, power windows and door locks, ABS, traction control, stability control, driver and passenger air bags (with an off switch on the latter for smaller passengers), and a CD player.
The S70 may not have survived, but the very popular, tried-and-true V70 lives on, as it well deserves to.