Used Volvo S80
Volvo S80 Questions
Volvo Parts
Can I use an alternator from a 2000 Volvo s40 on a 2000 Volvo S80? Is there any parts from the s40 that I can use on a s80. Both 2000 Volvo
What Would Cause A High Whistling Sound From Under The Hood On The Right Si...
It is almost a high whining sound that continues even after the car is off. It happens randomly - not everytime the car is driven
Volvo S80 52 Reg
My car is in garage and needs £1100 of work done is it worth it for a car this age or should I cut my losses
Traction Control
Occasionally the traction control comes on while driving and slows the car down a lot. Why and how to fix it
I Have A Volvo S80 2.5t Awd...problem First Was Left Indicator Not Working ...
Older Volvo S80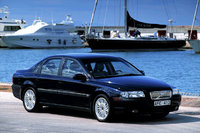 Volvo S80
Overview
The S80 is the largest of Volvo's sedans. It replaced the S90 sedan in 1999 when the Volvo naming convention changed from odd to even initial digits in line with a total re-design.
The 1999 served as the initial platform for some of Volvo's innovative safety features. Those features, which now are found in all Volvos, were the Whiplash Protection System (WHIPS) and side-curtain air bags. The Swedish auto-maker is best known for giving top priority to occupant safety, a commitment that has been in place for the company's existence.
Although the S80 is not by most people's definition a true luxury car, it offers a high level of comfort and an impressive number of conveniences, in addition to the safety features, that come as standard equipment. It's a great choice for the discerning auto-buyer who doesn't want to spend a mint.