Used Volvo S80
Volvo S80 Questions
How Long Does It Take For An Agent To Contact Me After I Sign The Bill Of S...
I signed the bill of sale yesterday and I am supposed to wait for an agent to call me. How long does that take?
Dealer Said This Car Sold 2 Weeks Ago, Why Is It Still Listed? Ultimate Mot...
Dealer "Ultimate Motorsport" in Houston said this car sold 2 weeks ago, why is it still listed? ---> 2013 Volvo S80 3.2
How Do You Reset 2001 Volvo S80 Check Engine Light To Off
Sticking Car Lock
My Volvo S80 2010 car will lock with the electronic key, but when I go to unlock the car one lock sticks in the half way up position and will not unlock with the same elec key. This lock will howeve...
2010 Volvo S80 T6 Bulb Failure Position Lamp Warning
2010 Volvo S80 T6 Bulb Failure Position Lamp warning. All of the lights work but, this warning light remains on.
Older Volvo S80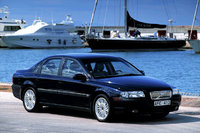 Volvo S80
Overview
The S80 is the largest of Volvo's sedans. It replaced the S90 sedan in 1999 when the Volvo naming convention changed from odd to even initial digits in line with a total re-design.
The 1999 served as the initial platform for some of Volvo's innovative safety features. Those features, which now are found in all Volvos, were the Whiplash Protection System (WHIPS) and side-curtain air bags. The Swedish auto-maker is best known for giving top priority to occupant safety, a commitment that has been in place for the company's existence.
Although the S80 is not by most people's definition a true luxury car, it offers a high level of comfort and an impressive number of conveniences, in addition to the safety features, that come as standard equipment. It's a great choice for the discerning auto-buyer who doesn't want to spend a mint.
Find great deals from top-rated dealersTM
Search