Subaru Baja
Model Overview
Used Subaru Baja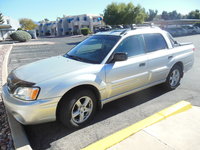 Used 2006 Subaru Baja For Sale
| | |
| --- | --- |
| | 9 GOOD Deals |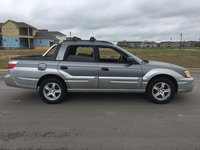 Used 2005 Subaru Baja For Sale
| | |
| --- | --- |
| | 6 GOOD Deals |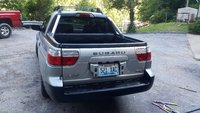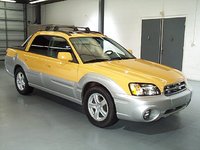 Used 2003 Subaru Baja For Sale
| | |
| --- | --- |
| | 7 GOOD Deals |
Subaru Baja Questions
Looking To Buy 05 Baja With 175K Miles. Only Problem I See Is It Idles At A...
Vin Number
I am having an issue with a vin number of a care listed on your site. While attempting to register of escrow.com, I entered this number: 4S4BT62C057107554 and I get an error message asking for a vali...
Backwards Engine Swap,97_2.5d,to 2003,baja
Hey there,I'm new and long time subiy lover,I am trying to swap a 1997 2.5D,in to a 2003 Baja,I do all my own rebuilds,ect,that being said, On the crank and cam sensors,I thought I need to change t...
Will A 2.5 Liter Subaru Engine Swap With An '04 2.0 Liter Subaru Engine
I've Sold My Subaru Baja On Craigs List. How Do I Pay CarGurus For My Ad? M...
I've sold my Subaru on Craigs list.
Subaru Baja
Overview
Recalling the glory days of the El Camino or Subaru's own all-terrain BRAT, the Subaru Baja is a melange of car and truck, with the capability of holding up to four passengers, but also sporting a 3.5-foot open cargo bed for hauling supplies.
The Baja was introduced in 2003 and lasted for only four years. Meant to appeal to young drivers with a taste for the active, outdoor life, the Baja was based on a Legacy Outback, and indeed looked like an Outback that had its rear cargo top removed. It had the same 2.5-liter, 175-hp four-cylinder engine, and featured Subaru's great all-wheel-drive system, making it versatile in a variety of road and weather conditions.
The cabin sat four, with rear seats that folded and a removable partition that expanded the truck bed to nearly 7 feet. One drawback was that this doorway was not as wide as the truck bed itself, but it was helpful for skis or surfboards. The original Baja came standard with leather upholstery and a power driver's seat, but there was also a more stripped-down and affordable Sport version as well. A year later, in 2004, a more fun turbo model was introduced.
There are many guesses as to why the Subaru Baja never really hit. Much of what it had to offer could be found in the Outback, which did not leave cargo exposed to the elements. Its great fuel economy and all-wheel drive were appealing to young drivers on the go, but complaints about its lack of power, excessive wind noise, and its unattractive appearance might have been factors in its demise. The fact that it looked like a truck, but did not have the hauling power to act like a truck was also a drawback. 2006 was the last year for the Subaru Baja.