Subaru Baja
Model Overview
Used Subaru Baja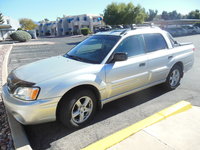 Used 2006 Subaru Baja For Sale
| | |
| --- | --- |
| | 7 GOOD Deals |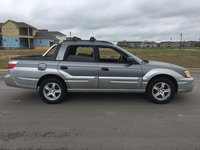 Used 2005 Subaru Baja For Sale
| | |
| --- | --- |
| | 3 GOOD Deals |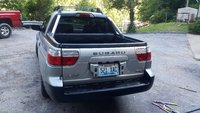 Used 2004 Subaru Baja For Sale
| | |
| --- | --- |
| | 1 GREAT Deal |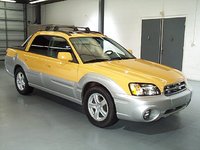 Used 2003 Subaru Baja For Sale
| | |
| --- | --- |
| | 8 GOOD Deals |
Subaru Baja Questions
My 2006 Subaru Baja Overheats When Driven. It Will Idle All Day And Not Ove...
The radiator and the thermostat have been replaced. The coolant system has been flushed and pressure checked, no leaks. The radiator and heater core have been flushed. Belts and hoses are good. The wa...
Is There A Turbocharger Kit That I Can Put On My 2003 Baja?
I would like to put a turbocharger on my Baja but can not find a kit for 2003 Baja.
Will The Drive Train From A 2003 Baja Work In A 2006 Baja?
I have a 2003 Baja that was involved in an accident. Just had the engine redone in it, new exhaust all the way back and much more. I just purchased a 2006 Baja that needs a bit of help and has 130k ...
2003 Subaru Baja Transmission
I am looking for a transmission for my Baja because mine is on the outs and I'm not exactly sure what transmissions will fit! Please help!
My 05 Baja Turbo After Driving For About 1 Hour And Then Come To Stop Sign ...
Subaru Baja
Overview
Recalling the glory days of the El Camino or Subaru's own all-terrain BRAT, the Subaru Baja is a melange of car and truck, with the capability of holding up to four passengers, but also sporting a 3.5-foot open cargo bed for hauling supplies.
The Baja was introduced in 2003 and lasted for only four years. Meant to appeal to young drivers with a taste for the active, outdoor life, the Baja was based on a Legacy Outback, and indeed looked like an Outback that had its rear cargo top removed. It had the same 2.5-liter, 175-hp four-cylinder engine, and featured Subaru's great all-wheel-drive system, making it versatile in a variety of road and weather conditions.
The cabin sat four, with rear seats that folded and a removable partition that expanded the truck bed to nearly 7 feet. One drawback was that this doorway was not as wide as the truck bed itself, but it was helpful for skis or surfboards. The original Baja came standard with leather upholstery and a power driver's seat, but there was also a more stripped-down and affordable Sport version as well. A year later, in 2004, a more fun turbo model was introduced.
There are many guesses as to why the Subaru Baja never really hit. Much of what it had to offer could be found in the Outback, which did not leave cargo exposed to the elements. Its great fuel economy and all-wheel drive were appealing to young drivers on the go, but complaints about its lack of power, excessive wind noise, and its unattractive appearance might have been factors in its demise. The fact that it looked like a truck, but did not have the hauling power to act like a truck was also a drawback. 2006 was the last year for the Subaru Baja.