Honda CR-Z
Model Overview
Used Honda CR-Z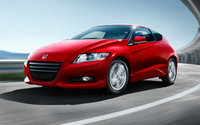 Used 2012 Honda CR-Z For Sale
| | |
| --- | --- |
| | 6 GOOD Deals |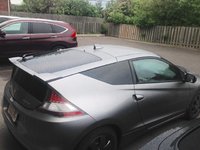 Used 2011 Honda CR-Z For Sale
| | |
| --- | --- |
| | 19 GOOD Deals |
Honda CR-Z Questions
Interchangeable Starters
Can a starter from an 06 Honda accord be interchanged with a 2004 Honda crv starter
2004-2009 Hunda CRV
What is happening when my car starts to drag as if it is pulling a lot of load , and will not move if placed in either reverse or neutral. This happens when the engine is hot and normally drives a...
What's The Best Honda Model Hybrid Used Car?
best Value Honda Hybrid vehicle
HONDA CR-Z AUDIO (RADIO) CODE
help me plrase. I NEED AUDIO (RADIO) CODE S/N CLJIHB040004835
CarGurus Email Contact Has Not Answered; Perhaps You Can Help.
CarGurus email contact has not answered my question. Maybe some of the buyers out there could help. The car I am interested in is 250 miles away. I would like to fly to this location, look at the c...
Honda CR-Z
Overview
Designed to be a sports car without guilt, the CR-Z seems to have the guys at Honda a bit confused. Despite the fact that the CR-X comparison is both visually and conceptually unavoidable, and the fact that they paraded the CR-Z with an '85 CR-X in tow, Honda wants to make sure an updated CR-X wasn't their intent. No less than project leader Norio Tomobe has stated, "We were not aiming for a modern day CR-X. We wanted to create a totally new type of hybrid sports coupe that would take us into a more discerning and environmentally conscious 21st century."
So sports-car performance with 21st-century efficiency. Seems simple enough. Just to make sure he belabored the point, however, Tomobe continued, "If it reminds you of the CR-X, then that's purely coincidental."
Disingenuous assurances aside, the parallels and comparisons between the old pocket rocket and this new two-door, two-seat hybrid hot hatch continue. And how could they not? Even if not a direct inspiration, the concept behind both cars is identical. When the CR-Z concept was unveiled at the 2007 Tokyo Auto Show, Honda CEO Takeo Fukui explained that the intention was to build a car that was, "sporty, incredibly efficient and inexpensive."
Unfortunately, Honda missed the mark with at least two of those characteristics, as the CR-Z is neither particularly sporty nor efficient. With a stiffened chassis based on a truncated version of the Honda Insight's, the CR-Z plows through corners with moderate competence on a slightly modified Insight suspension. MacPherson front struts and a rear torsion-beam setup handle modest cornering with confidence, thanks to the shortened wheelbase and widened track, but spirited twisties invite lean and roll that is anything but sporty.
Strange, considering how much emphasis the PR department has put on the handling of the CR-Z. Project leader Norio Tomobe went so far as to say his BMW 325i was the benchmark he set for the steering feel from the EPS, and Chief Engineer for the chassis dynamics Terukazu Torikai mentioned that a Mini, Scirocco and even a Lotus Elise were on hand during development for inspiration.
Maybe Honda is ashamed of its Japanese heritage, or maybe it's just not ashamed to admit that Europe has a stranglehold on handling. The love affair with the gaijin continues as Torikai claims the prototype was brought to Europe at each stage in order to be "tested under various road conditions to evaluate whether the desired performance had been achieved."
The disagreements can continue between manufacturers and testers, but a Lotus Elise it is not. That said, of the three drive modes offered by the CR-Z – Normal, Sport and Econ – the Sport mode does give a better steering feel than the other two at the very least.
And then there's efficiency, the higher-profile aim of the CR-Z. With its 1.5-liter i-VTEC inline four and Honda's Integrated Motor Assist (IMA) hybrid-electric system, the CR-Z has the added benefit of a brushless DC electric motor. Despite a total power output of only 122 horses and 128 lb-ft of torque with the six-speed manual, the CR-Z manages only 31/37 mpg. Clicking the CVT option means you'll lose 5 lb-ft of torque and bump the EPA estimate up to 35/39.
Not to beat a dead CR-X, but an '85 Si managed 32/36 with a five-speed manual, and could still do the 0-60 jaunt faster than the CR-Z, and the HF (High Fuel efficiency) trim of the old CR-X would get around 50 mpg or better, regardless of driving habits. Couple this with the fact that the efficiency bonuses of running in Normal and Econ modes disappear completely when you push the throttle wide open, which is needed for anything other than parking-lot recon.
And so, as things so often do, it comes down to money. A CR-Z will run you anywhere from $20-24,000 when it goes on sale here in the States later this summer, depending on options. Will lackluster performance and slightly better than average fuel economy be enough to woo a fickle public into buying a two-seat hatchback? Honda had better hope so.
Find great deals from top-rated dealersTM
Search