Ford F-150 Heritage
Model Overview
Used Ford F-150 Heritage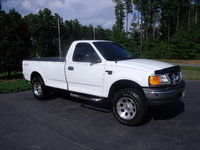 Used 2004 Ford F-150 Heritage For Sale
| | |
| --- | --- |
| | 4 GOOD Deals |
Ford F-150 Heritage Questions
What Is The Oil Capacity For A 4.2 L V6 F-150 Heritage?
I Have A 2004 Ford F150 And I Hear A Ticking Noise Underneath The Hood. I H...
Ticking noise underneath the hood. Oil is good
Will A Transmissionin Out Of A Ford F150 Xlt Year 2014 Fit A Ford F150 Liar...
Will a transmissionin out of a ford f150 2014 xlt fit a ford f150 liaret with the same motors 5.4 tritons
Service Light
After it has been serviced,how do you get the service light to turn off?
97 F150 Runs About 10 Miles Then Shuts Off And Will Not Crank Back Up For A...
Ford F-150 Heritage
Overview
The 2004 Ford F-150 Heritage is one of the great moments in marketing from the guys in Dearborn. You have to hand it to them: instead of calling this the 'Ford F-150 Leftover', they came up with the 'Heritage' moniker to make these pickups sound classy.
To be honest, the '04 F150 Heritage is actually a good deal for bargain-conscious buyers. What happened is that it was easier and more cost-effective for Ford to switch production gradually over to the redesigned 2004 Ford F-150. In order to differentiate the 'old-style' F150s that were still being produced in 2004, Ford created the one-off 'Heritage' brand.
What you'll get in the 2004 F150 Heritage is the same solid, if slightly outdated, F-150 chassis used from 1997 through 2003. The 2004 F-150 Heritage is basically identical to the 2003 Ford F-150: it's just a year newer, and it's odd enough that you might find a great value out there.