Ford F-150 Heritage
Model Overview
Used Ford F-150 Heritage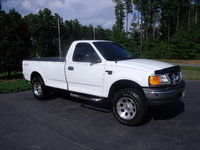 Used 2004 Ford F-150 Heritage For Sale
| | |
| --- | --- |
| | 3 GOOD Deals |
Ford F-150 Heritage Questions
Best Sparkplug For A 4.2l
I have a 2004 F150 Heritage with the 4.2L engine. What are the best sparkplugs to use in this motor?
Why Can't I Get Fire To The Spark Plugs?
battery is new, engine turns fast, coil test within spec's, Autozone tested Electronic's module to be OK, rotor is turning normal, but some carbon. Pulled #5 plug wire and test for spark to ground,...
04 Ford F150 Replaced The Battery. When I Hooked It Up It Started Dinging L...
I Was In A Front Corner Driver Side Collision That Totaled The Other Car An...
4 Wheel Drive Not Working, Anyone Have Advice?
When I go to turn 4 wheel drive on the light will come on for it but it still does not go into 4 wheel drive. Everyone I've taken it can not figure it out.
Ford F-150 Heritage
Overview
The 2004 Ford F-150 Heritage is one of the great moments in marketing from the guys in Dearborn. You have to hand it to them: instead of calling this the 'Ford F-150 Leftover', they came up with the 'Heritage' moniker to make these pickups sound classy.
To be honest, the '04 F150 Heritage is actually a good deal for bargain-conscious buyers. What happened is that it was easier and more cost-effective for Ford to switch production gradually over to the redesigned 2004 Ford F-150. In order to differentiate the 'old-style' F150s that were still being produced in 2004, Ford created the one-off 'Heritage' brand.
What you'll get in the 2004 F150 Heritage is the same solid, if slightly outdated, F-150 chassis used from 1997 through 2003. The 2004 F-150 Heritage is basically identical to the 2003 Ford F-150: it's just a year newer, and it's odd enough that you might find a great value out there.