Ford F-150 Heritage
Model Overview
Used Ford F-150 Heritage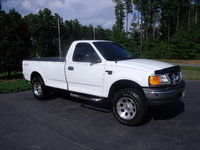 Used 2004 Ford F-150 Heritage For Sale
| | |
| --- | --- |
| | 8 GOOD Deals |
Ford F-150 Heritage Questions
Motor Swap
I have a 2004 f150 with a 4.6,,can I swap it over to a 5.4,out of a 1999 f150?
I Have A 2004 Ford F150 And I Hear A Ticking Noise Underneath The Hood. I H...
Ticking noise underneath the hood. Oil is good
Ford F150 Repairs...
My 2004 ford with 66,000 miles had a digital odometer that wasnt staying lit all the time. Took to Ford, they replaced instrument cluster. Now just 2 or 3 days later, it wont start on occasion. Ha...
Truck F150
1989 f150 turns over but doesn't start. Is it a solenoid or fuel pump problem?
Motor And Transmission Swap
I have a 2001 Ford F-150 with a bad motor and transmission, and I have a 2004 Ford F-150 with body damage but a good motor and transmission can I swap the motor and tranny from the 2004 to the 2001...
Ford F-150 Heritage
Overview
The 2004 Ford F-150 Heritage is one of the great moments in marketing from the guys in Dearborn. You have to hand it to them: instead of calling this the 'Ford F-150 Leftover', they came up with the 'Heritage' moniker to make these pickups sound classy.
To be honest, the '04 F150 Heritage is actually a good deal for bargain-conscious buyers. What happened is that it was easier and more cost-effective for Ford to switch production gradually over to the redesigned 2004 Ford F-150. In order to differentiate the 'old-style' F150s that were still being produced in 2004, Ford created the one-off 'Heritage' brand.
What you'll get in the 2004 F150 Heritage is the same solid, if slightly outdated, F-150 chassis used from 1997 through 2003. The 2004 F-150 Heritage is basically identical to the 2003 Ford F-150: it's just a year newer, and it's odd enough that you might find a great value out there.