Chevrolet Cobalt
Model Overview
About the Chevrolet Cobalt
Available Now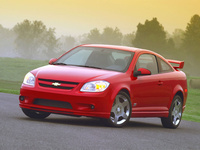 If you believe a car should just "get you there," the Cobalt is for you. Completely unremarkable in almost every regard, the Chevrolet Cobalt stands out by standing in.
However, two points about the Cobalt make it a perfect fit for a teen's first car or general-purpose "beater." The Cobalt simplifies safe driving with an excessively large body and responsive handling. For less than $15,000, this is a car to get you from Point A to Point B without so much as a raised eyebrow on the street or in your wallet.
The 2010 Cobalt's 2.2-liter, 155-hp inline four-cylinder (I4) engine snags between 24 and 37 mpg, depending on the trim and transmission. The most baseline trim, the XFE (or "extra fuel economy"), only has a manual transmission and doesn't have some of the basic amenities most folks expect from a modern car (sorry, no air conditioning), but it gets the best mileage at 25 mpg city and 37 highway.
In the sporty SS, the five-speed manual coupled with a 260-hp 2.0-liter turbocharged four-cylinder engine nets 24/33, and the automatic available in the LS and LT does a bit better at 25/35, but like most automatics it downshifts a bit slowly.
The LS, the next trim up from the XFE, is more of what you would typically expect from a modern car. With filtered air conditioning, a CD player, XM radio, and a tilt steering wheel, it's nothing more than most people need. Above that, the LT and SS are fully powered with cruise control, keyless entry, OnStar, leather interior and a Pioneer stereo.
Ride and handling are about what you would expect from "just a car." The suspension is smooth with responsive steering, but it certainly doesn't like tight curves. The low-rolling-resistance tires on the XFE will let out a squeal before you've gone too far - nothing dangerous unless you count the foot between your butt and seat the first time you hear it.
Although the Cobalt has enough headroom for a 6-foot person, its seating and seatbelts aren't exactly built for that. This is a true compact car with small, hard seats and little room to spare in the back as well - don't bother trying to squeeze in more than 2 people. Gauges are small, hard plastic is the main material, and some of the controls are a bit awkward to reach while driving.
Safety features are also an area left wanting, with just dual front and curtain-side airbags, automatic headlights, daytime running lights, and a tire pressure monitor to help you get there safely. Even still, the NHTSA gave the 2010 Cobalt five stars for passenger-side front impacts and four stars on remaining tests.
All in all - hey, it's a car. Who needs more in our domesticated modern times? The Cruze replaced the Cobalt for 2011, and some would call the end of Cobalt production a blessing.
Model History
For 23 years Chevrolet provided for the transportation needs of hot-rod weekend warriors with the much-loved Cavalier. It came in two-door, four-door and even convertible styles, serving the people's desire to be unique like no other car of the time truly could with sales well over 400,000 units in many years.
However, the Cavalier's reign had to end. The technology was outdated, people seemed to want something truly fun and fuel efficient, and the Cavalier just wasn't seen as a car that could make the transition. In 2004 Chevrolet killed the Cavalier and birthed the Cobalt, responding to market pressures for an exciting and practical compact car without any silly frills.
Chevrolet started out by giving the Cobalt a significantly larger body - nearly 5 inches longer and 1.3 inches wider than the Civic, and 2 inches longer and 1.5 inches wider than the Corolla. The engines were upgraded over the Cavalier's after the debut generation to better handle all that extra weight, but otherwise the Cobalt came with the Cavalier's suspension, steering and braking systems, giving it that familiar fun feel and smooth ride.
The 2005 Cobalt came as a coupe or sedan in SS, LS, and LT trims, equipped with a naturally aspirated 2.2-liter four-cylinder engine putting out 145 hp in all but the SS, which came with a supercharged 2.0-liter, 205-hp engine. For 2006, Chevy brought on a non-supercharged SS with a 2.4-liter Ecotec inline-4 (I4) engine, and an LTZ trim was added as the upper tier offering.
In 2007, nearly 100,000 of those '05 and '06 first-generation Cobalt coupes were recalled. The roof was short on padding, according to federal regulations, but GM claimed that would affect only drivers who didn't wear a seat belt. Three years later more '05 and '06 Cobalts - coupes, sedans, and sport editions alike - were recalled due to widespread power steering failures.
The 2007 second-generation Cobalt saw a serious computer upgrade and 3 more horses in all but the SS, which technically lost about 30 hp in its "upgraded" engine. The interior was touched up with a new steering wheel, radio controls, and an audio input jack.
Still, this and previous years lacked side-curtain airbags, except as an option, and therefore received less than stellar marks for safety, and the Cobalt was sometimes even labeled as Poor in side-impact crash tests.
After 2007 Cobalt sales slid from over 200,000 units annually to less than half that for '09 and '10. Peaking just shy of 220,000 units for the debut, the Cobalt still didn't come close to the 400,000 Cavaliers rolled out year after year during its heyday.
Even still, the Cobalt's relatively robust sales performance upon its debut helped bump Chevrolet ahead of Ford as the best-selling brand in the U.S. market for the first time in 19 years. It was a bittersweet victory, however, as Chevrolet's overall sales compared to previous years are being eaten away by foreign makers.
For the third-generation 2008 Cobalt, Chevrolet renamed the SS trims "Sport Coupe" and "Sport Sedan," replacing the supercharged 2.4-liter naturally aspirated engine with a 2.0-liter, 260-hp turbocharged engine.
A midyear facelift of the new XFE trim, replacing the LS and LT, increased fuel economy to 25/36 mpg with a manual transmission. This model year also gained XM radio, side-impact air bags, MP3 capability, StabiliTrak stability control, and new interior and exterior colors as standard features for the entire lineup.
Then Chevrolet thought better of its "Sport" names in the fourth generation and went back to calling the sport Cobalt simply SS for 2009, with no change to the engine, but a reconfigurable performance display in the SS coupe could read engine outputs and alter performance settings.
The remaining trims got an engine upgrade with a 2.2-liter, 155-hp Ecotec I4, providing better power and fuel economy: 24/34 mpg with the automatic and 26/37 with a manual transmission. You could also finally link up your Bluetooth gizmos.
Chevrolet didn't change much about the Cobalt for 2010, only adding filtered air conditioning, a tilt steering wheel, power controls, cruise control, keyless entry, OnStar, a leather interior and a Pioneer stereo to some of the trims. Otherwise it's the same car as the '09 with slightly different styling.
Used Versions
Definitely think twice about any '07 or older Cobalt - between the recalls and serious lack in safety features, those years are not a smart buy except for the midyear '07 Sport Coupe and Sport Sedan.
The '07 Cobalt sport trims were improved in a midyear face lift and unchanged for the '08 model year, but as good as this car is, the '09 and '10 sport trims are significantly more awesome, with their reconfigurable performance display and other nifty gadgets, not to mention much-improved power and fuel efficiency.
If you're looking for the best bare-bones Cobalt, look to the midyear '08 models and newer. The safety features and comforts are up to par with other modern cars for these models, and very few problems have been reported.
Since the Cobalt was a very short-lived car, reliability and resale value are really anyone's guess. Some drivers swear by Chevrolet and will profess quite stubbornly that it is the most reliable maker. Others don't believe Chevrolet could produce a quality heap of scrap metal, but it definitely looks like the Cobalt is holding its oil so far.
Even long after news of the Cobalt's demise, a Cobalt in good condition from a recommended year is still going for more than $10,000 - that's a two-thirds retention in resale value. As for reliability, the dominant opinion is pretty positive about the model years recommended.
Chevrolet Cobalt Questions