Bentley Continental GTC
Model Overview
New Bentley Continental GTC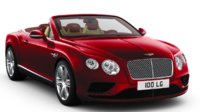 Used Bentley Continental GTC
Bentley Continental GTC Questions
What Is Size Difference Between Bentley Continental Convertible And The Ben...
What is difference in interior space seating between GTC Bentley Continental and Bentley Azure
What Kind Of Engine And Body Problems Are Prone To A Bentley Continental GT...
I am a writer who likes to drive a way-way-ways to his stories. Sooooo... Am I nuts for wanting this Bentley? I don't want to be nickel and $500 to death.
Price Is Really Low And It Doesn't Feel Right-2008 Bentley
Hi, Im interested in a car listed on your website. The owner just contacted me and told me his car is still available but he moved to England and that's the reason for the drop in price. I went back t...
How Do You Arrive At Fair Value On Your Used Car Listings?
I am looking at your 2007 Bentley convertible offered at Bentley Motors of Greenwich CT - shown to be priced at about $4900 over fair value
Older Bentley Continental GTC

2006 Bentley Continental GTC
Bentley Continental GTC
Overview
The Bentley Continental GTC is a convertible version of the the tremendously popular GT grand tourer. The GT was released in 2004, and GTC became available in 2006.

The GTC is one of two current Bentley convertibles. The other option is the Azure, which costs about $100,000 more. The new Continental models are priced to attract a much wider audience than Bentley has ever sought before, but the average car buyer still might have a difficult time distinguishing the Continental from a $300,000 Bentley.
One reason for the more inviting sticker price is the engineering. Previous Continentals were built on Rolls Royce platforms, but the new GT and GTC use VW's D-Platform. This foundation is also used for the Audi A8 and the Volkswagen Phaeton. The Continental GTC does not reach the same level of ridiculous luxury as the Azure, but its handcrafted interior is equipped with just about every standard feature imaginable.
While the GTC is priced well above most European luxury coupes, it sis still being touted by many reviewers as a great value. A peek under the hood will only further such praise.
The GTC is powered a revolutionary 6.0 liter W-12 engine, enhanced by two Borg-Warner superchargers. The total output is 552 horsepower and 479 pound-feet of torque. One of the most unique features is the flat torque curve. At just 1600 rpm, the maximum 479 pound-feet is available, eliminating any turbo lag. Therefore, drivers don't have to be bothered with down-shifting to get the desired power at lower speeds.
Bentley Continental GTC Experts
View All