New Audi S8

The 2018 Audi S8 has been announced, but it is not yet available for purchase.
CarGuru's preview of the 2018 Audi S8
Used Audi S8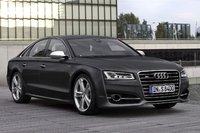 Used 2014 Audi S8 For Sale
| | |
| --- | --- |
| | 3 GOOD Deals |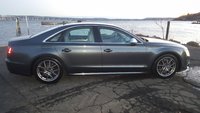 Used 2013 Audi S8 For Sale
| | |
| --- | --- |
| | 4 GOOD Deals |
Audi S8 Questions
Reliability Of V10 Engine
Whats the reliability of the Audi S8 w/ V10, and were there any service issues
Why Don't Tires Last Very Long
How Much Would I Have To Ship The Car To Another Country If Your Not From T...
Do I Have To Be A Dealer To List With Gurus
Is A Good Car?
Enter question here...
Older Audi S8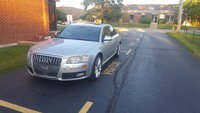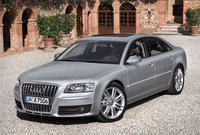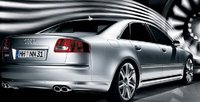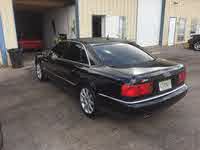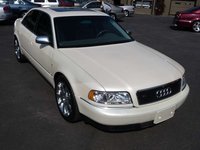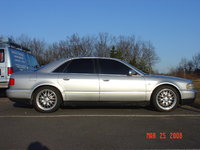 Audi S8
Overview
The "Ronin" car. That's what many people call the Audi S8, referring to the 1998 Robert DeNiro action film that raced this monster sedan through a breathtaking chase scene on the streets of Paris. That film astonishingly made speed freaks fall in love with a staid-looking, full-size sedan.
The Audi S8 didn't appear in the U.S. until 2001, as a full-size performance version of the A8. Both the A8 and S8 are the first sedans to feature aluminum body panels, in an effort to reduce the weight of a luxury car that featured abundant trimmings, and the heavy but unsurpassed quattro all-wheel-drive system. The S8 also has an aluminum suspension to improve handling response and make the heavy car feel like a smaller one behind the wheel. Sports-tuned for a lower ride height, with larger sway bars, brakes, and shocks, the Audi S8 is a powerful and enjoyable rocket disguised in the clothes of an elegant sophisticate.
The S8 features all the creature comforts that come standard in Audi's top-of-the-line model. Leather seats, many power options, memory settings, sunroof, and dual-zone climate control are just a few offerings. And Audi never skimps on safety features, adding ABS brakes, electronic stability control, a limited-slip differential, and front and side airbags. Although the back seat suffers from lack of legroom, the front row is roomy, conveniently laid out, and features special supportive sports seats to hold you in place while you take the S8 out on the road. The S8's drivetrain was best suited for the highway and open road, and because it was fairly unique on the road, other cars could never be sure what was flying by them.
On the market for only three years, the Audi S8 disappeared in the U.S. after 2003, as the A8 got an update. A new S8 is slated for 2007, with sportier styling to distinguish it from its companion A8. It will also throw you back into your seat, with a 448-hp, 5.2-liter V10 engine also seen in the Lamborghini Gallardo.