Toyota dealerships near me (Shreveport, LA)
3 dealerships within 50 mi
John Harvey Toyota
|
View Inventory
2901 Benton Rd, Bossier City, LA 71111 (4 mi)
Sales hours
Sunday: Closed
Monday: 8:30 AM - 8:00 PM
Tuesday: 8:30 AM - 8:00 PM
Wednesday: 8:30 AM - 8:00 PM
Thursday: 8:30 AM - 8:00 PM
Friday: 8:30 AM - 8:00 PM
Saturday: 8:30 AM - 8:00 PM
Yokem Toyota
|
View Inventory
1199 E. Bert Kouns, Shreveport, LA 71105 (7 mi)
Excellent service- start to finish.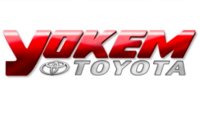 Sales hours
Sunday: Closed
Monday: 8:00 AM - 7:00 PM
Tuesday: 8:00 AM - 7:00 PM
Wednesday: 8:00 AM - 7:00 PM
Thursday: 8:00 AM - 7:00 PM
Friday: 8:00 AM - 7:00 PM
Saturday: 9:00 AM - 6:00 PM
Shapen Toyota
|
View Inventory
5015 East End Boulevard South, Marshall, TX 75672 (36 mi)
I purchased this truck from Shapen. Josh Tucker was very helpful. He provided professional service while meeting my needs during the COVID19 restrictions. He arranged for a co-worker to bring the truck to Shreveport for a test drive. I had limited time with a number of set-backs and cancellations, but he expedited the paperwork. He made this process the easiest buying experience I've ever had during the most restrictive period I can remember.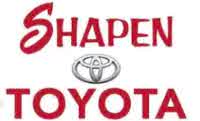 Sales hours
Sunday: 8:00 AM - 6:00 PM
Monday: 8:30 AM - 7:00 PM
Tuesday: 8:30 AM - 7:00 PM
Wednesday: 8:30 AM - 7:00 PM
Thursday: 8:30 AM - 7:00 PM
Friday: 8:30 AM - 7:00 PM
Saturday: 9:00 AM - 5:30 PM
Service Hours
Sunday: 8:00 AM - 6:00 PM
Monday: 7:30 AM - 6:00 PM
Tuesday: 7:30 AM - 6:00 PM
Wednesday: 7:30 AM - 6:00 PM
Thursday: 7:30 AM - 6:00 PM
Friday: 7:30 AM - 6:00 PM
Saturday: 7:30 AM - 1:00 PM
Displaying dealers 1 - 3 of 3