When looking at new electric vehicles (EV), it can sometimes be intimidating to see the price tags they carry. Thankfully, electric cars have been around long enough now that they're hitting the used market at a decent discount. If zero emissions is your goal and gas savings are a must, you can find used EVs for much less than their new-car price tag.
Some vehicles on our list offer range extenders, but we're making our decisions based on value, miles of range, battery capacity, depreciation, and practicality to judge these cars against their internal combustion engine-powered counterparts. We've included two Tesla models, but left out the Model X and Model Y because there are other EVs that offer better value and features.
Soon, new models will begin hitting the market at a more rapid clip, and various tax incentives are still around, so there will be plenty more used, high-range models on dealers' lots before you know it. Thankfully, the resale value for EVs isn't as absurd as it could be.
Nissan Leaf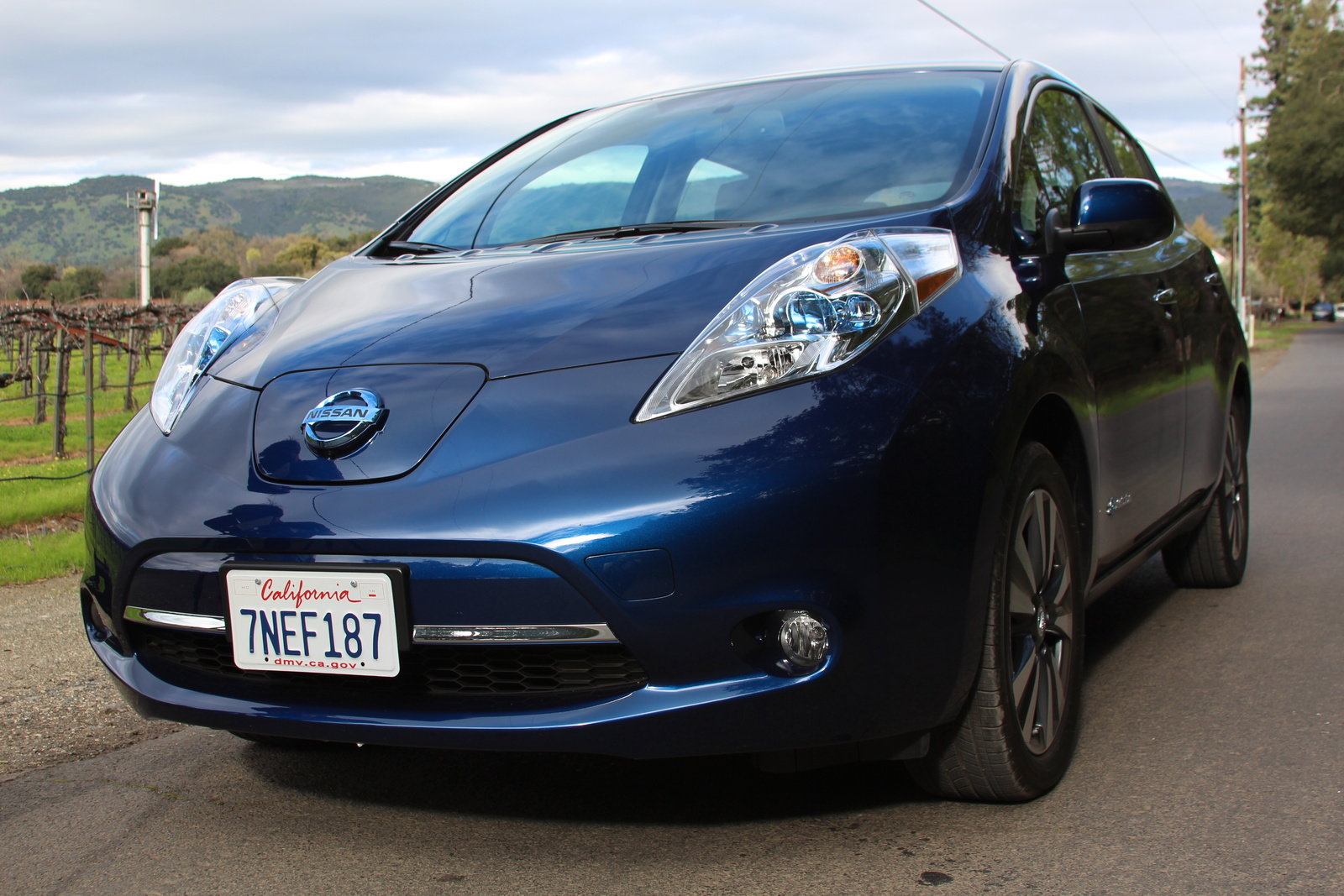 Best for: In-town commuters with little baggage
Years built: 2010-Present
Price when new: $31,600
The Leaf has been a top-selling electric vehicle for nearly a decade, so it's no surprise that it makes such a good used vehicle. Some model years are better than others, however, so it's important to understand what you're getting into. The 2014 to 2016 Leaf (Leaves?) was available with a Level 3 charging port, and delivered estimated range of up to 84 miles per charge. That equates to EPA-estimated fuel economy of 126 MPGe highway and 114 MPGe combined.
Beyond that, the Leaf is just plain useful. Its interior, while not the fanciest on our list, is spacious and offers clever storage for small items and cargo. Folding seats open up the cargo area for long items, while the Leaf's tall roof allows for generous headroom in both the front and second rows.
Read our Overview of the Nissan Leaf
Search for a Nissan Leaf on CarGurus
BMW i3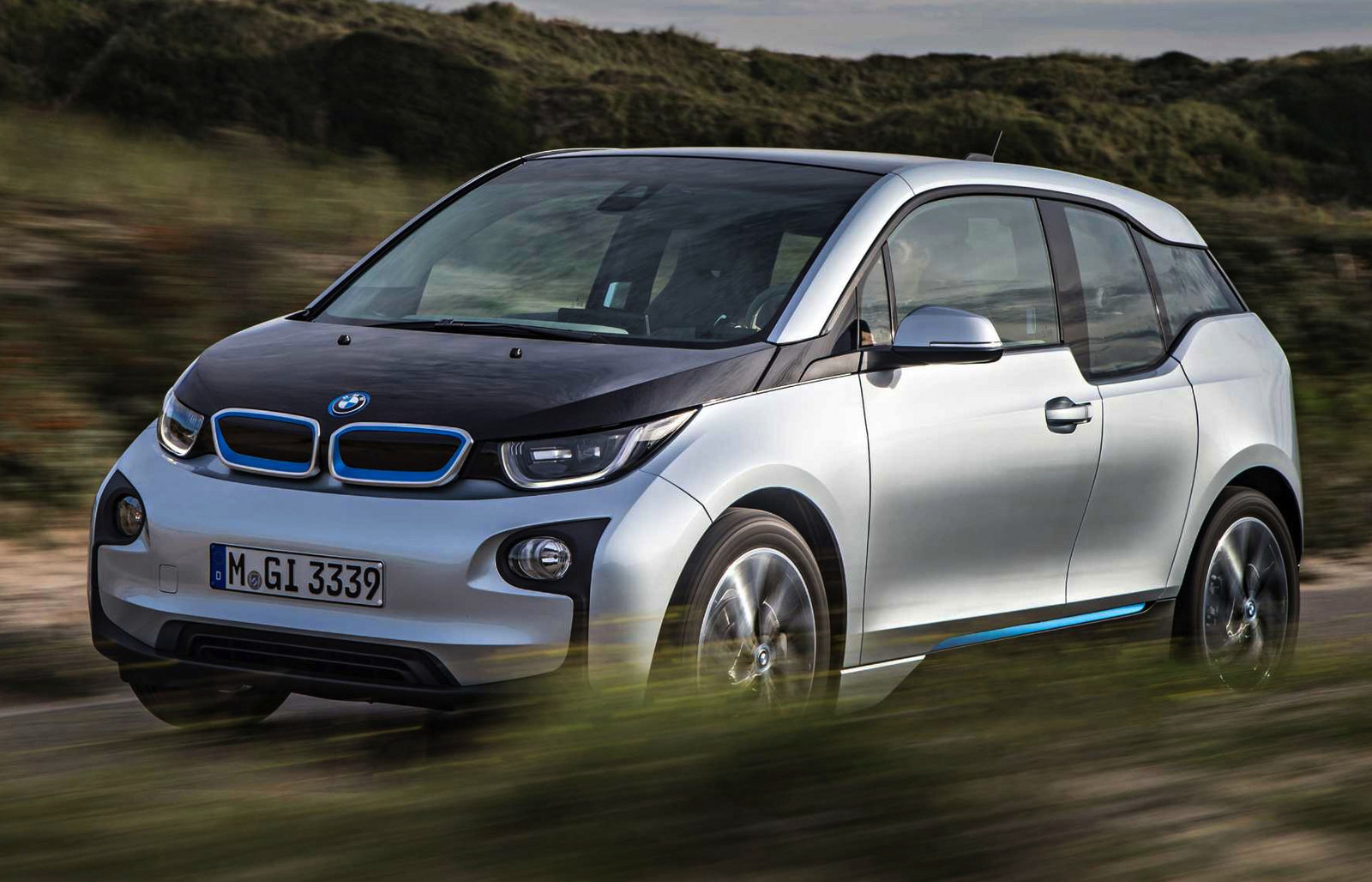 Best for: Commuters that want a little bit of the future in their lives
Years built: 2014-Present
Price when new: $44,450
Love the look or hate it, the BMW i3 is an innovative car with plenty to offer the right buyer. The i3 made its debut in 2014, and it's the first few years that are the sweet spot, in terms of pricing. Similar to the Leaf, the i3's range is best for city dwellers whose commutes span a few miles at best. The standard i3's range is 81 miles, but there was an available version that offered a tiny gas engine to extend range to 150 miles. The 2014 model could be equipped with Level 3 DC Fast Charging capability, but the feature was standard on i3 models after that.
Get past the quirky exterior and trick electric powertrain, and the i3 is a solid commuter. Its driving dynamic is relaxing and smooth, and the car's regenerative braking system makes it easy to cruise with one-pedal driving. The interior is clean but not sparse and fits the i3's futuristic attitude nicely.
Read our Overview of the BMW i3
Search for a BMW i3 on CarGurus
Chevrolet Bolt EV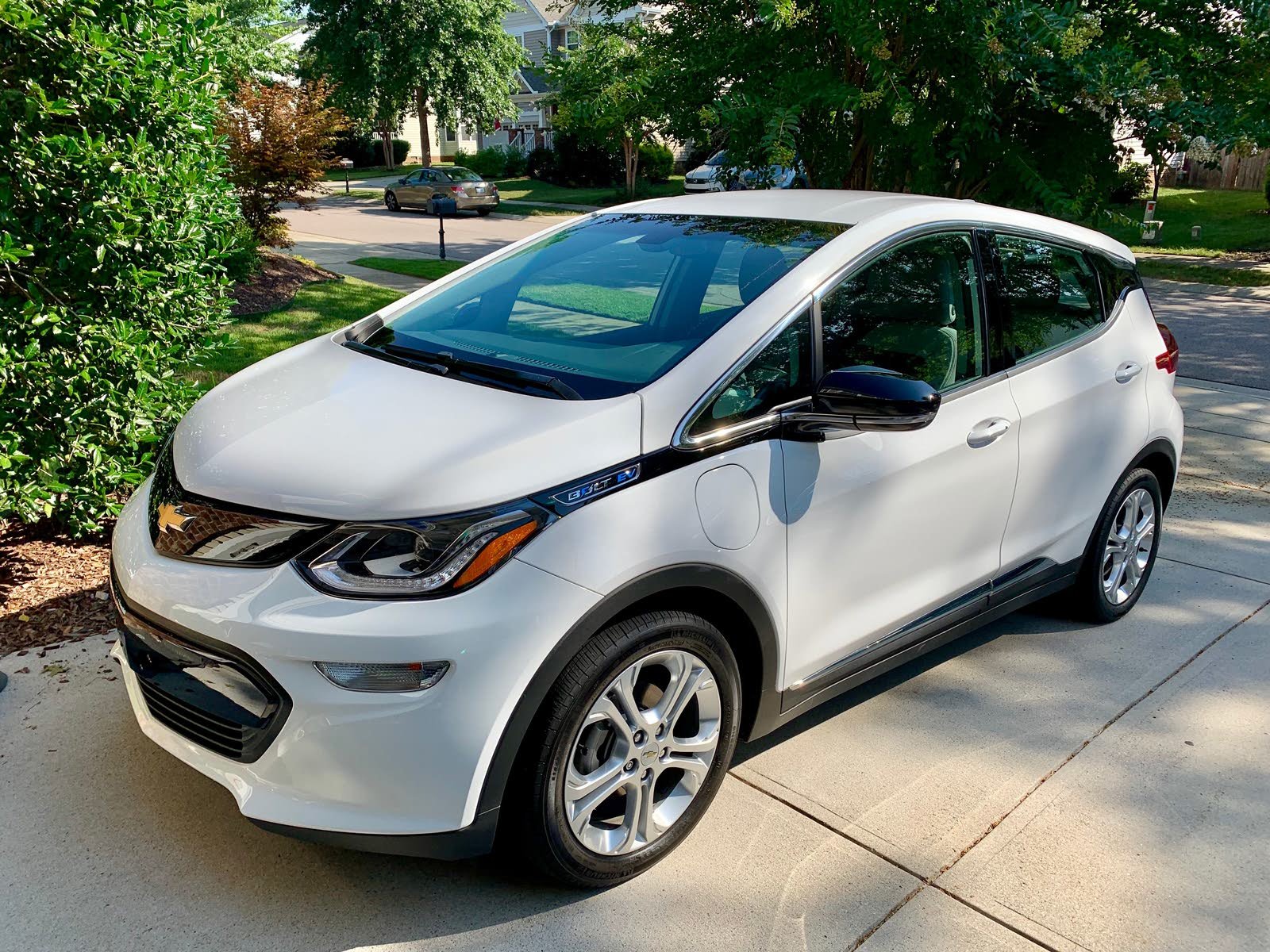 Best for: People that want a spacious, useful EV with decent range
Years built: 2017-Present
Price when new: $36,500
The Chevrolet Bolt debuted for the 2017 model year, and though many first-year efforts are a bit shaky, Chevy nailed it with this one. The Bolt EV sports a solid 238-mile range and can deliver EPA-estimated fuel economy of 128 MPGe city and 119 MPGe combined. The car was available with a variety of options and packages, so you'll likely have your pick of configurations that match your needs.
The Bolt stands up as a well-thought-out and useful car, even without the massive fuel savings counted in. The interior is spacious, and the hatchback shape affords tons of space for carrying people, gear, and pets. The back seat folds down to reveal a relatively cavernous cargo hold, and the front seats are wide, supportive, and deep enough for nearly any driver. Bolt owners can dial in the degree of regenerative braking they need, from very little to an aggressive setting that can almost stop the car without braking.
Read our Overview of the Chevrolet Bolt EV
Search for a Chevrolet Bolt EV on CarGurus
Hyundai Ioniq Electric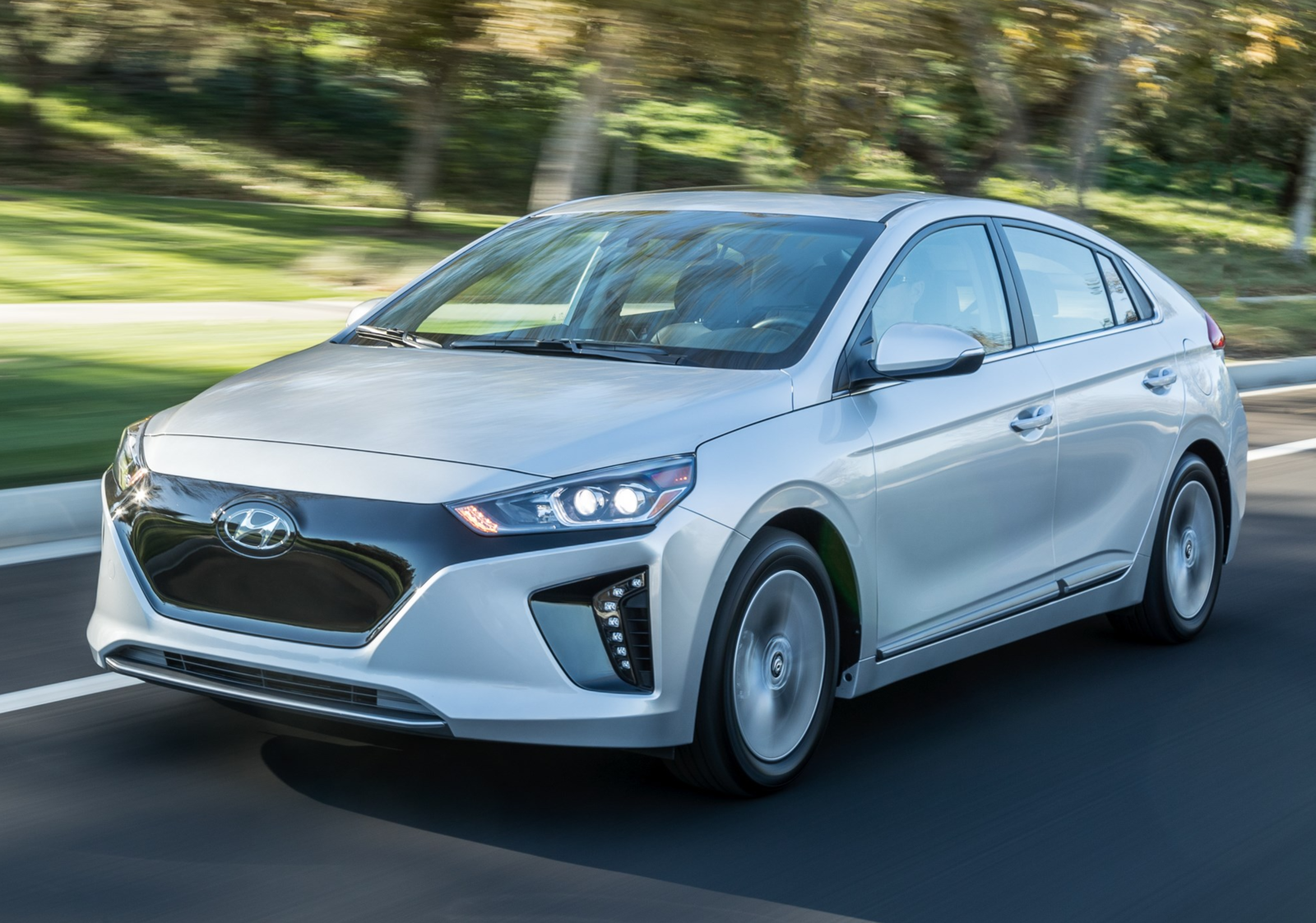 Best for: People that want their EV to look and feel like a normal car
Years built: 2017-Present
Price when new: $33,015
The Ioniq offers a few ways to electrify your driveway. There's a hybrid, plug-in hybrid, and a full-electric model. The Ioniq Electric is capable of running up to 170 miles on a single charge. The full-electric version is special for how unremarkable it looks and how "normal" it feels in everyday driving scenarios.
The Ioniq doesn't offer a thrilling drive like Teslas do, but it's got all the things that make an EV desirable. The interior is quiet and relaxing, and is filled with the latest safety and entertainment tech in some configurations. Like Kia with the Soul EV, Hyundai covers the Ioniq Electric's powertrain for up to 10 years or 100,000 miles.
Read our Overview of the Hyundai Ioniq Electric
Search for a Hyundai Ioniq Electric on CarGurus
Volkswagen e-Golf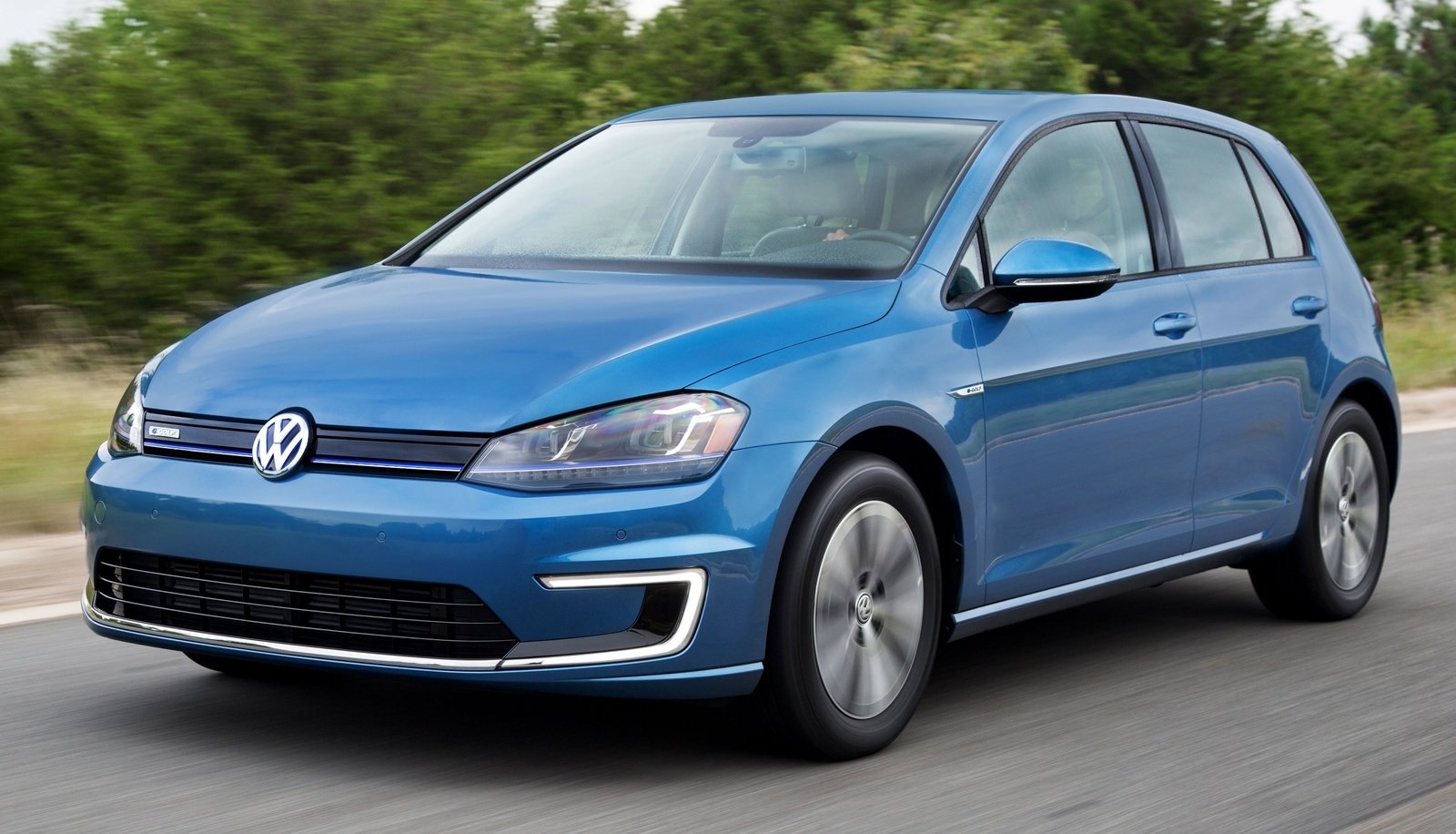 Best for: People that value precision and engineering in their driving experience
Years built: 2015-Present
Price when new: $38,895
Like many large automakers, Volkswagen dipped its toe into the EV waters by fitting an electric powertrain into one of its existing models. The e-Golf rolled out in 2015 as a premium EV and received an update in 2017 with better range and more power. The 2015 cars, which we're advocating for here, delivers EPA-estimated fuel economy of 126 MPGe city and 116 MPGe combined.
Of course, the e-Golf wouldn't be very exciting if it didn't do all of the normal hatchback-y things as well. One of VW's big goals with the car was to make it drive and feel just like a normal Golf, and they succeeded. The electrified car handles well, delivers a comfortable ride, has tons of useful interior space, and is as unassuming as a car can get.
Read our Overview of the Volkswagen e-Golf
Search for a Volkswagen e-Golf on CarGurus
Tesla Model S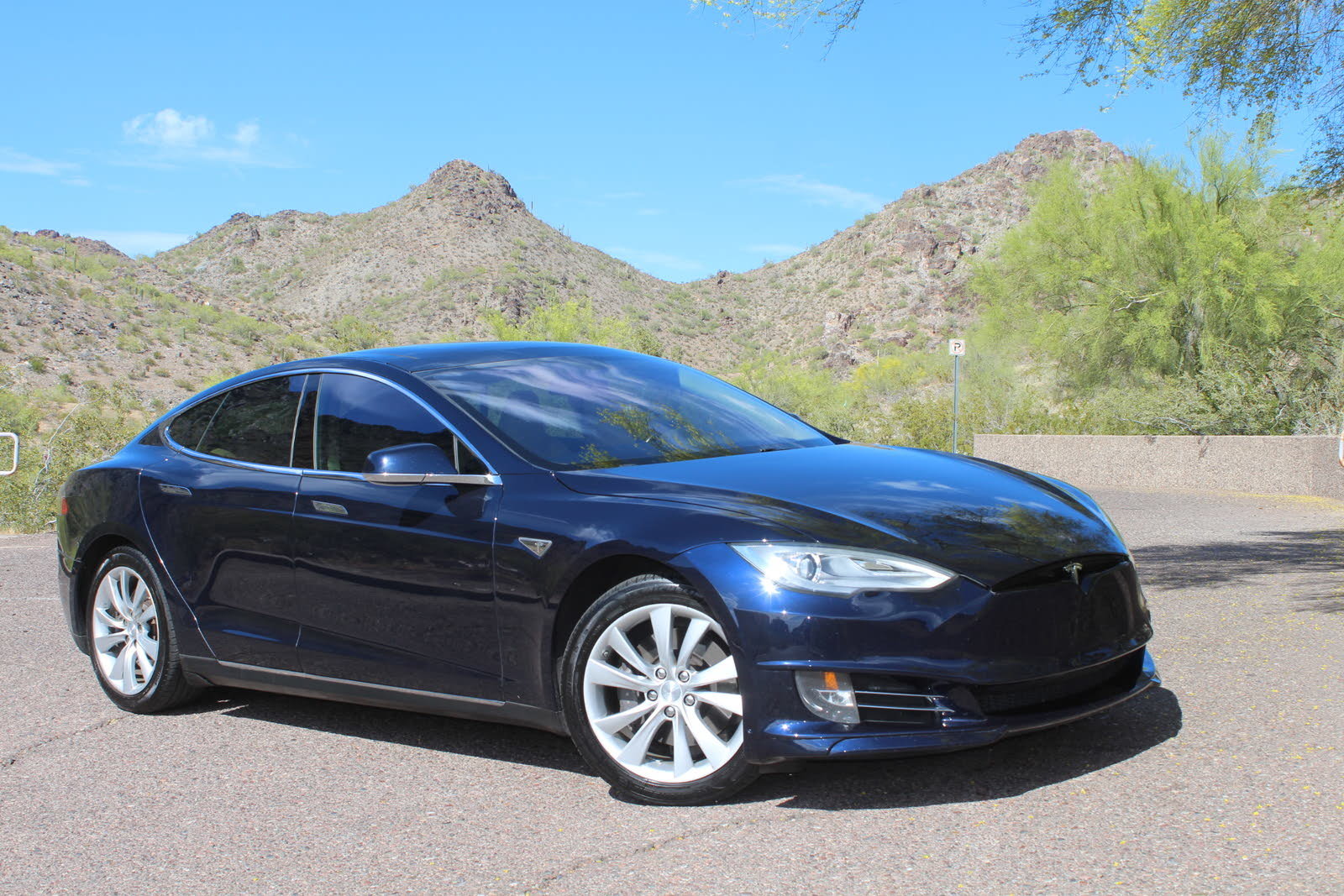 Best for: Early adopters and folks that need near-combustion engine levels of range
Years built: 2012-Present
Price when new: $69,420
Controversies about Tesla aside, the Model S is a seriously cool car. It is, without a doubt, one of the most important electric vehicles of our time and remains a solid used buy, even years after its initial debut. Part of the reason for that is that Tesla continually rolls out new products and adds new features to its cars through software updates. This means that, as long as you can find one that has been taken care of, you can get a Model S from several years ago that behaves much the way a new one would.
The Model S is a special car, but it's not just because of the features. Some configurations are quick—like, 0-60 mph in three seconds quick—but it's the range that's the real story here. Some 2016 models are capable of traveling up to 315 miles on a single charge. The biggest downside here might be the Model S' price, which still stretches deep into luxury car territory, even for a used model.
Read our Overview of the Tesla Model S
Search for a Tesla Model S on CarGurus
Tesla Model 3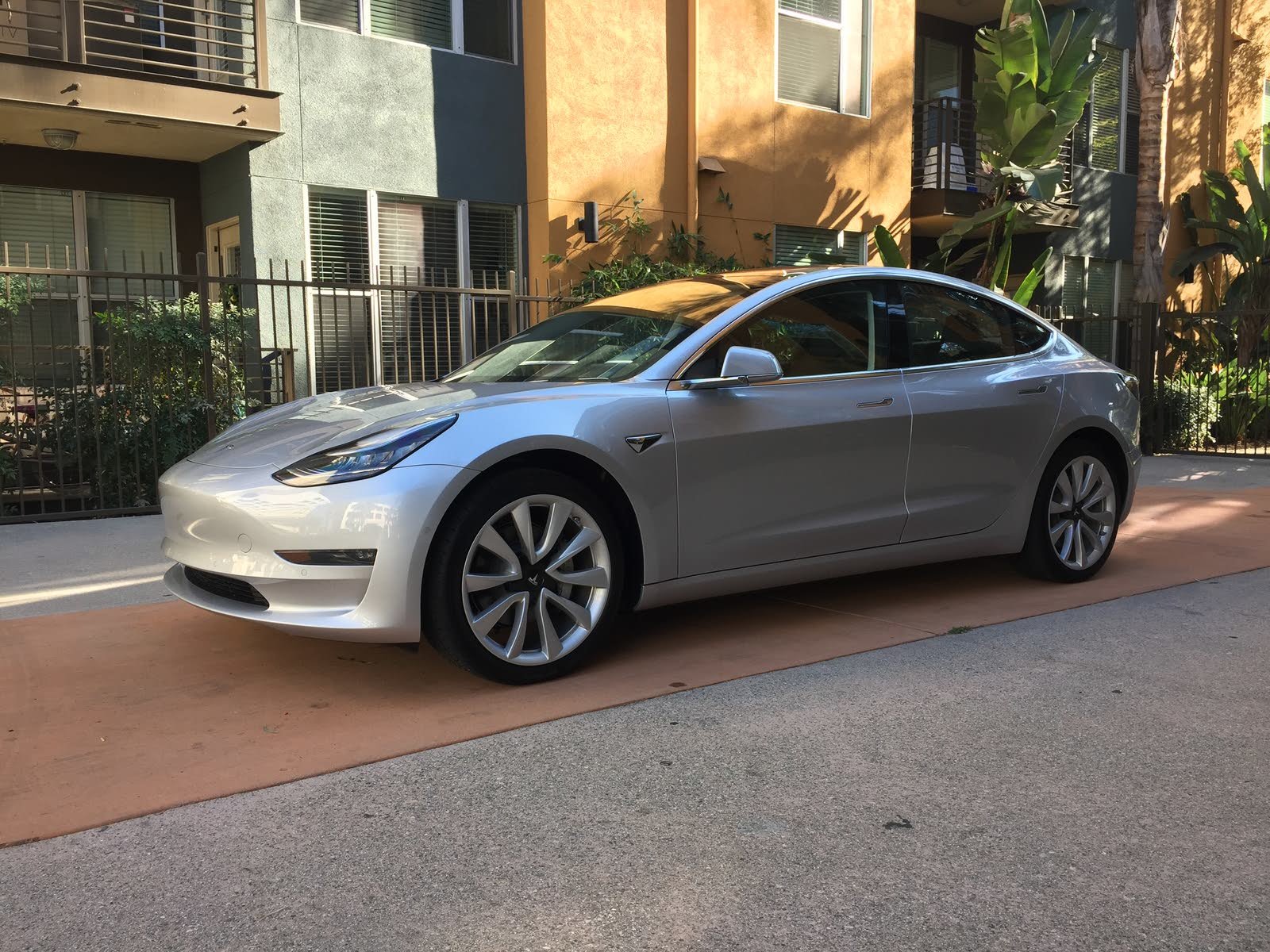 Best for: People that want a Model S but can't afford one
Years built: 2017-Present
Price when new: $37,990
Though smaller and more affordable than the Model S, the Tesla Model 3 is just as important. Early versions were plagued by inconsistent quality control issues, such as electronics malfunctions and panel fitment, but Tesla got its act together shortly after the car's release. Like the Model S, the Model 3 can travel more than 300 miles on a charge in some configurations, and like the Model S it can be equipped with all-wheel drive (AWD).
The Model 3 is comfortable and useful as a car, not just as an EV. The interior is futuristic, just like that of the Model S, and is dominated by a large center control screen. Everything from climate controls to navigation to vehicle diagnostics is handled via the touchscreen, which is the only means the driver has to interact with the vehicle for many tasks. The Model 3 holds its value well, so used models are still quite expensive, at least in terms of used cars from a non-major manufacturer.
Read our Overview of the Tesla Model 3
Search for a Tesla Model 3 on CarGurus
Ford Focus Electric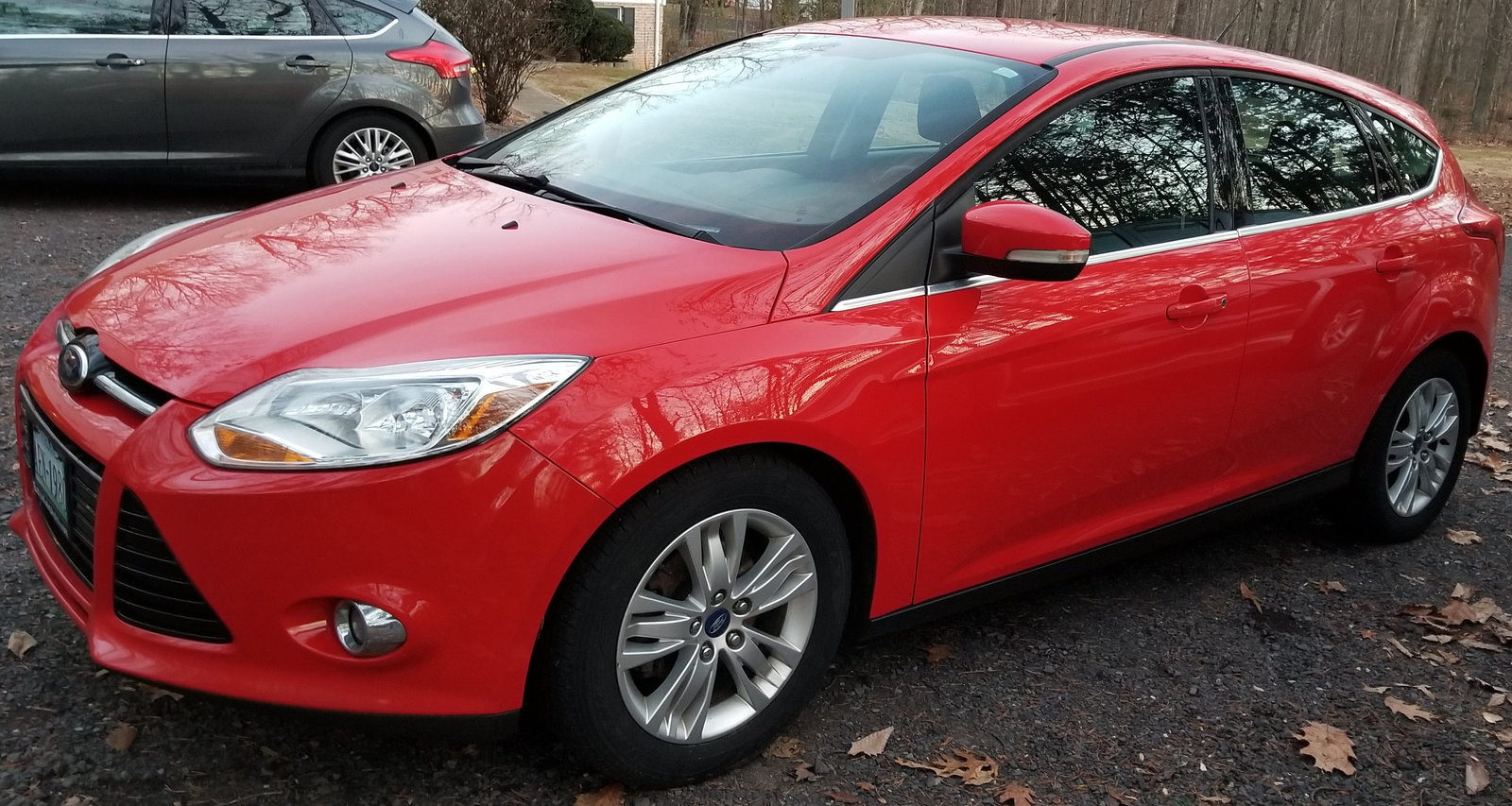 Best for: People that want a quirky, affordable used EV
Years built: 2012-2018
Price when new: $29,120
Ford recently removed the Focus from its model lineup, but there was a time when the car was at the forefront of automotive technology. The Focus Electric is propelled by a 143-horsepower electric motor that sends its immediate electric torque to the front wheels. Unlike its standard gas-powered counterpart, the Focus Electric is limited to a top speed of just 84 mph, but the good news is that it's got a solid 115-mile range.
The Focus is a useful, spacious little car, and the electric version is much the same. The car's battery packs cut into usable cargo space to a high degree, but the rest of the interior is cozy, comfortable, and packed with useful space.
Read our Overview of the Ford Focus Electric
Search for a Ford Focus Electric on CarGurus
Kia Soul EV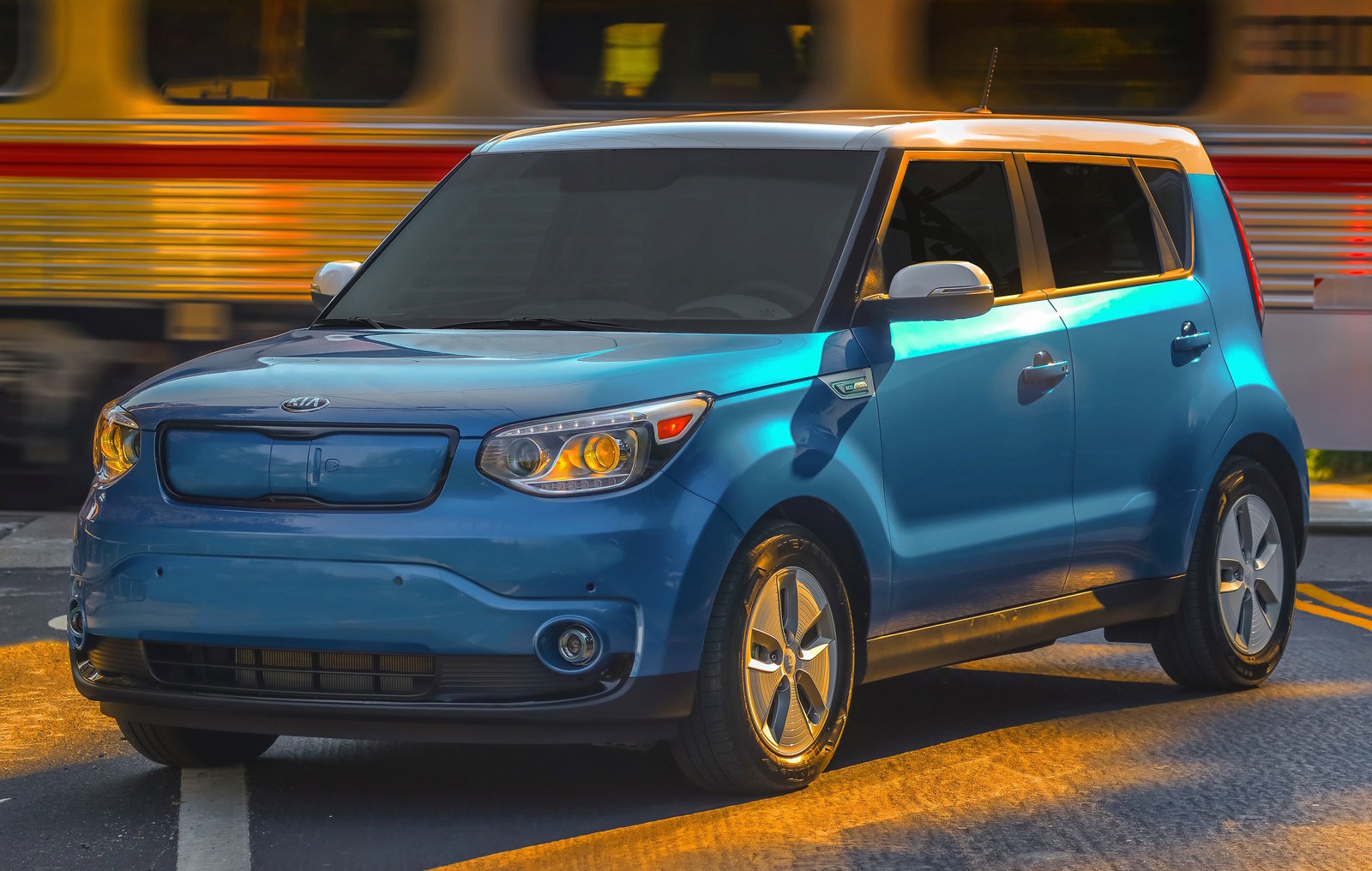 Best for: Buyers wanting an expanse of usable interior space
Years built: 2014-Present
Price when new: $33,950
The Kia Soul EV is an excellent new EV and makes an excellent used EV as well. In 2018, Kia bumped the Soul EV's range to 111 miles with a higher-capacity battery. The Soul, in any of its forms, is a supremely useful vehicle. The boxy shape, high roof, and clever interior design make the vehicle a wonderful alternative to bulky and expensive crossovers and SUVs.
The Soul EV's initial price was a bit higher than much of its competition, but the car's EPA-estimated 124-MPGe city fuel economy rating is impressive. If you're searching for a Soul EV, picking nearly any of them will yield a car that is still covered by Kia's lengthy warranty, and the fact that EVs typically have lower maintenance costs than gas vehicles makes it an even more compelling buy.
Read our Overview of the Kia Soul EV
Search for a Kia Soul EV on CarGurus
Jaguar I-Pace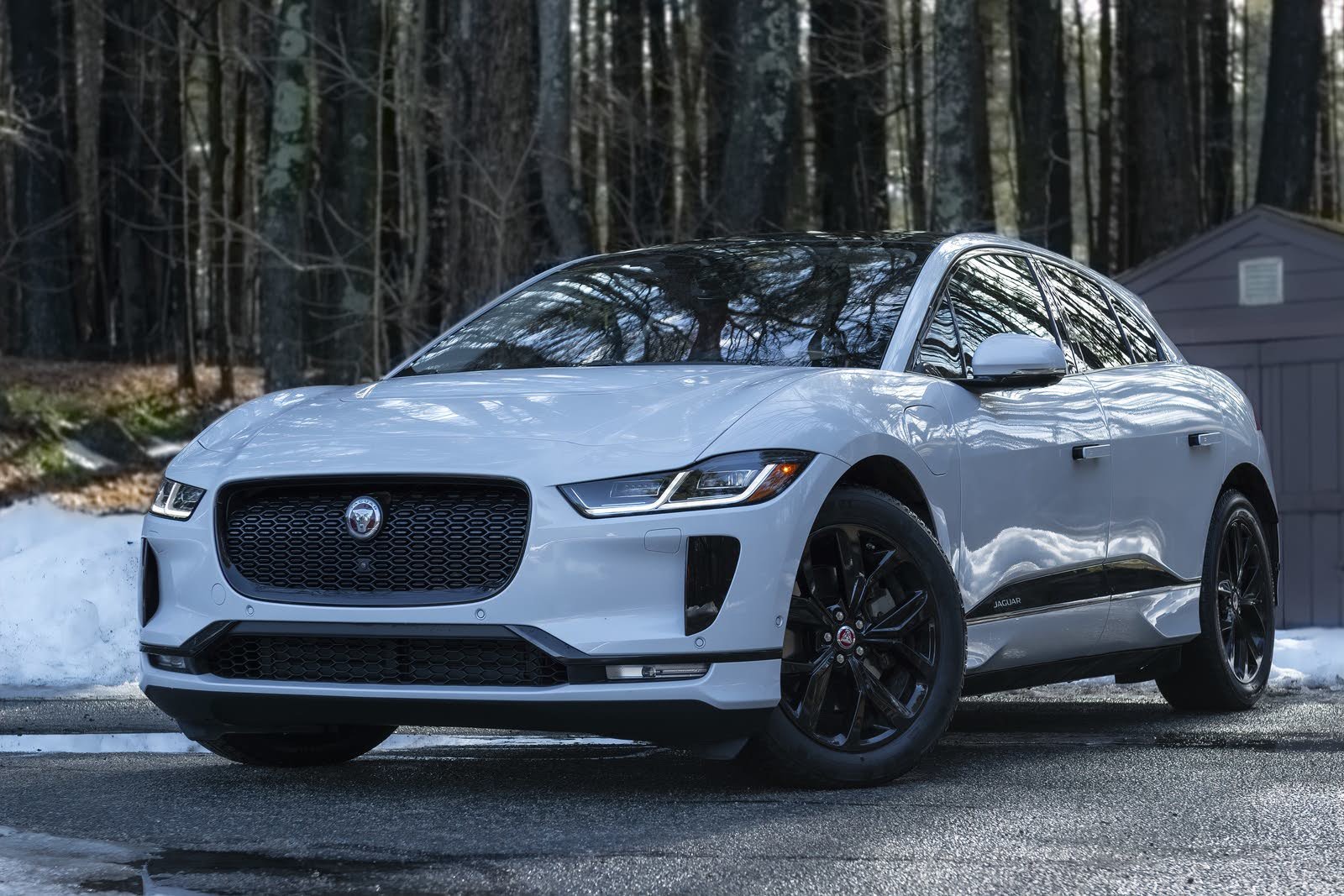 Best for: Buyers that want a luxury EV with motorsport heritage
Years built: 2018-Present
Price when new: $69,850
We'll take a turn to the upscale here with the I-Pace. It was Jaguar's first electric production vehicle and started racking up awards as soon as it landed. You'll only have a couple of model years from which to choose with used I-Pace models, but there's enough content in those to make almost any buyer happy.
The I-Pace offers up to 234 miles on a single charge from its 90-kWh battery. It's also capable of reaching 60 mph from a standstill in just 4.5 seconds and gets 394 horsepower from its electric motors. That's all in addition to the fact that it's a luxurious, comfortable, and nicely finished luxury crossover vehicle.
Read our Overview of the Jaguar I-Pace
Search for a Jaguar I-Pace on CarGurus