If you've clicked on this article, chances are you understand the appeal of dogs. They're faithful companions that are almost always happy to see you, help keep us active, and reciprocate the love shown to them in abundance. They are, quite literally, members of the family. As a result, we often want our furry friends to accompany us wherever our next adventure may take us, whether that's to the mountains for a weekend of hiking, or maybe a quick drive over to the local park.
Unfortunately, not all vehicles are built to be dog-friendly, so it's important to focus on a few key points when choosing a car or truck for you and your pooch. Consider opting for leather (or leatherette) upholstery that's easier to clean and won't hold onto dog hair, avoid light interior colors that tend to show dirt, make sure you have plenty of passenger space for people and pets, and, for big vehicles, select a model with rear heating or air conditioning to keep Cujo comfortable. Last but not least, look for a low cargo floor or low ride height that provide easy entry.
With all of this in mind, we've compiled a list of 10 pet-friendly new car models that should meet the varied needs of rescues to Rottweilers and everything in between.
2021 Chrysler Pacifica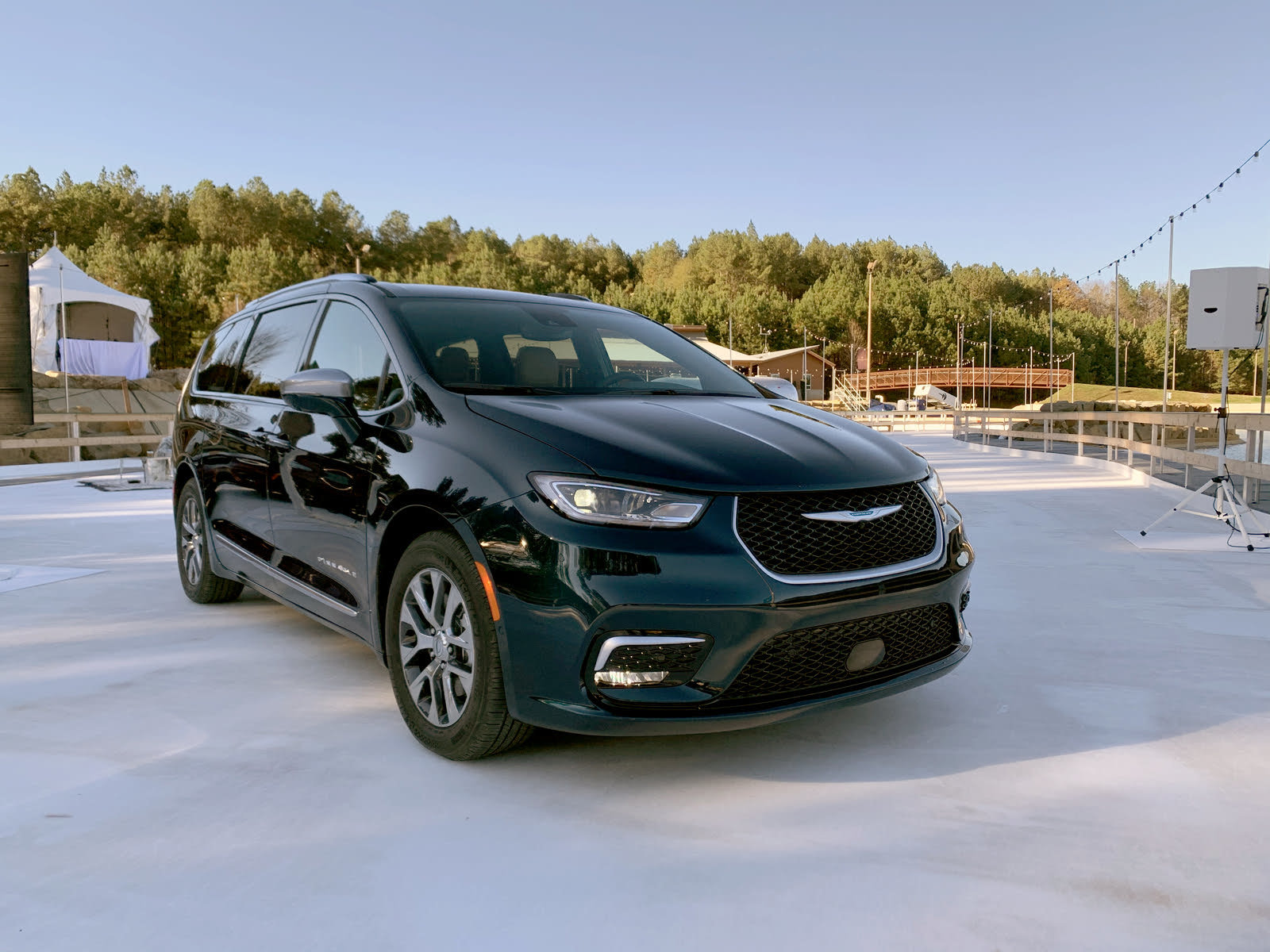 Best for: Active families who seldom leave their dog(s) at home
Priced from: $35,195
While some continue to view the minivan as an undesirable mode of transportation, we're confident that your dog would give four paws up for models like the 2021 Chrysler Pacifica. As there is a dog for every person, there is a Pacifica for nearly every need, with gas and hybrid variants, available all-wheel drive (AWD), and an interior that offers impressive versatility and plenty of space.
None of that matters to Fido. Instead, your canine companion will appreciate the low cargo floor in the rear, as well as the sliding side doors that make climbing into the Pacifica a simple task. Once inside, the Pacifica's expansive interior offers a host of seating configurations, as well as standard rear air conditioning to keep people and dogs comfortable. Plus, with the optional built-in vacuum cleaner, you can quickly suck up hair, bits of kibble, sand, or whatever else your dog might've stumbled into.
Read our Test Drive Review of the Chrysler Pacifica
Search for a Chrysler Pacifica on CarGurus
2021 Honda CR-V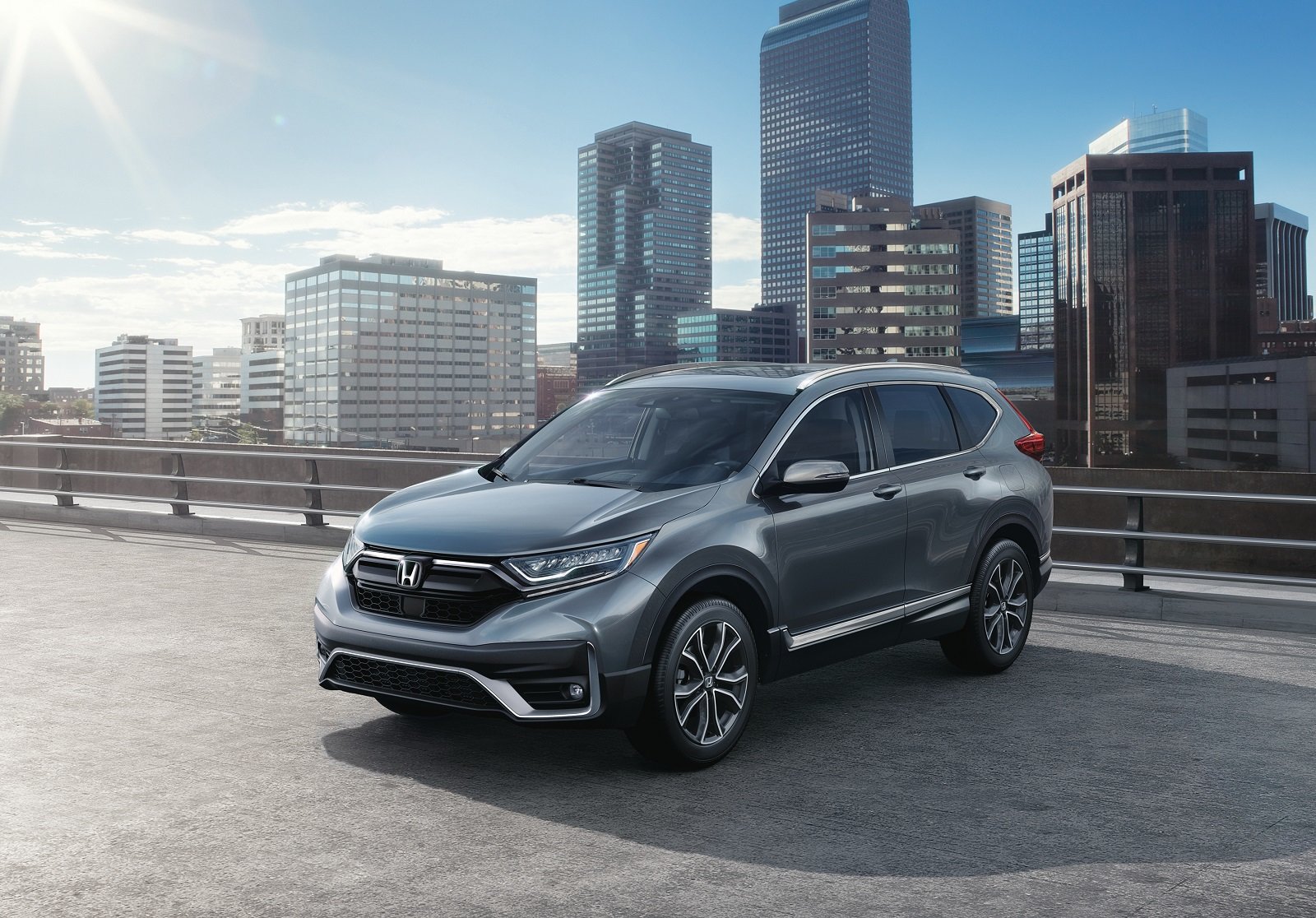 Best for: Dog lovers who want what is arguably the best compact crossover vehicle on the market
Priced from: $25,350
There's a reason you see so many Honda CR-Vs on the road: They do everything well. Buyers flock to this crossover due to its affordable price, available hybrid powertrain and AWD system, and roomy five-passenger cabin. Quite simply, it's one of the best vehicles on the market today.
With the rear seats folded, the CR-V provides nearly 76 cubic feet of space for a furry companion to spread out and get comfortable, while the relatively low cargo floor aids with entry into the vehicle. You won't find an air-conditioning system dedicated to second-row passengers (of any species), though there are rear vents that deliver temperature-controlled air from the front-seat area.
The majority of 2021 Honda CR-V trim levels come with easy-to-clean leather upholstery, while an available hands-free power liftgate may prove handy when trying to get your dog inside the vehicle. Accessories such as a plastic cargo liner and seat-back protector can be purchased directly from Honda dealers.
Read our Test Drive Review of the Honda CR-V
Search for a Honda CR-V on CarGurus
2021 Jeep Wrangler Unlimited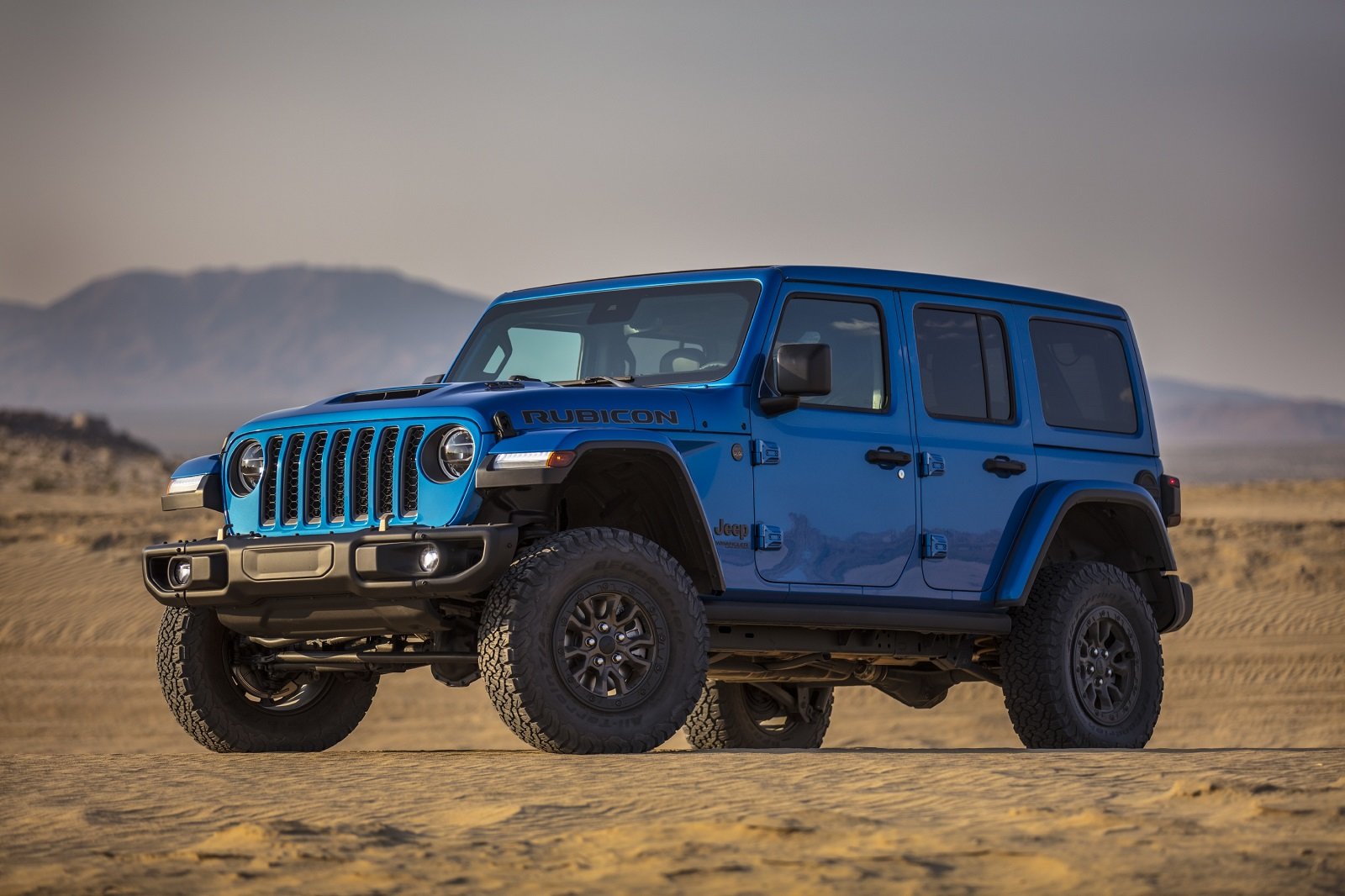 Best for: Buyers who want their dog to enjoy the journey as much as the destination
Priced from: $31,975
Shoppers considering the purchase of a Jeep Wrangler Unlimited already know—or will soon discover—that certain trade-offs are part of the package. The ride isn't terribly refined, interior space is less than you might expect, and your grandmother may curse your name just at the thought of getting in and out of the back seat.
And yet, with the upcoming Ford Bronco being a possible exception, there is no other vehicle that offers the Wrangler's level of four-season fun. That's true for dogs and humans alike.
The rear seats can be folded down to extend the cargo area, and there are several interior accessories to help keep the Jeep clean, but the real draw here is the joy that can be had. With the top removed, the Wrangler's occupants can bask in the sun, while dogs may risk sensory overload with the constant swirl of new and interesting scents buffeting against their nostrils. And with its off-road capability, you can enjoy that experience most anywhere, from crawling through the woods to tearing it up on a beach.
Wherever the road or trail takes you, we recommend using a seatbelt harness when traveling with your dog, especially in an open-top vehicle like the Wrangler.
Read our Test Drive Review of the Jeep Wrangler Unlimited
Search for a Jeep Wrangler Unlimited on CarGurus
2021 Kia Rio5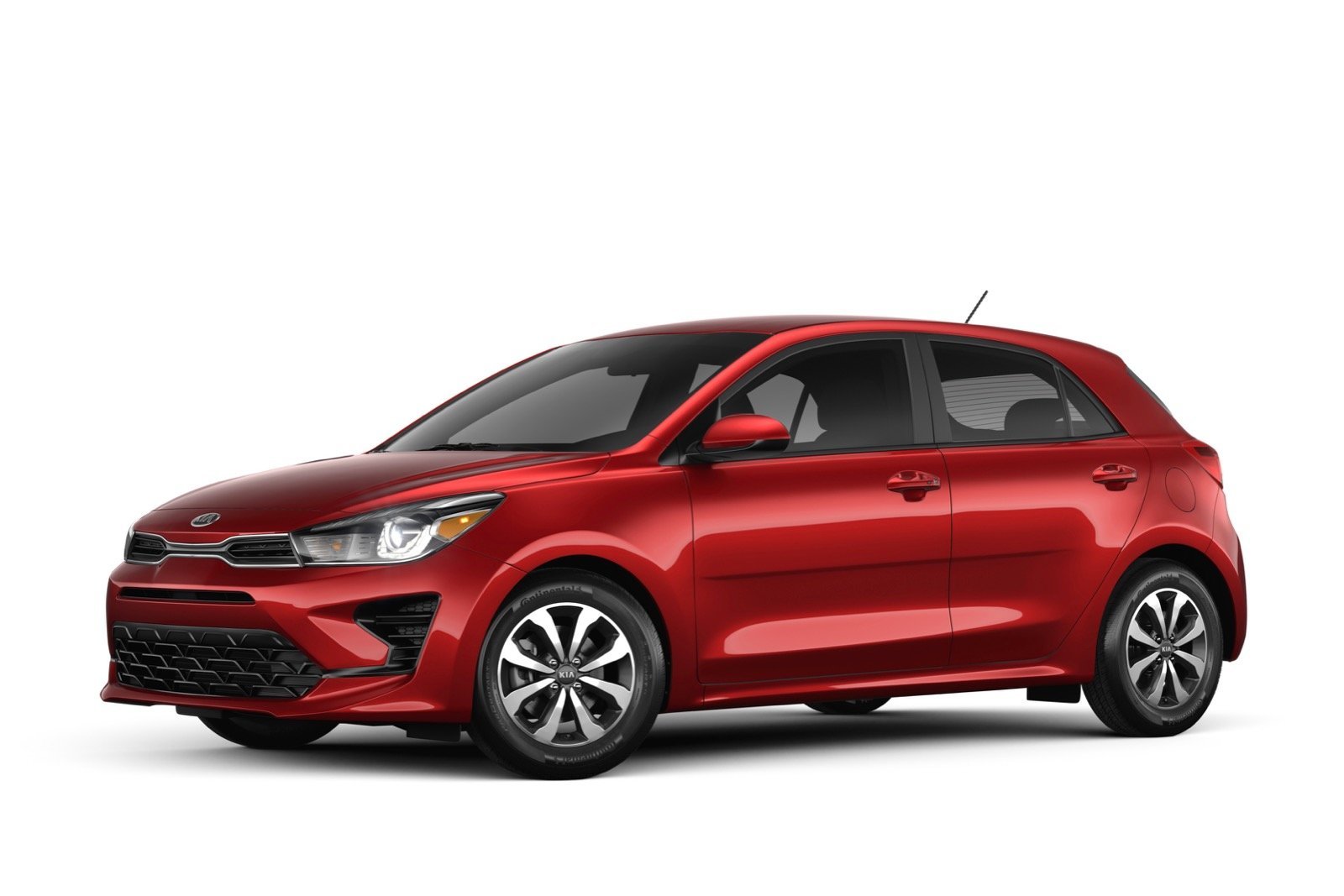 Best for: Dog owners on a budget
Priced from: $16,990
Owning a dog can be very expensive. There's a fee paid to a rescue group or breeder, routine and unexpected vet bills, food and medications, dog crates, grooming and the occasional kennel stay, and plenty of toys and treats. Thankfully, you don't need to spend a small fortune to buy a car that's suitable for both of you.
The 2021 Kia Rio5 is a front-wheel-drive (FWD) compact hatchback priced just under $17,000. Stretch payments out over five or six years and you just may find yourself spending more on your dog each month than your car.
Kia offers the Rio5 in a single trim level, S, which is fitted with all of the basic creature comforts you'd expect, such as air conditioning (with rear vents), cruise control, and even wireless Apple CarPlay and Android Auto. At this price point, leather seats are nowhere to be found, but there is a low cargo floor, not to mention fold-down rear seats that create nearly 33 cubic feet of cargo space. Unless you travel with a family of adult Great Danes, that should be sufficient capacity to get you and your dog wherever you want to go in comfort. But, be warned: The Rio5 averages 41 mpg on the highway, so your copilot may need a bathroom break before it's time to stop for gas.
Read our Overview of the Kia Rio5
Search for a Kia Rio5 on CarGurus
2021 Land Rover Discovery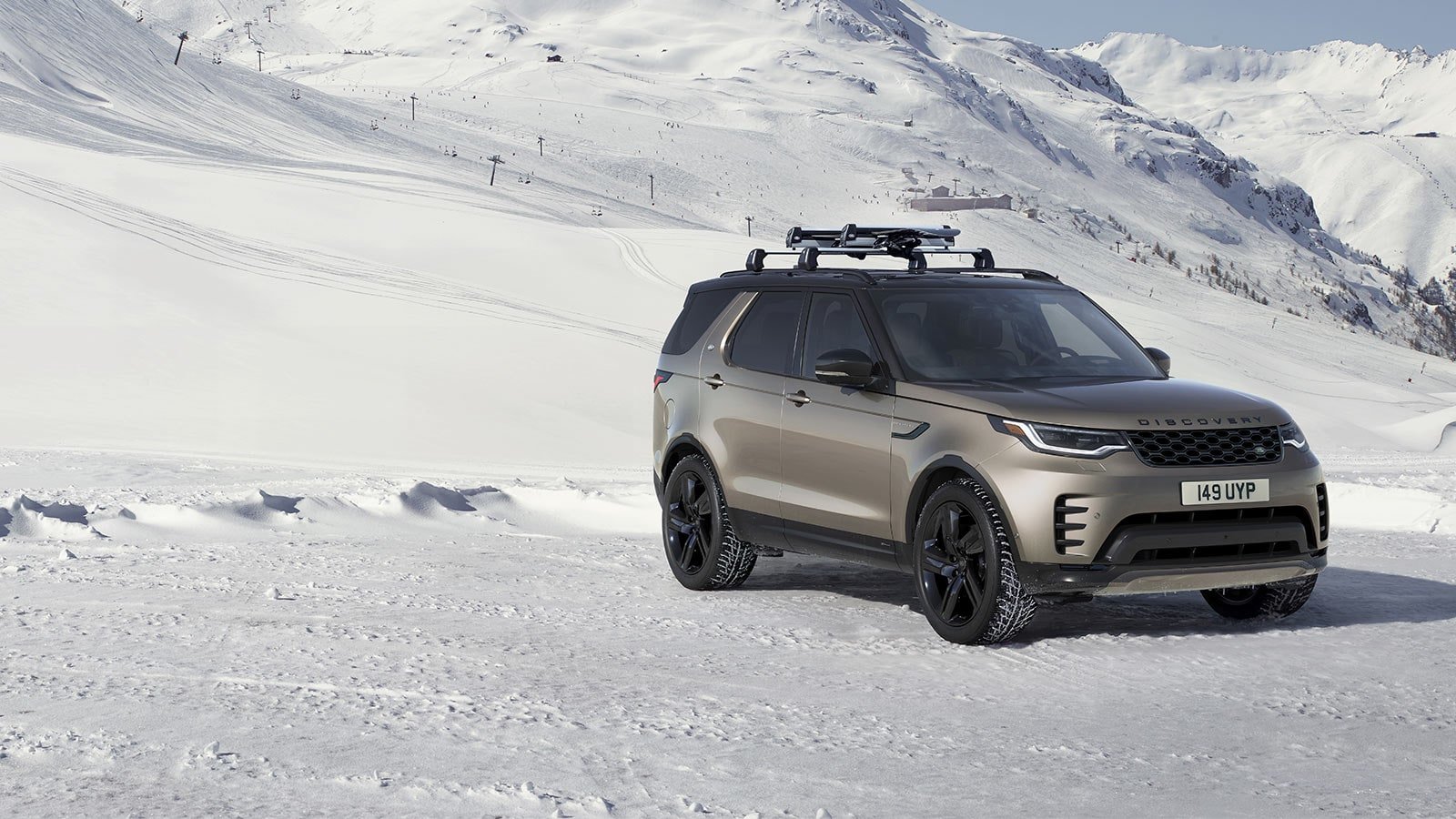 Best for: Buyers who want to pamper their dog and SUV with some custom accessories
Priced from: $41,900
Land Rover is one of the few brands on this list that offers a selection of pet-specific accessories for models such as the seven-passenger Discovery, a model that offers dog owners plenty of interior space and a flat cargo floor.
Among the add-ons are a spill-resistant water bowl, a folding ramp that allows your dog to comfortably exit the vehicle, and a quilted cargo liner that can be easily washed and extended over the rear bumper to avoid scratches from paws. Those are nice features, but what is most interesting to us is the portable rinse system, which includes two minutes worth of pressurized water delivered through a hose and nozzle. If you've ever seen the amount of sand caked onto a dog after a few hours at the beach, you can appreciate the value of this portable pet shower.
Read our Overview of the Land Rover Discovery
Search for a Land Rover Discovery on CarGurus
2021 Ram 1500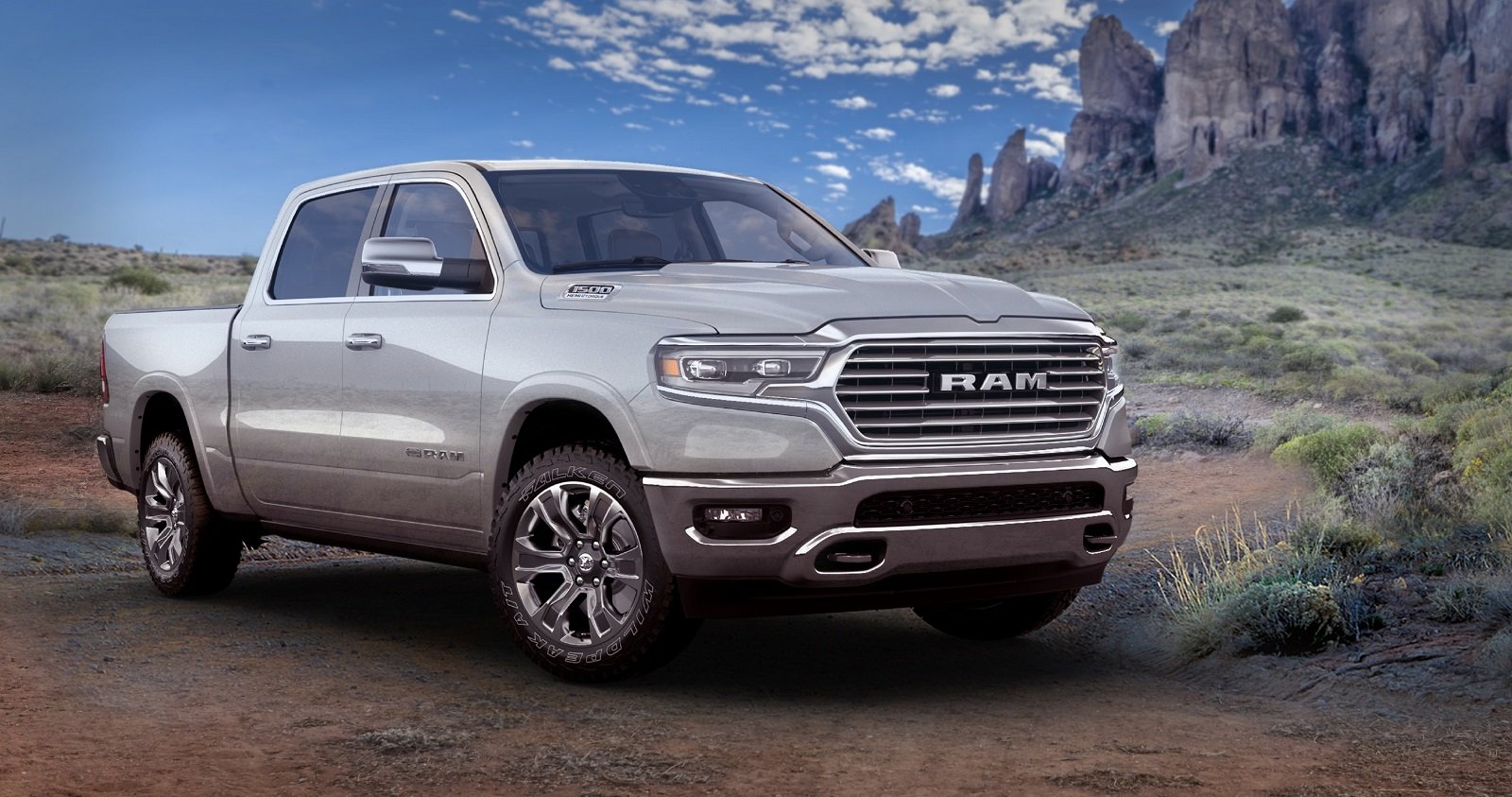 Best for: Dog owners who need the capability of a pickup truck
Priced from: $28,700
Some will say that pickups are less than ideal for transporting dogs. To a degree, they have a point, as you don't want to carry a dog in the bed and interior space is lacking compared to a large SUV or crossover. However, in our experience, dogs dig full-size trucks.
Admittedly, entry is hampered a bit by the Ram's height, but once inside a dog has a clear view of everything around him. And, for smaller breeds, that wide front center armrest serves as an ideal perch. Several trim levels of the Ram 1500 offer leather seats that are easy to clean, and there are countless floor mats and seat covers available from Ram, Amazon, or your local parts store.
But, what separates the Ram 1500 from the Ford F-150 or Chevy Silverado—and helps it earn a spot on this list—is the innovative RamBox. Engineers reconfigured the truck's bed by incorporating large, drainable storage pockets on each side. Lockable and easily accessible, these cubbies provide a spot for storing leashes, food, bowls, and more importantly, any wet or dirty towels you might've used to dry your dog before putting him into the truck.
Read our Test Drive Review of the Ram 1500
Search for a Ram 1500 on CarGurus
2021 Subaru Outback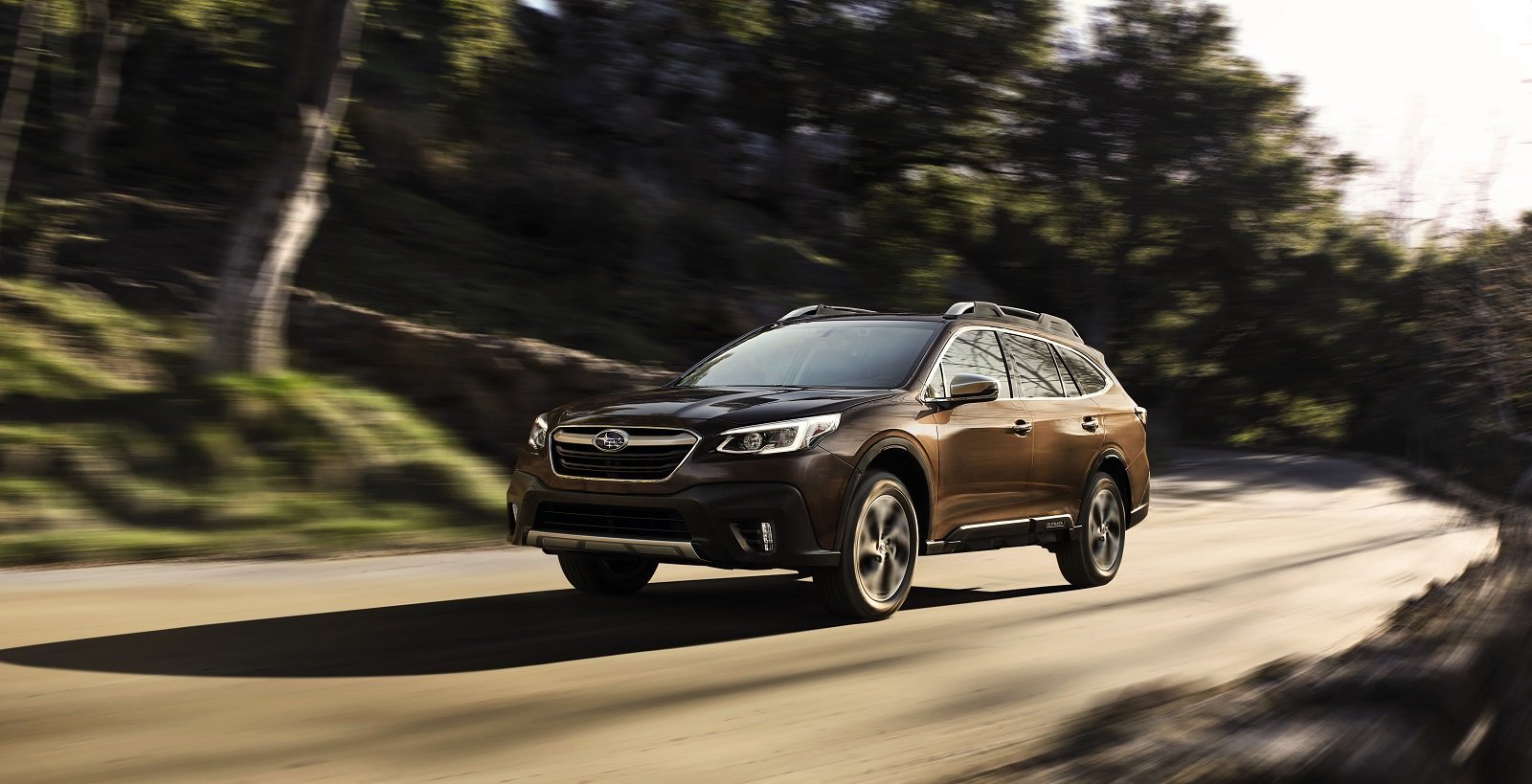 Best for: Dog owners who want a practical adventure rig
Priced from: $26,795
If you close your eyes, you can probably envision a Subaru Outback commercial with a dog. The two seem to go together, and for good reason. The AWD Outback can take a dog and her owner most anywhere they want to go, with plenty of room for passengers and provisions. As with other wagons or crossovers, the 2021 Outback's rear seats can be folded to create, in this case, a cavernous 75.7 cubic-foot cargo area. If you prefer to keep your pup behind the rear seats, Subaru and aftermarket companies offer gates that are simple to install. Buyers can also opt for leather upholstery or window shades that help keep your dog cool.
Also worthy of note here is Subaru's Share the Love campaign. During this sales promotion, the company donates $250 on a buyer's behalf to one of a select group of charities. Among them is the American Society for the Prevention of Cruelty to Animals (ASPCA), which has rescued more than 64,000 animals as a result of Subaru's contributions. There's also an affiliate program that provides service and therapy dogs to first responders and veterans.
Read our Test Drive Review of the Subaru Outback
Search for a Subaru Outback on CarGurus
2021 Tesla Model Y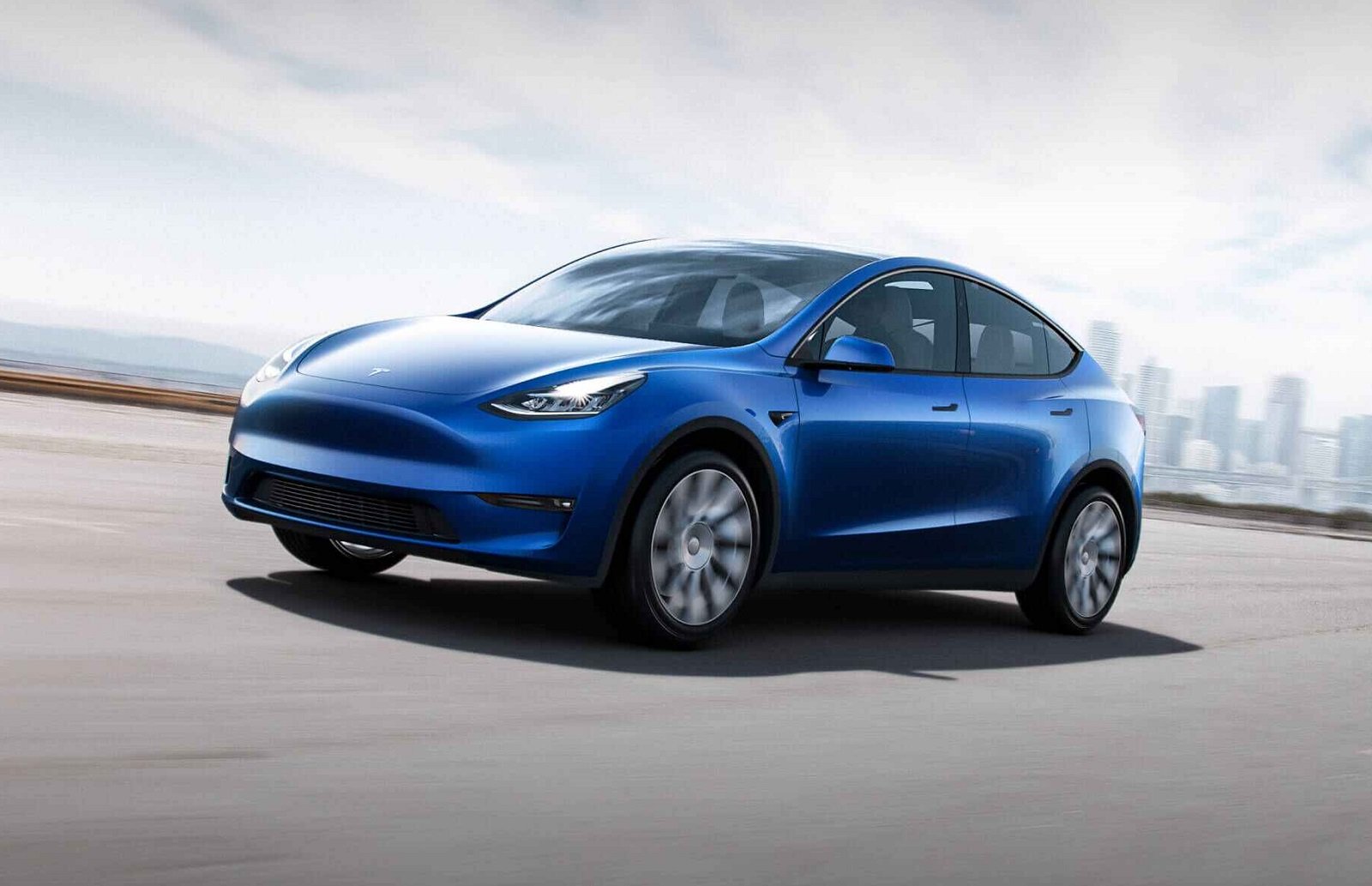 Best for: Tech-savvy dog owners who want a versatile electric vehicle
Priced from: $41,990
The 2021 Telsa Model Y is another compact crossover that makes our list due, in part, to many of the attributes we've already discussed. These include a spacious area for dogs, standard leatherette seats are relatively easy to clean, and rear vents designed to keep occupants comfortable.
We'd suggest avoiding the available white upholstery for obvious reasons, but you'll certainly want to check out the Model Y's Dog Mode. This technology uses the vehicle's climate control system to maintain a preset interior temperature, even after the driver has turned off and exited the car. A message on the infotainment screen alerts passersby that the owner will be back soon and shows the temperature setting. Users can monitor the system with an app, which also alerts them if there's a malfunction that requires a quick return to the vehicle.
Read our Overview of the Tesla Model Y
Search for a Tesla Model Y on CarGurus
2021 Volvo V60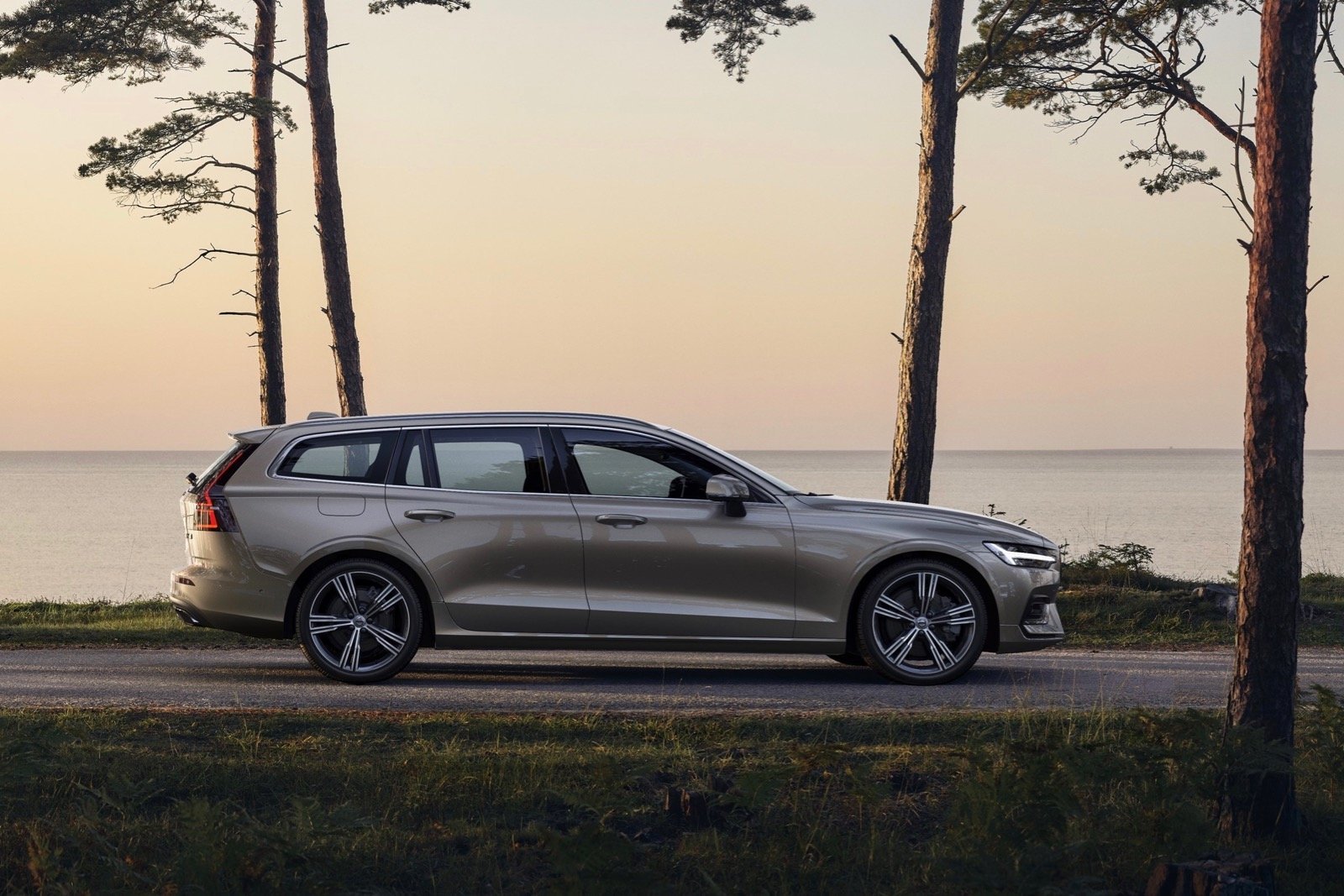 Best for: Dog owners who prefer the size and style of a wagon
Priced from: $40,950
Volvo was one of the first automakers to understand the needs of dog owners and their vehicles, and that unique focus continues today with models like the 2021 V60. This spacious family wagon is ideal for carrying canines, especially for those drivers who don't want the bulk of a large SUV. Standard leather seats should be easy to clean, while available AWD will help you reach your destination safely.
Beyond those basic essentials for dog duty, the V60 can be fitted with related accessories purchased directly from Volvo. Among them are a seatbelt harness, a combination rear gate and integrated crate, and a carrying case to use for small dogs once you've reached your destination. With every purchase of one of these items, Volvo donates $10 to The Petfinder Foundation, an online searchable database of adoptable animals.
Read our Overview of the Volvo V60
Search for a Volvo V60 on CarGurus
2021 Chevrolet Corvette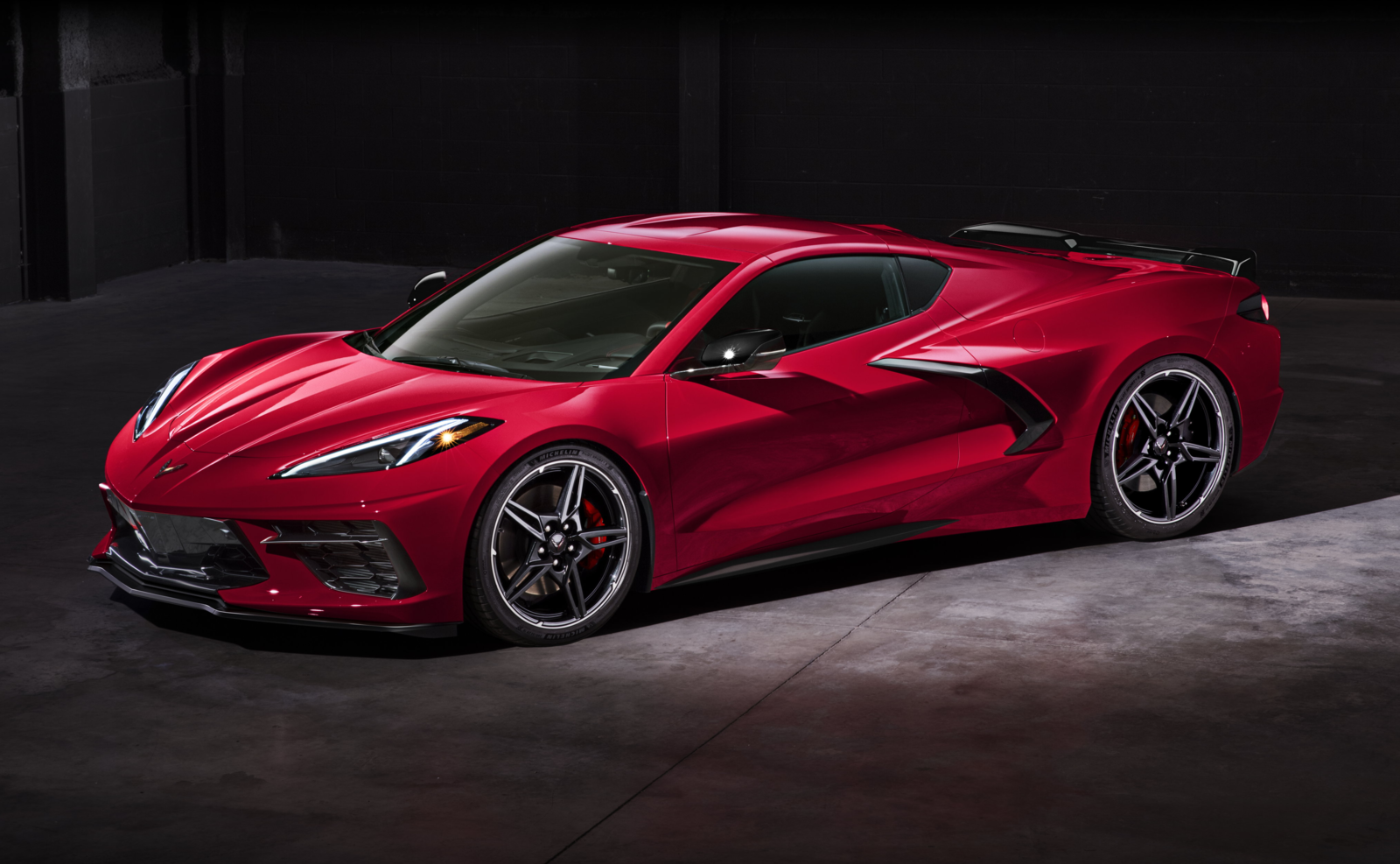 Best for: Dog owners who don't need lots of space
Priced from: $58,900
At first glance, you might think that the redesigned Corvette, as magnificent as it may be, has no place being on a list of Best Cars for Dogs. For the most part, we'd agree, as is reflected by the other nine models we've detailed above.
That said, not everyone has a large dog that loves adventure. Some of us have Pomeranians or Chihuahuas who need nothing more than a comfortable seat to curl up on. Or, maybe you have a larger older dog that simply looks forward to morning trips to the coffee shop with his tongue waving in the wind.
In these cases, the vehicle could be a Corvette, a Honda Civic, or a Dodge Charger; where you're going or what you drive doesn't matter as long as your four-legged friend gets to go along for the ride.
Read our Test Drive Review of the Chevrolet Corvette
Search for a Chevrolet Corvette on CarGurus
Related Topics
The Cheapest New Cars of 2021
The Best Family Cars of 2021
The Best Hybrid SUVs of 2021