Suzuki XL-7
Model Overview
Used Suzuki XL-7
Suzuki XL-7 Questions
Starting Problems
When I turn key - I get nothing (like a bad ignition switch). Other times, it will turn over (and over and over and over) and finally, after 5-15 seconds, it finally starts (acts like it's out of gas...
I Have A 07 Suzuki Xl7 Lift Gate Wont Open After Closing But If I Wait 1min...
i have a 07 suzuki xl7 lift gate opens but when I close it it will not open up for another minute as if its on a timer it has never did this before any sugestions on what it can be ? Help
Fueling Problems
Everytime I pump gas in my tank, my engine won't start. I have to sit for a few minutes and after 3-4 attempts the engine finally starts. I started leaving my car running when I pump gas in the tank. ...
My Susuki 2007, XL7 Won;t Change Gear.
Wont change gear, even I change the transmission filter and brake and service the car completely.
Lift Gate Will Not Open
Lift Gate will not open, the other doors will unlock with remote but not the LIFT GATE. Has any one had this same thing happen with there Suzuki?
Older Suzuki XL-7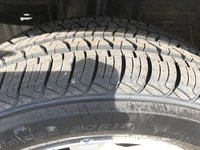 2001 Suzuki XL-7 reviews:
Suzuki XL-7
Overview
The Suzuki XL-7 hit the market in 2002 and packs the most power in Suzuki's SUV lineup. Think of the XL-7 as a longer Grand Vitara with more power and room for either 5 or 7, depending on the trim. This model started out with a 2.7-liter, 183-hp V6 engine and got a major power upgrade to 3.6 liters and 252 hp in 2007.
Overall, the XL-7 does its best work on daily commutes carrying the family back and forth from home to school or work. Off-road capabilities don't amount to much, although you can roll off the beaten path for an occasional foray without too much trouble.
Its most recent alterations suggest that the XL-7 has gone from a more rugged vehicle to a crossover. Look for Suzuki to make even more of an effort to inject this SUV into the mainstream market in the next few years.
Find great deals from top-rated dealersTM
Search