Suzuki XL-7
Model Overview
Used Suzuki XL-7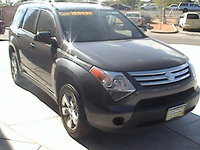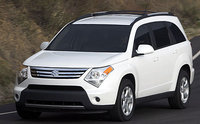 Suzuki XL-7 Questions
No Fuel After Ground Was Hooked To Wrong Terminal And Was Crunk Up
I had a buddy bring me a new battery, and he decided to put it in while I was not around. The ground was hooked to the. Wrong post and then started. I have fixed one dues that was blown and I go...
Reset Computer
I have a 2007 suzuki xl7,I changed the oil over the weekend and I can't reset the computer for the life of the oil, I followed the manual instruccion and it wouln't work,can anyone help me??
How Can I Reprogram A ECM
Jus bought a Suzuki XL7 it worked a whole 5 days and broke down I cant find anyone to help me fix it... Got a new ECM for it and cant find anyone to program it... We live in Arkansas I have childre...
2005 Suzuki XL7 2WD 4WD Transfer Case Control Switch
Will a 2005 Suzuki XL7 2WD 4WD transfer case control switch, work in my 2004 XL7 2WD 4WD. The switch looks identical to the one in the dashboard. Thank you
OVERDRIVE
i HAVE RECEIVED CONFLICTING VIEWS ON HOW TO USE MY OVERDRIVE. WHEN SHOULD I ENGAGE O/D? FOR ECONOMICAL DRIVING SHOULD THE O/D LIGHT (WHICH SHOWS O/D OFF) BE LIT. OR, SHOULD THE CONTROL PANEL LIGHT BE ...
Suzuki XL-7
Overview
The Suzuki XL-7 hit the market in 2002 and packs the most power in Suzuki's SUV lineup. Think of the XL-7 as a longer Grand Vitara with more power and room for either 5 or 7, depending on the trim. This model started out with a 2.7-liter, 183-hp V6 engine and got a major power upgrade to 3.6 liters and 252 hp in 2007.
Overall, the XL-7 does its best work on daily commutes carrying the family back and forth from home to school or work. Off-road capabilities don't amount to much, although you can roll off the beaten path for an occasional foray without too much trouble.
Its most recent alterations suggest that the XL-7 has gone from a more rugged vehicle to a crossover. Look for Suzuki to make even more of an effort to inject this SUV into the mainstream market in the next few years.
Find great deals from top-rated dealersTM
Search