Suzuki Forenza
Model Overview
Used Suzuki Forenza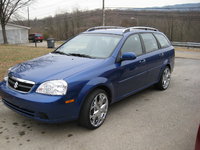 Suzuki Forenza Questions
How Do I Reset Engine Codes In A 2007 Suzuki Forenza
A small coolant hose came off throttle body and sprayed coolant on firewall and engine computer. After I dried the computer plugs and fired up engine the check engine light came on and the Auto Zone g...
Suzuki Forenza
When I change gears from P,R,N,D,3,2,1 the gear indicator flashes with slashes through for all except P,3,2,1. WHATS WRONG!!!! When in reverse with my foot on the gas it jumps to 20mph without the c...
Trans Drain Plug Size On A 04 Suzuki Forenza
im trying to find out what size square drive socket it need to change the trans fluid on a 04 suzuki forenza 4 cld, does anyone know?
How Many Miles Does A 2008 Suzuki Forenza Last For? I'm Looking To Buy A Us...
Does The Suzuki Forenza Have Fold Down Back Seats
Need to know if Suzuki Forenza sedan has fold down back seats that connect to trunk of car
Suzuki Forenza
Overview
Other than a name that suggests an exotic Japanese and Italian heritage, the Suzuki Forenza presents itself as your basic compact sedan. Suzuki basically brings you budget level models that take you where you need to go without the pomp and circumstance. The Forenza made its debut in 2004 and started with a 119 hp I4 engine. In 2005, the powertrain went up to 126 hp.
2006 marked the most significant time of change for the Forenza during which the compact sedan got a re-designed exterior and reduced its emissions. The number of trims went down to 4 for that year before reverting back to 6 for 2007.
Overall, don't expect much more than the basics from the Suzuki Forenza. This sedan does its job as a good first car for someone who can't quite afford the more powerful and luxurious models on the market.