Suzuki Aerio
Model Overview
Used Suzuki Aerio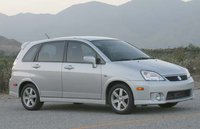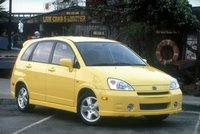 Suzuki Aerio Questions
Suzuki Odometer
My 2004 Suzuki aerio sx doesn't tell me the cars tempature. All I have is a blue and red light. But they don't come on while I am driving. Is there something wrong with my odometer? (Sorry for the...
Suzuki Aerio Problem
I found a black cord with some metal piece at the end hanging from the car, I could hear it hitting the side while I was driving.. what is this and how much is it to fix
Suzuki Aerio
Can suzuki forenza parts fit on my suzuki aerio such as suspension parts and engine parts?
Transmission Slipping
What sensor do i need if my transmission is slipping?
Smoking Problem
Hi my 2005 suzuki aerio start smoking from the engene area when i turn the ac on. Anyone has any idea? Mecanic check everything and couldnt find the problem.
Older Suzuki Aerio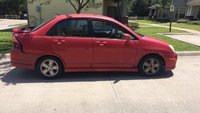 2002 Suzuki Aerio reviews:





Suzuki Aerio
Overview
The Suzuki Aerio compact sedan hit the market in 2001, replacing the Esteem/Baleeno. This model has built a well-known reputation as an inexpensive ride with good gas mileage. The inaugural Aerio started with a 2.0-liter, 145-hp inline four powertrain. For 2003, Suzuki unveiled the Aerio SX, a sportier SUV-like model.
In 2004, Suzuki replaced the 145-hp I4 engine with a 2.3-L, 155-hp inline four. Aside from some exterior and interior updates, the Aerio kept the same engine and base features through 2007. No one will mistake this model for a Civic or a Camry, but budget-conscious drivers who don't need a juiced-up V6 should kick the tires.