Used Saab 9-5
Saab 9-5 Questions
Key Fob Won't Lock Or Unlock Doors, Or Trunk. Kepaced Key Fob Batteries. Ju...
Key Fob Won't Lock Or Unlock Doors, Or Trunk. Kepaced Key Fob Batteries. Ju...
Key fob won't lock,unlock, or open trunk. Replaced key fob bateries.
2003 Saab Wont Pass Smog Check Engine Light Not On
my 2003 saab 9-5 wont pass smog. check engine light not on. any suggestions/
Saab Aero 2007 Convertible
I have a Saab Aero 2007 convertible that will drive but once you stop it'll like the car will not drive or even go backwards or forwards
Power Steering
Can I use transmission fluid in my power steering pump in my Saab 9- 5 2001
Older Saab 9-5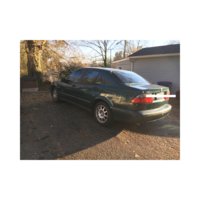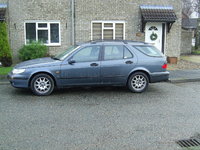 Saab 9-5
Overview
The 9-5 Sport Sedan is hailed as Saab's flagship vehicle. This premium, mid-sized sedan replaced the 9000 in 1998 to much fanfare and began the 9- naming scheme that continues into the future.
Luxury features, a sophisticated look, and great crash-test results lend the 9-5 its popularity. Its main competition is the fellow Swede Volvo S60, plus the Audi A6, and the BMW 5. Although people tend to think of Volvo when automotive safety is brought up as a subject, Saab is the company that introduced active head-restraint technology.
Slightly larger than the 9-3 with a more powerful engine, it's the preferred choice of many an executive, or just those who like to treat themselves well. It is not available in a convertible, as the 9-3 is, but both the 9-3 and 9-5 have SportCombi (station wagon) versions. Each one has a turbocharged engine, of course.
9-5s have been used as official police vehicles in several locations, including the ski towns of Aspen and Vail in Colorado as well as some Swedish communities.