Mercury Sable
Model Overview
Used Mercury Sable
Mercury Sable Questions
Head, Brake, Signal, Reverse/back-up Lights Work, But Tail, Park And Panel ...
I jumped the battery a while back. i don't know if this caused the problem. But, afterward, I started having problems. The headlights work. Brake lights work. Turn signal lights work. But, the t...
Engine Stalling
My 2001 Mercury sable Ls stalls out while driving but I can turn the key off then crank it back up drive a little ways then it stalls out again
Where Is The Relay For The Power Windows?
the drivers window will not go up, when I press the button I hear a clicking sound that appears to come from under the dash, I have located the power distribution box but do not see anything listed fo...
Car Not Going Into Gear
We have a 99 mercury sable with only 60,000 mikes in it. It was driving fine when all of a sudden it won't go into gear. We can shift the gear to drive but when we hit the gas it goes no where he...
Car Dies Going Down Road
My car dies when i drive it a little ways what could be the problem everything shuts down
Older Mercury Sable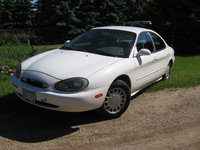 1997 Mercury Sable reviews: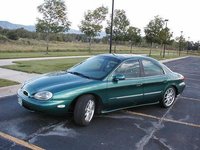 1996 Mercury Sable reviews: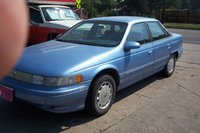 1995 Mercury Sable reviews: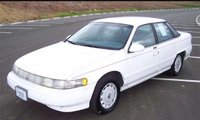 1994 Mercury Sable reviews: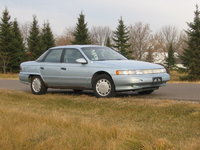 1993 Mercury Sable reviews: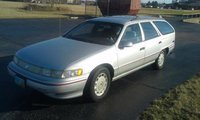 1992 Mercury Sable reviews: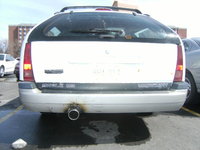 1990 Mercury Sable reviews:






1989 Mercury Sable reviews:






1988 Mercury Sable reviews: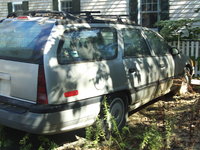 1987 Mercury Sable reviews: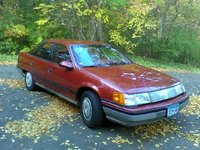 Mercury Sable
Overview
When Mercury launched the mid-size Sable four-door sedan in 1986, it set off a design trend that would last through the 1990s and into the early 21st century. That design trend was a move to more aerodynamic, rounded styling. It was a trend that would soon draw in other Mercury/Ford vehicles, such as the Taurus, as well as influence the designs of a number of vehicles from other domestic and foreign automakers.
The early Sables were distinguished by their grill-less front ends with a light bar between aerodynamic headlights, and their almost pillarless side profiles, providing excellent visibility for the driver.
The base engine for the original Sable was a 90-horsepower, 2.5-liter four cylinder, and the car was available in a number of trim packages with either a five-speed manual or a three-speed automatic transmission. A V6 version was also available.
The look of the Sable was updated in 1992, with a slimmer front light-bar and headlights and a more contemporary design. The car was stretched in length by almost four inches, and engine power was bumped up as well, with all new Sables receiving a 140-horsepower V6. This helped distinguish the Sable from the Taurus, and establish the former as a more upscale vehicle.
The third generation of the Sable arrived in 1996, with a drastic makeover that included oval headlights, an oval grille opening, and oval taillights. It was a look that tended to be rather polarizing -- drivers either loved or hated it. But enough loved it to make the Sable a very profitable vehicle for Ford.
By 2005, the Sable had become dated and even a bit musty, so Ford replaced it in the lineup with the Montego. But by 2008, with Ford in dire need of a few hits, the automaker decided to bring back many of its more popular vehicles over the past couple decades, even if in name only. So just as the Ford Five Hundred was redubbed the Taurus, the Mercury Montego was redubbed the Sable.
For 2008, the Sable's exterior styling has been updated again, with a new grille and front bumper, dual chrome exhaust tips, projector-beam headlamps, redesigned LED taillamps, integrated turn signal markers at either end of the front bumper, 17-inch seven-spoke bright aluminum wheels, and a satin finish on the sideview mirrors and door handles. It's a look that should serve the Sable well as it rides into the coming years.