Mercury Mountaineer
Model Overview
Used Mercury Mountaineer
Mercury Mountaineer Questions
Murcurey Trans
Can I swap a 04 Ford explorer limited with 4x4 with a 02 mountaineer 4.6 l V8 . The reverse and drive gears don't work just rev but 3rd works I have a junk explorer with a bad rear end
Fuel Pressure
I replaced fuel pump and fuel lines. Car ran all day and in the morning it wouldn't start. I sprayed starting fluid and it started.what else can I check? It's a 2004 mercury mountaineer 4.6L engine...
What Does Engine Code P-2006 For A 2007 Mecury Mountaineer Mean?
Motor Swap
I have a Mercury Mountaineer with a 5.0 it's a 97 is it possible to take the motor and trans out of the Mountaineer and put it into a Ford Ranger and how hard do you think it would be
Please Help..just Bought '03 Mountaineer
I just bought a 2003 Mountain with 107K miles on it (4.6L V8, AWD) last weekend. 1/2 way home (about a 3 hour drive) I backed out of a parking spot and it felt like my E-brake was stuck on. Shook and ...
Older Mercury Mountaineer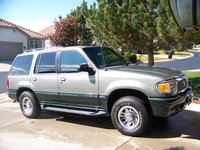 1999 Mercury Mountaineer reviews: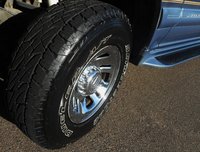 1998 Mercury Mountaineer reviews: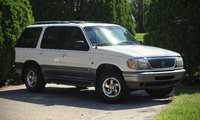 1997 Mercury Mountaineer reviews:
Mercury Mountaineer
Overview
The Mercury Mountaineer debuted in 1997 as a twin to the Ford Explorer. It is now in its third generation, which began with the 2006 model year; the chief change with this current generation is a new reinforced frame.
As is par for the course with its Ford counterparts, the Mercury branding gets a ramped-up interior and higher sticker price. In this case the 1997 Mountaineer had the distinction of a standard V8, whereas merely one of the Explorer's 10 trims that model year came with a V8.
That very first Mountaineer disappointed Mercury with its sales, as it really was not distinguishable from the lower-priced Explorer, so the bulk of the sales went to the Ford brand. So for the SUV's sophomore year, Mercury made some obvious exterior changes, such as flipping the front fascia, downsizing the headlights, and changing the wheels.
In 2002 a fold-flat seat for the third-row was introduced as a standard feature so the Mountaineer could compete in the 7-passenger bracket. Changes that came with the 2006 redesign included a made-over interior (seats, gauges, door handles, window switches), an independent rear suspension, more-capable brakes, and options for a 4.6-liter V8, 6-speed automatic transmission, and power-deployable running boards (as seen on the Lincoln Navigator).