Used Mazda MPV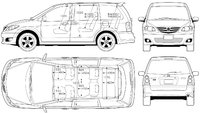 Used 2006 Mazda MPV For Sale
| | |
| --- | --- |
| | 2 GOOD Deals |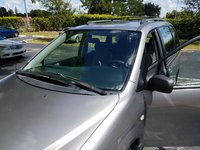 Used 2005 Mazda MPV For Sale
| | |
| --- | --- |
| | 2 GREAT Deals |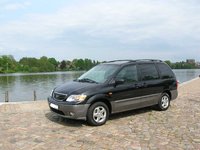 Used 2004 Mazda MPV For Sale
| | |
| --- | --- |
| | 1 GOOD Deal |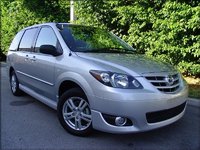 Used 2003 Mazda MPV For Sale
| | |
| --- | --- |
| | 1 GOOD Deal |
Mazda MPV Questions
1992 Mazda MPV Check Engine Light Stays On
check engine stays on. replaced computer. Fully tuned up engine.
What Can Be Causing My Minivan To Overheat?
2000 Mazda mpv... While in park for no matter how long my tempgage stays in the middle but within 10 minutes of driving the need shoots high... No leaks are seen on the ground. What can be causing ...
Why Are The Air Dampers Not Responding To The Mode Switch Changes
On a Mazda MPV 2004. When we move the mode switch he changes can be seen on the screen but the air flows do not change. Ie we can't get any air into the windscreen or the foot well. At the moment we...
What Could Be Wrong With My Motor?
My 2006 Mazda MVP lost all power, died going down the highway. Motor has no compression now. What could it be?
1996 Mazda Mpv Wont Start?
I have a 1996 mazda mpv that will not start. It cranks normal. Just no start. So the other day I was driving and then the reverse went out. So I went and got some lucas transmission fix put it in ...
Mazda MPV
Overview
The Mazda MPV was one of the earliest Japanese vans to reach the U.S. market, and among the first to be designed specifically for North American buyers. Built from the ground up and based on Mazda 929 sedan's platform, the MPV was a rear-wheel drive vehicle from its introduction in 1989 until 2000, when it became a front-wheel-drive. It also was available in both two-wheel drive and four-wheel drive until its redesign in 2000.
One element that distinguished the MPV from its competition was its hinged rear door, on the passenger side, rather than a sliding door. In 1996 Mazda added a fourth hinged door behind the driver's-side door. The hinged rear doors remained until the MPV's redesign in 2000, when they were replaced with sliding doors. In late-model vehicles, power sliding doors were available as either standard features or options, depending on the trim package.
Through most of its history, the MPV was considered to be underpowered by many. The earlier models were powered by either a 121-horsepower, 2.6-liter four-cylinder engine or a 150-horsepower, 3.0-liter V6. Power was steadily increased through the years, but it wasn't until a 200-horsepower 3.0-liter V6 engine was dropped under the hood in 2002 that the MPV was considered adequately powered.
Throughout the 1990s and into the 21st century, the MPV was updated but its size and shape remained essentially unchanged. This allowed some competitors' vans to exceed the MPV in size, power, and features. But there were many drivers who appreciated the MPV for what it was -- a small yet versatile minivan. Drivers noted that, for the most part, the MPV was a reliable vehicle that handled well and had plenty of room for people and cargo. It was also considered to be a good value. As Mazda continued to make upgrades to the minivan, it gained a sportier look and more nimble handling, but it has remained a true minivan up to the current model year.
Find great deals from top-rated dealersTM
Search