Mazda MAZDASPEED Protege
Model Overview
Mazda MAZDASPEED Protege Cars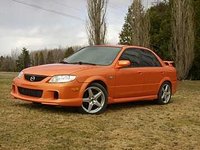 2003 Mazda MAZDASPEED Protege
2003 Mazda MAZDASPEED Protege reviews:
Questions
White Smoke Coming From My Mazda Protege When I Started It
I have a Mazda protege 2003 it's been blowing a heck of white smoke when I started it could be numerous things but it could have beat it cuz my where you put the coolant I think they're sending so...
Can I Awd L Converter A 03 Mazda Protege Mp
Can I awd convert a 2003 Mazda protege mp3
Alarm Mazda Etude 1995
How can I remove my old Mazda etude samcor car alarm . They already disarmed it 6 years ago so recent I had my car fitted with a after market computer box and ever since the alarm goes off when i...
Will A Moazada Interchange With A Honda Accord Part Wise
Would a mozada motor mound interchange with a honda accord
Why Wont My Sons 2003 Mazda Speed Protege Start/
kid come home from work said his battery was dead. I went to see what I could do..noticed his positive cable was loose . wiggled it around a bit....it started. got it home , put it in the garage. put ...
Mazda MAZDASPEED Protege
Overview
When Mazda decided it was time to introduce a high-performance, specially tuned vehicle to its lineup in an effort to add some juice to the current offerings, the automaker turned to MAZDASPEED, its own in-house motorsports and aftermarket tuner. And the first vehicle to get a souped-up makeover was the compact Protege sedan, which was in its final year of production. The result was the MAZDASPEED Protege, the foundation in what would prove to be a coveted line of MAZDASPEED limited-edition sport vehicles.
Of course, any high-performance vehicle needs a high-performance engine, so Mazda started with a 2.0-liter four-cylinder engine and added a Callaway Garrett T25 turbocharger system. That kicked power up 30 notches, to 170 horsepower. Other upgrades included a suspension tuned by Racing Beat, larger four-wheel disc brakes, special headlight housings, and 17-inch Racing Hart wheels, as well as more than 1,000 additional modifications.
The custom interior included a two-tone steering wheel, high-bolstered bucket seats, alloy pedals with rubber grips, and an alloy shift knob wrapped in leather. Additional features included power steering, power door locks, a keyless entry system, dual airbags, power exterior mirrors, and a premium Kenwood 250-watt audio system.
Drivers gave the MAZDASPEED Protege high marks for its handling (especially around corners), styling, interior appointments, and stereo system (which also garnered high praise from reviewers and critics). On the downside, some drivers noted that the car wasn't as fast as they expected from a high-performance automobile, especially when compared to its competitors.
Mazda MAZDASPEED Protege Experts
View All
Find great deals from top-rated dealersTM
Search