Kia Sephia
Model Overview
Kia Sephia Cars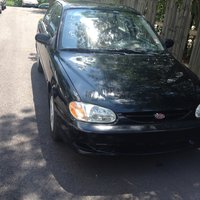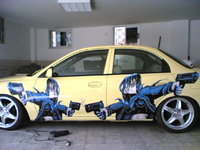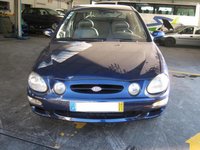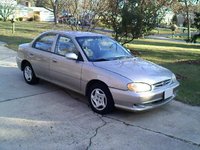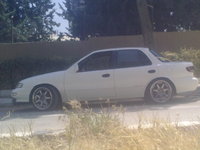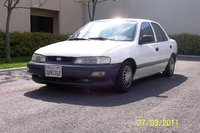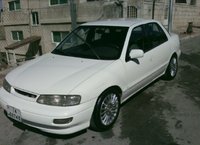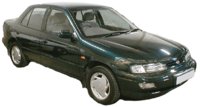 Questions
Engine Fuse Box
On my 2001 kia sephia engine fuse box compartment #12says HLLD;10A WHAT DOES HLLD stand for ?
Trans Problems
i have 2001 kia sephia and its not shifting properly i goes in reverse but when you put it in drive nothing but if you shift to 1st it will finally take off, so then i unhooked the wiring harnes on th...
Turn Signal Won't Return
Do I have to take the steering wheel off to put the spring back in my turn signal switch
Check Engine Light
I have replaced my catalytic converter, plugs & wires, cam shaft & my ac compressor. I do have a small oil leak but nothing major right now; but my check engine light came on. Any suggestions on w...
With AC On, Only One Fan (of Two) Comes On; Why?
Car overheats if AC is not on, but with AC on, only one fan comes on; is that normal or both fans should come on?
Kia Sephia
Overview
The Sephia is notable for being the first car sold under the Kia name in the U.S. The number two Korean automaker used a brilliant marketing campaign, introducing the Sephia in 1994 one region at a time in the western U.S. and gradually expanding across the nation, gaining word of mouth along the way. The Kia Sephia was a compact economy car, sold at a very low price point to attract first-time buyers or families on a budget.
The Sephia came initially as a sedan with a 1.5 or 1.6-liter engine and not much horsepower or standard features. Three trim levels were available, but power features were only offered on the highest one and air conditioning was optional on all. But the Sephia's intent was to be a cheap mode of transport and not a home away from home.
Through its eight-year history, the Sephia made upgrades, expanding the interior room, adding a bigger 1.8-liter, 220-hp engine, and making air conditioning standard on this top-end trim. Rear seats split 60/40 to allow more cargo room in the tiny car. The Sephia did come with good safety features, however, something Kia has always emphasized.

It unfortunately suffered from many reliability problems, and many owners found they were spending more time and money on repairs than they actually spent for the car. Kia did its best to improve on the compact sedan, and later models proved safer and better outfitted. The Sephia was retired after 2001, to be replaced by the Spectra.
Find great deals from top-rated dealersTM
Search