INFINITI Q45
Model Overview
Used INFINITI Q45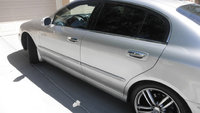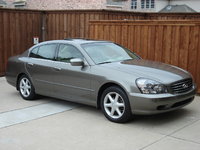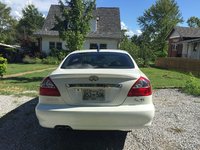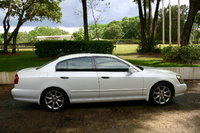 INFINITI Q45 Questions
My 1997 Infiniti Q45
My 1997 Infiniti q45 has a really bad misfire when in low rpms but not when idoling , or when over 2 rpm.I checked the coils and spark plugs but there's no problem with them.
Knock Sensor Codes Thrown
My 1998 Infiniti Q45 has 276,000 miles with very few repairs other than wear items. The other day, three warning lights came on relating to the ABS and TCS systems, though there is no physical indic...
Sound
My 2005 infinity Q45 speakers sound busted when i play blue tooth.. spotify from my phone \ radio.....BUT SOUND IS EXCELKENT WHEN I PLAY MY CD PLAYER SOMEONE PLEASE!!! Tell me what the problem is...
Where Is The Cd Changer Located At
i just bought the car and i cant find the cd changer
Q45 Infinity 97/98
How to reset check engine light on 97/98 Q45
Older INFINITI Q45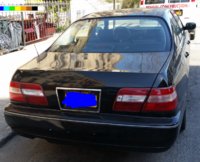 2001 INFINITI Q45 reviews: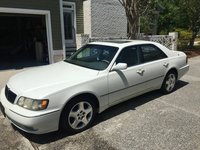 2000 INFINITI Q45 reviews: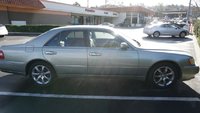 1999 INFINITI Q45 reviews: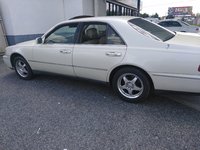 1998 INFINITI Q45 reviews: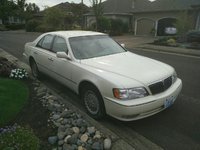 1997 INFINITI Q45 reviews: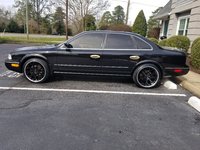 1996 INFINITI Q45 reviews: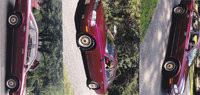 1994 INFINITI Q45 reviews: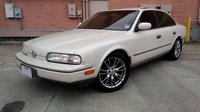 1993 INFINITI Q45 reviews: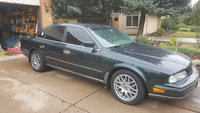 1992 INFINITI Q45 reviews: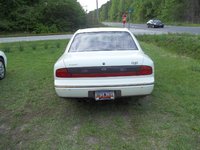 1991 INFINITI Q45 reviews: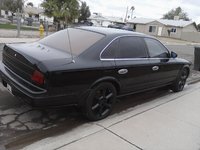 INFINITI Q45
Overview
The idea was novel, if flawed: A car commercial without a single shot of the car it was advertising. Meant to spark intrigue and curiosity, that advertisement may have actually hurt sales of the Infiniti Q45, one of the pioneering full-size sedans that combined lots of luxury with sports performance and V8 engine power. Introduced in 1989 and meant to compete against the Lexus LS and BMW 7 series, it was the first rear-wheel-drive sedan from Japan and, at the time, it offered the most powerful powertrain in its class, a 4.5-liter, 278-hp V8 and 5-speed shiftable automatic. A base trim and performance-tuned Q45t with Touring suspension were the initial trim offerings, and both were loaded with the expected luxury features (power seats, leather upholstery, sunroof, auto-dimming mirrors) and a long list of safety features. A Q45a, with the first-ever active-dampening suspension, was later available, but dropped in 1996.
Infiniti's solution to the Q45's lackluster sales was to dumb down its roomy sedan for the second generation in 2000, by softening the suspension, reducing the engine to a 4.1-liter, 266-hp V8, and making the outward appearance more conservative. A car that once hit 0-60 in 6.7 seconds now hit that mark in 7.7 seconds and sat on a new platform that came from the lower-end Nissan Cima in Japan. Trim names changed with the 2000 Anniversary edition, which became the Luxury for 2001. By the third generation in 2002, Infiniti went back to the drawing board, literally, returning to the Q45's roots as a sports-performing luxury car. The 4.5-liter V8 was back, now delivering 340-hp in either Luxury or Premium trims, and over the next four years, a firmer suspension, sport seats, real wood and chrome accents, a navigation system, and rearview camera were added to the list of standard equipment. A refresh in 2005 offered up a more aggressive front end and allegedly the most powerful headlights on the road.
Sales still lagged behind its European competitors, with just over 1,100 Q45s sold in 2005, despite offering the same upscale features at a lower price point. Drivers seemed satisfied with the Q45's performance, acceleration, and interior comfort and room, but its styling inside and out couldn't match the elegant refinement of its Mercedes and BMW competitors. The sedan was discontinued after 2006 to make way for Infiniti's new M35/45 series, but it could make a reappearance for 2008.