Ford F-350
Model Overview
Used Ford F-350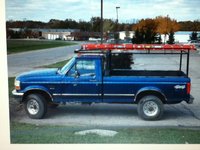 Ford F-350
Overview
The F-350 is a heavy duty pickup truck in Ford's popular F-Series of trucks. Based on the Ford F-150, the world's best-selling truck, the Ford F350 has a heavier frame and more rugged suspension designed for serious hauling and towing.
You'll find the Ford F-350 in a number of commercial fleets, as well as on farms, ranches, and job sites across America and around the world. Its reputation as a tough workhorse is well deserved!
Since 1999, the Ford F-350 has been marketed to the public as the Ford F-350 Super Duty.