Ford Explorer Sport
Model Overview
Used Ford Explorer Sport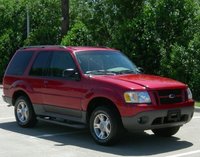 Used 2003 Ford Explorer Sport For Sale
| | |
| --- | --- |
| | 3 GREAT Deals |
Ford Explorer Sport Questions
Truck Wont Start
A couple weeks ago my 2001 ford explorer cut off an would not start..got a jump it started up an drove for a few minutes an lost all power again. Tried to jump start but when u turn key lost all po...
Over Drve
The over drive was all wires like it was taken apart on the dash is this fixable ?and can it be driven with out it hooked up .?
Tranny Swap
I have a 2001 Ford Sport Trac 4 wheel drive andwas wondering what explorer transmissions will fit in that
Ford Explorer Noise
Drove fine to work today. Went to the store and when I came out it was making a loud noise under the hood that sounds like a lawnmower. When I press the gas the noise just gets much louder. All fl...
Ford Explorrer Wont Crank Or Start
So my car wont star or crank thee starter is good but i did find thet none of the fuses under the steering wheel are getting any power.. Please tell me what causes the whole fuse box to not get any ...
Ford Explorer Sport
Overview
The Ford Explorer Sport was a niche model that got left behind as Ford marketed the Explorer, its flagship midsize SUV, increasingly to a suburban family-transportation market.
The Explorer Sport, based on the entry-level XLS trim of 2000, maintained a separate brand identity designed to appeal to drivers who had been drawn to the earlier Explorer models for their ruggedness and off-road potential.
As the Explorer's wheelbase grew, and as its interior became more lush, the Explorer Sport (which kept the 2000 platform) looked smaller and more agile in comparison to its suburban cousin.
It was the success of the Ford Escape, launched in 2001, that finally proved to be the end of the Explorer Sport. Rather than redesign the outdated model, the suits in Dearborn decided simply to discontinue the Explorer Sport and leave that market niche to the Escape.