Ford Explorer Sport
Model Overview
Used Ford Explorer Sport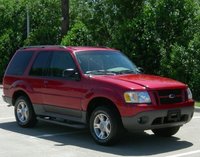 Used 2003 Ford Explorer Sport For Sale
| | |
| --- | --- |
| | 2 GOOD Deals |
Ford Explorer Sport Questions
How Is It A Great Deal That A Car With 60k Mi Is 21K$ When The Mkt For Cars...
Fuel
Ok I've checked like everything I have already changed fuel pump however it has just quit working I have checked all my relays and all I have power to only half my fuse box inside car the section ...
2001 Ford Explorer
Will a 1998 Ford Explorer trunk door fit a 2001 Ford Explorer?
Alarm
My theft light is blinking and car won't start how do I disable it
I Have A 2003 Ford Explorer 4x4
I have a 2003 Ford Explorer , I was told the shifting solenoid is bad in it . In.order to get the right part I need to kno the type of transmission , how do I.find that.out !!! HELP
Ford Explorer Sport
Overview
The Ford Explorer Sport was a niche model that got left behind as Ford marketed the Explorer, its flagship midsize SUV, increasingly to a suburban family-transportation market.
The Explorer Sport, based on the entry-level XLS trim of 2000, maintained a separate brand identity designed to appeal to drivers who had been drawn to the earlier Explorer models for their ruggedness and off-road potential.
As the Explorer's wheelbase grew, and as its interior became more lush, the Explorer Sport (which kept the 2000 platform) looked smaller and more agile in comparison to its suburban cousin.
It was the success of the Ford Escape, launched in 2001, that finally proved to be the end of the Explorer Sport. Rather than redesign the outdated model, the suits in Dearborn decided simply to discontinue the Explorer Sport and leave that market niche to the Escape.