Ford Explorer Sport
Model Overview
Used Ford Explorer Sport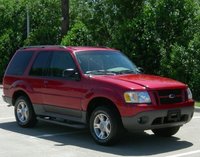 Ford Explorer Sport Questions
Current Ford Inc
Current incentives and rebates on explorers
Type Of Oil And Blend Recomended
I just bought a 2015 Ford explorer sport 3.5 eco boost turbo and wondering what the best oil and blend is best or recommended
2003 Ford Explorer Xls
So my ford has the 4.0 v6 and a manual transmission. On my way home from work I noticed my truck did not seem as responsive as normal. As i was driving it keep getting harder and hard to stay at 65...
Interchangeable Explorer Sport Parts 94-99
What major and immediate parts might be interchanged on a 94 and 99 ford explorer sport 4.0? I have a 99 that dont run(looking to buy) and a 94 that does(my lil rig) Can i use any thing off this 9...
Coolant Leak
After changing my coolant reservoir in my ford explore sport I noticed a small leaking more like a dripping in the front passenger more towards the center part of the car. Could this be a hose issu...
Ford Explorer Sport
Overview
The Ford Explorer Sport was a niche model that got left behind as Ford marketed the Explorer, its flagship midsize SUV, increasingly to a suburban family-transportation market.
The Explorer Sport, based on the entry-level XLS trim of 2000, maintained a separate brand identity designed to appeal to drivers who had been drawn to the earlier Explorer models for their ruggedness and off-road potential.
As the Explorer's wheelbase grew, and as its interior became more lush, the Explorer Sport (which kept the 2000 platform) looked smaller and more agile in comparison to its suburban cousin.
It was the success of the Ford Escape, launched in 2001, that finally proved to be the end of the Explorer Sport. Rather than redesign the outdated model, the suits in Dearborn decided simply to discontinue the Explorer Sport and leave that market niche to the Escape.