Ford Explorer Sport
Model Overview
Used Ford Explorer Sport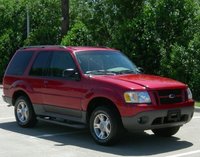 Ford Explorer Sport Questions
Radiator
Will radiator out of 2002 explorer work in a 2001 explorer sport?
Abs Issue
When ABS light is off it brakes normally till the last few feet and then gives out for a few seconds but still brakes barely. ABS light is on it brakes good all the time. When it does that it pulls...
Are The Radiators Between A 1999 & 2001 Ford Explorer Sport Interchangeable...
What Is Wrong With My 1994 Ford Explorer Sport
Car idles rough and stalls at a standstill
From End
Get over 50 miles an hour explorer shakes violently stay under 50 like driving a new car and I have change tires
Ford Explorer Sport
Overview
The Ford Explorer Sport was a niche model that got left behind as Ford marketed the Explorer, its flagship midsize SUV, increasingly to a suburban family-transportation market.
The Explorer Sport, based on the entry-level XLS trim of 2000, maintained a separate brand identity designed to appeal to drivers who had been drawn to the earlier Explorer models for their ruggedness and off-road potential.
As the Explorer's wheelbase grew, and as its interior became more lush, the Explorer Sport (which kept the 2000 platform) looked smaller and more agile in comparison to its suburban cousin.
It was the success of the Ford Escape, launched in 2001, that finally proved to be the end of the Explorer Sport. Rather than redesign the outdated model, the suits in Dearborn decided simply to discontinue the Explorer Sport and leave that market niche to the Escape.