Ford Explorer Sport
Model Overview
Used Ford Explorer Sport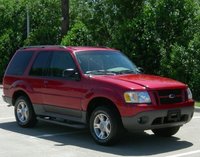 Used 2003 Ford Explorer Sport For Sale
| | |
| --- | --- |
| | 2 GOOD Deals |
Ford Explorer Sport Questions
2016 Ford Explorer Part Name
What is the part called on the back of the Explorer when you open the liftgate, it has the two hooks and the latch for the liftgate. I broke that plastic panel that surrounds those three parts. I ...
Lost All Gears While Driving
While driving down the highway with cruise on i lost all gears. No noise or warning of any kind. Won't even engage park. What am I looking at. 2000 ford explorer v6 4x4
Radio Has No Powwr To It
Changed fuses Everything works but the radio.
Car Keeps Losing Power
I have a 1999 ford explore I've replaced the starter the alternator and battery and runs and drives but it loses all power and the next hour it's fine cranks and drives just fine then a few days w...
Is There An Upper & Lower Piece To The Exhaust Manifold On A 1999 Ford Expl...
Is there an upper & lower piece to the Exhaust Manifold on a 1999 Ford Explorer
Ford Explorer Sport
Overview
The Ford Explorer Sport was a niche model that got left behind as Ford marketed the Explorer, its flagship midsize SUV, increasingly to a suburban family-transportation market.
The Explorer Sport, based on the entry-level XLS trim of 2000, maintained a separate brand identity designed to appeal to drivers who had been drawn to the earlier Explorer models for their ruggedness and off-road potential.
As the Explorer's wheelbase grew, and as its interior became more lush, the Explorer Sport (which kept the 2000 platform) looked smaller and more agile in comparison to its suburban cousin.
It was the success of the Ford Escape, launched in 2001, that finally proved to be the end of the Explorer Sport. Rather than redesign the outdated model, the suits in Dearborn decided simply to discontinue the Explorer Sport and leave that market niche to the Escape.