Dodge Stratus
Model Overview
Used Dodge Stratus
Dodge Stratus Questions
Car Cranks But Wont Start
I have a 97 Dodge stratus i bought just a few days ago. It was running just fine no sputtering, hesitation or warning lights. The only thing wrong was it would run cold and only warm up when sitt...
Where Is The Purge Valve Located On A 2002 Dodge Stratus Sxt Coupe?
Engine Light Came On Then Went Off And Is Using A Lot Of Gas
My engine light came on then I filled up with gas and it went off and now is using a lot of gas what is the cause of this
Help A Single Mom Out!! 04 Dodge Stratus... Need A Miracle Worker!!
No crank, no start. So changed fuses (in both fuse boxes), replaced Starter, and ignition. Now the ignition won't even go right. It fits, but does nothing when you turn it. Doesn't even feel like y...
Car Problem...help
I have a 2003 Dodge Stratus that seems to idle high but not all the time but when it is idling high I'll turn on my air for a minute and then I'll idle back down for a couple minutes and then it wi...
Older Dodge Stratus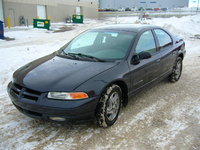 1998 Dodge Stratus reviews: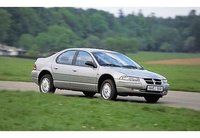 1997 Dodge Stratus reviews: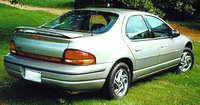 1996 Dodge Stratus reviews: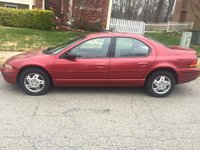 1995 Dodge Stratus reviews:





Dodge Stratus
Overview
The 1999 Dodge Stratus enters 1999 with two trims, the ES and the Base. Between them, they offer three engines controlled by 2 different transmissions. The ES comes with the standard 2.5-liter V6 with 168 hp, and a standard 4-speed automatic transmission. The Base gives you the option of a 2.0 or 2.4-liter I4, and a five speed manual or 4 speed automatic, depending on your budget and driving preferences. Gas mileage from the 1999 Dodge Stratus depends on which engine/transmission combo you pick, but ranges from 26/37 mpg to 19/27 mpg.
For comfort and convenience, the 1999 Dodge Stratus has air conditioning, cruise control, a CD changer, an optional moonroof, and leather seats. The trunk has more than enough room to carry the weekly groceries, without taking away from any of the room in the passenger compartment. To keep your family and your food safe, the 1999 Dodge Stratus has an ABS system, power door locks, a locking differential, and passenger and driver airbags.
Owners of the 1999 Dodge Stratus seemed happier with the 1999 than owners did with previous models. The common complaints were replacing transmissions to early, blown head gaskets, and squeaky, soft brakes, but the frequency of complaints is going down as the years of the Dodge Stratus progress. Most owners were happy with the amount of passenger space and the interior comforts, though some people did say the car is not made for taller or heavier drivers. Overall, this is said to be a pretty good, practical, family-oriented car.