Chrysler Pacifica Hybrid
Model Overview
New Chrysler Pacifica Hybrid

2019 Chrysler Pacifica Hybrid
The 2019 Chrysler Pacifica Hybrid has been announced, but it is not yet available for purchase.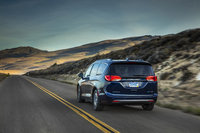 Chrysler Pacifica Hybrid Questions
Install 8th Seat Into Pacifica Hybrid
My understanding is that CSO radio sells a seat that can be added to a gasoline version of the Pacifica using bolts that already exist in between the two captains chairs. A dealer told me service m...
2018 Pacifica Lemited
I have a 2017 Pacifica Touring Plus Looking for 2018 Pacifica Lemited. the price with trad .
2018 Pacifica Lemited Hybride
I Love Chrysler that all i had from 1984 up to now. & for the near future
2018 Pacifica Lemited Hybride
How a bout the gournemen Ontario & Quebec. give when you by a new Hybrid car.
2018 Pacifica Lemited Hybride
looking for a good deal trade in a 2017 Pacifica Touring Plus looking for2018 Pacifica Lemited Hybride
Chrysler Pacifica Hybrid Experts
View All