New Audi S5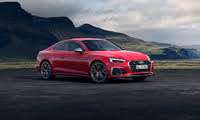 Used Audi S5
Audi S5
Overview
Applying its reputation for solid technology, stylish refinement, and impressive performance, Audi continues to evolve its sports coupe lineup. Though it takes the same 4.2-liter V8 engine used in the RS4 and R8, the brand-new Audi S5 sits on an entirely new platform, shared with its more sedate A5 sedan companion. The S5 distinguishes itself from the sedan with more menacing bumpers, more chrome, larger wheels, and four noticeably loud exhaust pipes.
The Audi S5 takes its cues from the Nuvolari concept created by innovative designer Walter de Silva. More sculpted, yet smooth lines, a rising side profile, and angular headlamps give the coupe a different look from the rest of the Audi lineup. It's also got a trans-axle design that places the engine behind the wheels, minimizing overhangs to produce a more stable ride than many coupes in its class.
The trademark quattro system is not left behind, and some critics feel any true racing power and acceleration is hampered by the four-wheel drive weight. However, Audi claims it reaches 0-60 in just over five seconds, meaning drivers who don't want to sacrifice some heart-pumping fun for interior elegance and comfort will probably be attracted to this European-inspired coupe.