Audi A1 Cars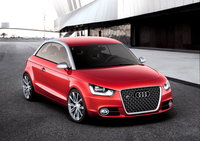 Questions
Start Systems With A Converted A1 To Electric
I have an Audi A1 that I converted into electric. To do so, I have to pull out the gas engine and replace the dsg transmission with a manual transmission. Now I'm facing the problem that the systems...
Gasoline On Diesel Engine
Hello all, I own a audi a1 (bought on 2014) diesel yesterday accidentally I fueled it with 5.5 lt gasoline (already had about 66% diesel) since then I have done 40km what should I do? ...
What Do You Think Of The 2010 Audi A1?
What is so great about this car? Have you ever driven one?
Audi A1
Overview
The forthcoming A1 subcompact will serve as Audi's competition for the MINI Cooper. Rumors continue to swirl about details, availability, and release date, but the new car will be a descendent of two well-received Audi auto-show concepts. A three-door metroproject quattro was built and shown in Tokyo in 2007, and the A1 Sportback concept debuted at the 2008 Paris Auto Show.
Both Audi's concepts were hybrid-powered, but current plans call for the A1 lineup to include a 1.2- and 1.4-liter gas engine, with turbo available for the 1.4, as well as a 1.6- and 2.0-liter diesel. The new car should have five doors and is expected to be built at Volkswagen's factory in Brussels, Belgium. A leaked Audi document suggests the A1 will be available for sale by March 2010.
Find great deals from top-rated dealersTM
Search