For Car Shoppers, It's the Most Wonderful Time of the Year
CarGurus Price Trends Study Shows Best Deals of the Year at Christmastime with Savings of Nearly 5%
CAMBRIDGE, Mass., November 28, 2011 -- CarGurus (www.cargurus.com), the automotive research site, today released a study of seasonal price trends that suggests used-car shoppers can get a substantially better deal if they shop close to the Christmas holiday rather than later in the winter. CarGurus' Used Car Price Index data shows used car prices typically hit their lowest average of the year in the period between Thanksgiving and the first week of January, before rapidly correcting by February as demand comes back in the New Year.
This year, CarGurus analysts expect prices on used cars, which have been in steady decline since peaking in late August, will bottom out by January 8, 2012, at 4.6% below their August peak, with the most dramatic dip (2%) occurring between Thanksgiving and the first week of January. It is expected that prices will thereafter climb rapidly by as much as 4% by mid-February. For the consumer shopping for a used car priced at the approximate average price of $20,000, timing the purchase right could amount to a projected average savings of $800.
"In these challenging economic times, adding 'car' to the holiday shopping list might seem crazy, but now is actually the optimal time of year to find a great deal on a used model," said Langley Steinert, founder and CEO of CarGurus. "Demand is low during the holiday season, and that translates to lower prices on used vehicles and higher leverage with dealers eager to lock in sales. However, demand will come roaring back in the New Year, and dealers will be quick to adjust their prices. If you are planning to buy a car in the next six months, look for a used model and buy it before the New Year."
The chart below shows the change in the average price of a used car since its peak on August 24, 2011, as well as CarGurus' projection through February.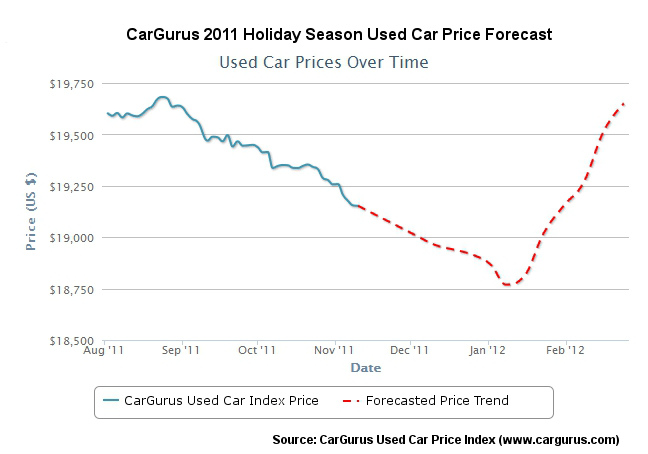 For consumers interested in used-car prices this holiday season, CarGurus' free DealFinder (www.cargurus.com/dealfinder) tool can help them find the best deals in their area. DealFinder uses a mathematical model to analyze the prices of millions of current and historic listings and determine the Instant Market Value (IMV) for a specific car. Shoppers get current guidance on the best local deals on their specified vehicle, ranked according to how the listing price stacks up against the car's IMV. For each ranked listing in the search results, DealFinder also provides a detailed price history and price drop alerts, so consumers can keep tabs on a particular listing as they consider their purchase and use that pricing intelligence when they negotiate.
Methodology
CarGurus analysts examined past and current seasonal price trends based on data from the CarGurus Used Car Price Index, which has tracked list prices on more than 12 million used cars since 2010. In 2010, the average price of a used car peaked on August 23 and then dropped 3.4% during the holiday season before beginning to rise again on January 8, 2011. This year, the average price of a used car peaked on August 24 at $19,682 and had dropped 2.7% to $19,144 by November 22. CarGurus analysts expect to see a further 2% decline by January 8, 2012. Prices are expected to rise sharply after that and forecasted to gain 4% by February 14, 2012. More information from CarGurus on price trends can be found here: https://www.cargurus.com/Cars/price-trends/.
About CarGurus
CarGurus (www.cargurus.com) is a leading online automotive destination focused on making the car shopping and research experience more transparent for consumers. Located in Cambridge, Mass., CarGurus was founded by Langley Steinert, co-founder and former Chairman of TripAdvisor, the largest travel site in the world.
Amy Mueller
CarGurus
617-216-2900
pr@cargurus.com
###