GMC dealerships near me (Lancaster, CA)
11 dealerships within 50 mi
Diamond Buick GMC Cadillac Palmdale
|
View Inventory
39012 Carriage Way, Dr, Palmdale, CA 93551 (7 mi)
Parkway Cadillac Buick GMC
|
View Inventory
24055 Creekside Road, Valencia, CA 91355 (30 mi)
Open now

10:00 AM - 8:00 PM
Sales hours
Sun: 10:00 AM - 8:00 PM
Mon: 9:00 AM - 9:00 PM
Tue: 9:00 AM - 9:00 PM
Wed: 9:00 AM - 9:00 PM
Thu: 9:00 AM - 9:00 PM
Fri: 9:00 AM - 9:00 PM
Sat: 9:00 AM - 9:00 PM
Parkway Castaic
|
View Inventory
31280 The Old Road, Castaic, CA 91384 (31 mi)
Open now

10:00 AM - 8:00 PM
Sales hours
Sun: 10:00 AM - 8:00 PM
Mon: 9:00 AM - 9:00 PM
Tue: 9:00 AM - 9:00 PM
Wed: 9:00 AM - 9:00 PM
Thu: 9:00 AM - 9:00 PM
Fri: 9:00 AM - 9:00 PM
Sat: 9:00 AM - 9:00 PM
Thorson Motor Center
|
View Inventory
3456 E Colorado Blvd, Pasadena, CA 91107 (38 mi)
Open now

12:00 PM - 5:00 PM
Went to dealer twice to show how serious I was about buying. They wouldn't negotiate on price one penny since I was buying and not financing, said they can't lose money on the car. Two days later they drop the price by $1500.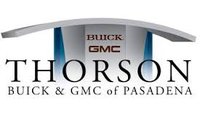 Sales hours
Sun: 12:00 PM - 5:00 PM
Mon: 8:30 AM - 7:30 PM
Tue: 8:30 AM - 7:30 PM
Wed: 8:30 AM - 7:30 PM
Thu: 8:30 AM - 7:30 PM
Fri: 8:30 AM - 7:30 PM
Sat: 9:00 AM - 6:00 PM
Reynolds Buick GMC
|
View Inventory
345 N Citrus Ave, West Covina, CA 91791 (45 mi)
Open now

10:00 AM - 5:00 PM
Danny Herrera contacted me right away and continued following up with me several times throughout the day. Unfortunately I was unable to make it in the next day to the dealership due to a death in the family . Danny still reached out to me with his condolonces . I would say he did an amazing job staying in touch and I will definitely be contacting him as soon as I start my search again.

Sales hours
Sun: 10:00 AM - 5:00 PM
Mon: 9:00 AM - 7:00 PM
Tue: 9:00 AM - 7:00 PM
Wed: 9:00 AM - 7:00 PM
Thu: 9:00 AM - 7:00 PM
Fri: 9:00 AM - 7:00 PM
Sat: 9:00 AM - 6:00 PM
Reynolds Buick GMC & GMC Isuzu Fleet
|
View Inventory
345 N. Citrus Ave, West Covina, CA 91791 (45 mi)
Alexander Buick GMC of Simi Valley
|
View Inventory
2100 1st St, Simi Valley, CA 93065 (47 mi)
Open now

10:00 AM - 6:00 PM
Quick, professional and straightforward

Sales hours
Sun: 10:00 AM - 6:00 PM
Mon: 9:00 AM - 8:00 PM
Tue: 9:00 AM - 8:00 PM
Wed: 9:00 AM - 8:00 PM
Thu: 9:00 AM - 8:00 PM
Fri: 9:00 AM - 8:00 PM
Sat: 9:00 AM - 7:00 PM
Caposio Buick GMC
|
View Inventory
14555 Civic Drive, Victorville, CA 92394 (48 mi)
Open now

9:00 AM - 9:00 PM

Sales hours
Sun: 9:00 AM - 9:00 PM
Mon: 9:00 AM - 9:00 PM
Tue: 9:00 AM - 9:00 PM
Wed: 9:00 AM - 9:00 PM
Thu: 9:00 AM - 9:00 PM
Fri: 9:00 AM - 9:00 PM
Sat: 9:00 AM - 9:00 PM
Service Hours
Sun: Closed
Mon: 7:00 AM - 6:00 PM
Tue: 7:00 AM - 6:00 PM
Wed: 7:00 AM - 6:00 PM
Thu: 7:00 AM - 6:00 PM
Fri: 7:00 AM - 6:00 PM
Sat: 7:00 AM - 6:00 PM
Displaying dealers 1 - 10 of 11