Volkswagen CC
Model Overview
New Volkswagen CC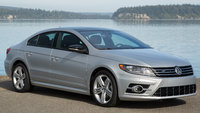 Used Volkswagen CC
Volkswagen CC Questions
2010 Volkswagon Cc Won't Start! Please Help!
. I'm having a problem with my vw 2010 cc. The interior lights went out and we checked the wrong fuse box. Now the car won't start. I found the right fuse but it was on the fuse box inside the car....
Whining Noise From 2010 Vw Cc 2.0 Turbo
My car has over 150000 miles on it, and just got a high pitched whine and check engine light yesterday.....it also hiccups when I go to gas it for turbo....I need help figuring out what it is:) T...
Epc Light 2012 Cc 2.0t Power Hesitation
EPC light on, as is engine light. Power hesitation while accelerating but still driveable at highway speeds, but I can feel engine running rough. Noticed that my avg MPG showing in the system is 1...
Vw Cc Sport 09 Car Won't Start Not Battery Related
Engine turns over and oil is in the car. But the car chokes when tries to start and it won't turn on.
Checked Fuses Now Car Won't Start