Volkswagen CC
Model Overview
New Volkswagen CC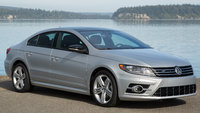 Used Volkswagen CC
Volkswagen CC Questions
EPC - Check Engine Light ON, Doesn't Idle And Shuts Off, Problem Shifting G...
This is an intermittent problem. The car (automatic transm.) does not idle properly and shuts off. Car runs with minimum power when this happens. Shifts gear only when you play with the throttle pad...
Epc Light And Engine Light On
I have a Volkswagen CC r line 2013 with 27000 miles . When I hit 70 mph the epc light and engine lights turn on . After that it feels like it doesn't make correct shifts and trembles . We put it on...
2012 Vw Cc Wont Start
My 2012 vw cc is not starting. Yesterday while driving, it randomly began shaking very slightly and then smoke came out of the exhaust. My EPC light came on and the engine light started flashing. I...
2011 VW Passet Turbo
Is it necessary to use high test gasoline in a 2011 sought the VW Turbo
COOLING FANS
1 COOLING FAN GOES TO RUN THEN STOPS BUT CAN FEEL RESISTANCE WHEN TURNING TO SPIN BY HAND , OTHER FAN COMES ON WHEN WARMER