Volkswagen CC
Model Overview
New Volkswagen CC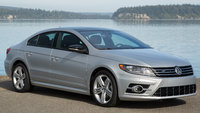 Used Volkswagen CC
Volkswagen CC Questions
Volkswagen Cc Cranks But Won't Start...
2012 Volkswagen CC...97k mileage. Car cranks but will not start. Battery is good. Fuel pump? Sensor? Help...
Epc/flashing Check Engine
I have a 2011 vw cc luxury with 60000 miles and i pressed on gas to overtake a slower and all of a sudden sluggish performance and epc light came on and check engine light started flashing so i l...
Volkswagen Problem
I have a 2009 Volkswagen cc 2.0 turbo the other day it started stalling out wouldn't idle on it's own and when it would the throttle wouldn't go over 2000rpm anyone have any ideas what causes thi...
It Looks Like Something Isn't Showing Up On My Display Screen? Help
When I am moving, in the location when the odometer when I am not moving, there is a spot with a place for numbers & mph however no number show up there? Is this a setting issue or is there somethi...
I Have To Re-sync My Phone Each Time I Get Into My Car?
There are 2 phones saved by the previous owner, do I need to erase them? Is so how?