Pontiac Sunfire
Model Overview
Used Pontiac Sunfire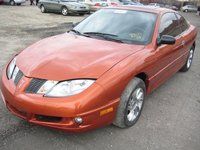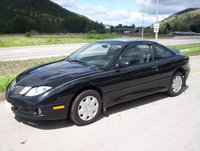 Pontiac Sunfire Questions
Random Stalling On A 2004 Pontiac Sunfire
I have had random stalling while driving over the past 4 weeks, have had the car in and out of the shop, replaced air box, idle air control valve and ignition switch, we have cleaned the throttle b...
Car Won't Start
replaced ignition lock on 2002 pontiac sunfire antitheft light is lite car will crank but not start.
Should I Put A New Transmission In A 15 Year Old Car?
I have a 2000 pontiac sunfire with a blown transmission in it. Is it worth investing $3000 in a car like this or should I scrap it and get a different used car?
Pontiac Sunfire Service Light
service light with a wrench light on
How Long Does Engine Last
Generally, how many miles can this vehicle handle on the engine before the vehicle starts to die?
Older Pontiac Sunfire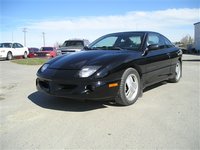 1999 Pontiac Sunfire reviews: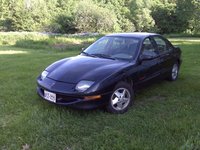 1998 Pontiac Sunfire reviews: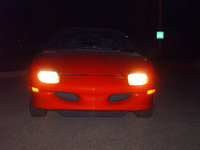 1997 Pontiac Sunfire reviews: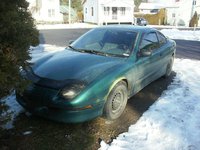 1996 Pontiac Sunfire reviews: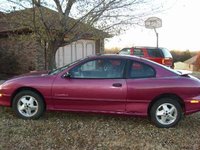 1995 Pontiac Sunfire reviews:





Pontiac Sunfire
Overview
In 1995, the Pontiac Sunfire took the place of the Sunbird in the compact car segment of Pontiac's lineup. It was originally offered as a 2-door coupe or convertible in either base or GT trims. The base initially came with a 2.2-liter, 115-hp I4 engine, and the GT upped that to a 2.4-liter, 155-hp I4. It also added on a firmer suspension, 16-inch wheels, dual exhaust, and fog lights as part of its performance package.
Sharing a platform with the Cavalier, the Sunfire was most popular with a younger audience, particularly young women. This was due as much to its sporty looks (as defined by its rear spoiler and low roofline), as it was by the low price tag and good fuel economy. Because it was so light, the car didn't need much to go fast, so performance was satisfyingly fun for a compact.
In 2000, the Sunfire got a makeover and the convertible was dropped. When the Firebird was dropped, it filled the role as Pontiac's only two-door car until the GTO came along in 2004. Now only available with a 2.2-liter I4 that got 140-hp, the Sunfire came with few standard features beyond air conditioning, rear defrost, and a rear spoiler, but plenty of option packages added on the convenience features (power windows and locks, OnStar) and niceties (satellite radio) that enhanced the overall ride.
Though always a popular model, the Pontiac Sunfire was discontinued in 2005. Owners loved its peppy engine, fuel economy, and affordability. Interior comfort and quality were its main drawbacks. The Sunfire coupe was replaced by Pontiac's G5 in 2007.