Mercedes-Benz M-Class
Model Overview
Used Mercedes-Benz M-Class
Mercedes-Benz M-Class Questions
Anyone Else Having Problems W/ Horrible Vinegar/mold Smell In Ac Of 2015 ML...
Last week the car started emitting a horrible vinegar smell from the ac when first turned on. Took it to the dealership ( still under warranty ) and they want $330 to flush and clean the mold out of...
How Can We Get A Vehicle Car Report
need a vehicle report from cargurus on a car we want to purchase
Brake Pedal Goes To Floor
My ml430 2001 when I push on my pedal it go's to the fool I tryed to bleed my breaks a few times one time at the start of my problems I did and my friend was supposed to watch fluid level and i...
Car Shutting Off And Won't Start Occasionally
I have a 2000 ml430 and my car will start up fine and drive but then it shuts off with no warning. Then I try to start it up again and it will crank over but usually I have to sit and wait about 30 m...
We Have A 2003 ML 350. Can This Vehicle Be Towed Behind Our RV With "4 Whe...
Can our 2003 ML 350 be towed behind our RV with "4 wheels on the ground" ?
Older Mercedes-Benz M-Class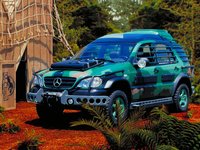 1998 Mercedes-Benz M-Class
1998 Mercedes-Benz M-Class reviews:
Mercedes-Benz M-Class
Overview
The M-Class represented a number of firsts for Mercedes-Benz. It was Mercedes' first SUV, designed and built in the late 1990s in response to the growing popularity of SUVs in general. It was the first Mercedes built in an American plant (in Tuscaloosa County, Alabama). And it was the first vehicle of its type with a four-wheel double-wishbone suspension system, as well as stability control, which helped prevent loss of control of the vehicle by the driver.
M-Class vehicles also came equipped with a number of innovative safety features, including front- and side-impact airbags, a reinforced steel body, front and rear crumple zones, and anti-intrusion bars on all doors. For these reasons and others, the M-Class received Motor Trend's Truck of the Year award in 1998.
As that award indicates, the M-Class was built on a truck platform, and officially labeled a "light truck" upon its introduction. However, Mercedes attempted to give its new SUV an upscale feel and a more carlike ride, both of which have improved over the years.
Mercedes has also invested a lot of effort in improving the quality of the M-Class. Due to the fact that it was built in a new plant, the SUV had a number of quality issues in its early years and soon gained a reputation with some drivers that was not completely positive. Some complained about quality and reliability issues. Parts often failed quickly, and the fit and finish of the vehicle was not what drivers expected from a Mercedes.
Most of those issues were resolved with the second-generation M-Class, which debuted in 2006. The new M-Class was longer (by almost 6 inches) and wider (by almost 3 inches) than the first-generation version and featured a more fluid design, which brought it closer in line with drivers' expectations.
The second-generation M-Class vehicles also received a boost in power, with the ML350 (with a 3.5-liter V6 engine) replacing the original ML320 and the ML500 (with a 5.0-liter V8) taking over for the original ML430.
Today, the M-Class includes the ML350 and the ML550 (which replaced the ML500), as well as the diesel-powered ML320 CDI and the high-powered ML63 AMG, which features an impressive 503-horsepower V8 engine and body styling by AMG, the in-house tuner for Mercedes. In addition, the M-Class vehicles can be equipped with Mercedes' 4Matic all-wheel-drive system, which provides improved handling, stability, and traction in all types of driving conditions.
Find great deals from top-rated dealersTM
Search