Chevrolet Volt
Model Overview
New Chevrolet Volt

The 2019 Chevrolet Volt has been announced, but it is not yet available for purchase.
CarGuru's preview of the 2019 Chevrolet Volt
Used Chevrolet Volt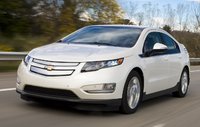 Used 2015 Chevrolet Volt For Sale
| | |
| --- | --- |
| | 19 GREAT Deals |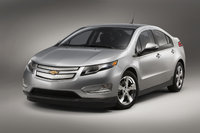 Used 2014 Chevrolet Volt For Sale
| | |
| --- | --- |
| | 16 GOOD Deals |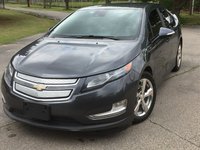 Used 2013 Chevrolet Volt For Sale
| | |
| --- | --- |
| | 5 GOOD Deals |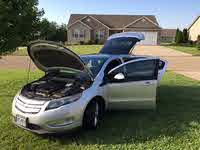 Used 2012 Chevrolet Volt For Sale
| | |
| --- | --- |
| | 16 GOOD Deals |
Chevrolet Volt Questions
Fake Ad For Chevy Volt In Chicago
You have been running an ad for a Chevy Volt in Chicago listed for $7000. Please be advised that the "seller" does not respond. This a fake. Please remove and save everyone a lot of time.
Do Chevy Volt Values Drop Drastically When They Are Over 100,000 Miles And ...
I'm looking at a 2011 Volt with 127K miles. Dealer has it at $9995 and this site indicates that it is overpriced by over $5,000! Is this an error, or is it due to the battery being beyond the 100,00...
Why Is Imv Of My Listing Of Car Lower For Same Car And Milage Than Others?
I am GuruTJ8PY
Chevy Volt 2nd Generation
I am thinking of buying how do feel reliability is. Mechanical wise
I Would Like More Information On A Car That I Want To Look At
I have a 2012 Chevy Volt, 41,??? miles, great condition
Older Chevrolet Volt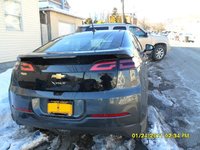 2011 Chevrolet Volt reviews:
Chevrolet Volt
Overview
Chevrolet's Volt aims to provide a way for 75+% of America's daily commuters to drive themselves to work without using a drop of gasoline. Able to travel up to 40 miles on electricity only and get recharged through a standard 120V electric outlet and an optional solar roof, the Volt will have a small gas engine that can drive the electric motor via a generator, but that engine will not recharge the battery pack. Buyers should be eligible for a substantial tax credit.
The Volt reminds some of GM's EV1 electric car of the late '90s, but the new car should have a much higher top speed, thanks largely to improvements in battery technology, though its pure-electric range will be shorter. The Volt will seat four, instead of the EV1's two, and its battery pack will be considerably smaller and lighter. Originally announced as a 2010 car, Chevrolet warned of delays in early 2008, but now expects production to begin in late 2010.