Chevrolet Silverado Classic 3500
Model Overview
Used Chevrolet Silverado Classic 3500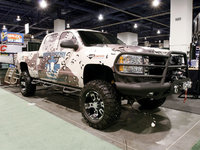 Used 2007 Chevrolet Silverado Classic 3500 For Sale
| | |
| --- | --- |
| | 7 GREAT Deals |
Chevrolet Silverado Classic 3500 Questions
2001 Chevy 3500
can I put a diesel rearend in my chevy 3500 gas
Dingy Towing
My owner's manual and dingy towing guides are vague about being being to flat tow a Silverado 3500. They say there has be a neutral on the transfer case and a 4WD low setting. Is the transfer case...
I Have An 07 Chevy 3500 Classic 4x4. The Brake Lights Stay On But The Right...
1991 Chevy Silverado 3500 Extended Cab Asking 3200 OBO, But Can't List On S...
Why can't I selll my truck on "Sell Your Car"? The year selection doesn't go back that far. already listed on Craigs List for Inland Empire.
My 2008 Sliverrod Oil Gauge Drops Under The 40 Mark When Runig But Stop At ...
but goes back to normal when i take off
Chevrolet Silverado Classic 3500
Overview
Because there was an overlap between the first and second generation Chevrolet Silverados in 2007, the first generation was referred to as the Silverado Classic 3500 for that year only. The Classic 3500 is the one-ton entry in the full-size pickup lineup, alongside the half-ton 1500 and the three-quarter-ton 2500.
The Chevrolet Silverado Classic 3500 comes in five trims -- Work Truck, LS, 1LT, 2LT, and 3LT. There are three cabin designations, Regular, Crew, and Extended. The Crew cabs are only offered with the LT trims and the Regular only with the Work Truck and LS. Extended cabs are offered on all trim lines. Every permutation of Silverado Classic 3500 can be had as a 2WD or 4WD, with choice of a short or long cargo bed. There are three V8 engine choices, culminating in a class-leading Duramax turbodiesel that gets 360-hp and 650 lb-ft of torque.
This pickup is a hauler, with a 12,000-pound towing capacity. Like the old song goes, it's like a rock, built to take a beating. The newer generation will be longer and wider, with more interior features, but for utilitarian purposes, the Silverado Classic 3500 is a true heavyweight. For non-work purposes, it does seat four passengers in two rows, and the LT trims come with more car-like conveniences, such as power features, a 6-CD player, power driver's seat, and wheel-mounted controls. Safety features are lacking in the old Classic 3500, with only dual front airbags and ABS standard. No side impact bags for either row were offered.